EVENT: Hard Rock Hell
LOCATION: Minehead Butlins
DATE: November 9th & 10th 2007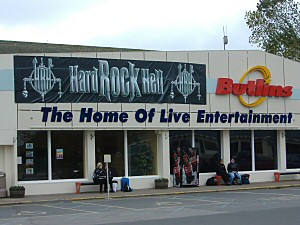 I suppose a few explanatory notes are needed here for our non British readers, regarding Butlins. In 1936, a bloke by the name of Billy Butlin (natch) built a holiday camp. It was a place for Brits to take a week off and enjoy wholesome family fun, featuring such timeless classics as Punch & Judy and Nobbly Knees contests. Overall, he built 9 parks, three of which remain under the Butlins banner, with one of these being Minehead. It basically offers cheap accommodation for the huddled masses, with a swimming pool, fun fair and entertainment shows. During the slow winter months they often arrange special weekends, based on different musical trends or periods such as the Sixties or some such bollocks. Nothing to get excited about until this year, when it was announced to everyone's bemusement that this family entertainment park would be opening it's doors to the denim and leather brigade. Not only this, but the music would go on to the wee hours and there would actually be decent bands, not just a bunch of old has beens. As one, British metalheads chuckled at the idea of seeing the likes of Saxon and Cradle Of Filth at Butlins, of all places, then got straight online and ordered their tickets.
DAY ONE
Check in is at midday on Friday, and walking past the funfair we are treated to the amusing sight of a waltzer that has Dio blasting out from it's speakers. No one is riding it, ditto for the big Viking Longship ride that I can't help think would make a great photo opportunity for Turisas. Normally at festivals the first thing you have to do is pitch your tent, work out where the no doubt disgusting toilets are and then sit there and pray for good weather. Hard Rock Hell is different, as we finally find our chalet, a cozy little number with three bedrooms, a kitchen and bathroom. With no tent to pitch we settle in the living room and have a nice cup of tea whilst we watch the wide screen TV. It all feels sort of wrong, this lack of hardship, but after a while we get over it and decide to take a wander into the town itself. I realize that there are several shouty young bands on from 2pm, but to be honest I'm here for the classic acts, and if I'm not sure how to pronounce a band's name, or can't read the stupid 'evil' font they're using, then I really can't be arsed to see them. Anyway, the wife wants to buy some fudge.
A glance at the line up tells us that those cheeky little monkeys Cradle Of Filth are playing later, but as I'd rather gargle with used condoms than put up with their shouty shite I decide to spend the night in the main arena (christened the Angels & Demons stage), a 3500 capacity nightclub type of thing that usually plays host to Blues Brothers tribute acts and cheesy discos. First up are Spit like This (first from left, above) , a UK band who describe themselves as a Horror Punk Glam Rock Band, which nicely covers several bases, I suppose. From their website it seems like they really want to be nasty and shocking – the kind of band that makes old ladies go 'Tsk!' and cross the road. What turns up onstage is a competent enough bunch that certainly tick all the boxes, blessed as they are with a sex goddess sleazy girl bassist, an Emo friendly lank haired guitarist and a singer who likes to do press ups during instrumentals. Their music is pretty standard Hanoi/Crue stuff with a sleazy sprinkling, but their energy onstage captures the attention more than the songs deserve, especially as the lead singer could give Tigger a run for his money in the bounce-ability stakes. Some of the crowd love it, but most don't seem really moved either way, and a cover of "Sweet Transvestite" from 'The Rocky Horror Show' just doesn't come across as well as it could, more's the pity. Despite their energy and flair, poor songwriting means that Spit Like This leave me with absolutely no desire to see them again or pick up their forthcoming album.
Next up is Zodiac Mindwarp (second from left, above), a name that is not easily forgotten, even if his brief flirtation with chart success was way back in 1772 or something. Yes, Zodiac Mindwarp and his Love Reaction made girls tingle and boys headbang with "Prime Mover" before running off into the sunset, never to bother chart shows again. As a 'name' band, there's a palpable air of expectation as ZM and the lads launch into a song that sounds exactly like "Prime Mover" but isn't. This is a pretty good indication of how the set is going to do, because a LOT of his songs sound like "Prime Mover", so much so that when he finally plays it I have to wait for him to start singing to be sure it's the right song. They have the overall feel of a bar band that got a bit lucky, although that never did ZZ Top any harm, I suppose. The songs are catchy enough, and there's nothing wrong with the presentation, but by the end (despite dancing girls, fire jugglers and spark sprayers), I'm still waiting to be entertained.
Third up, and to me an unknown quantity, is Lauren Harris (third from left, above). No, not Miss FHM 2005 from New Jersey (thanks, Google), but London's own little smasher, mostly known for being Steve 'arry Harris' daughter. Yes, that one. Someone lets slip that she'll be supporting Thunder later this month, so I reckon this is a good chance to find out if I should stay in the bar when she's on. From the off, it's apparent that this is a set that isn't going to blow anyone's minds. The music, whilst pretty good, is decidedly dated, with Lauren's average vocals doing nothing to lift it above 'meh'. I can imagine seeing her support Jagged edge or Little Angels way back in their heydays, but even then you wouldn't expect her to actually go any further. Mind you, Kerrang! would certainly put a few posters in their mag, as she makes Lita Ford at her peak look frumpy. Musically, though, it never gets going, with Lauren pulling out a substandard version of Gun's "Steal Your Fire" between original songs that make us glad the volume is so low, allowing us to have a chat, mainly about how disappointing the set is. If there's a market for average out of date rock sung by a hot chick these days I'll be amazed, and all the way through I just find it hard to believe that she got such a prime slot. Destined for absolutely nothing, but at least her Dad's rich.
After Lauren's set, calamity ensues as the free bar set aside for press and hangers on is exhausted already. Friends of bands and wavers of press passes are forced to join the general population in paying the extortionate bar prices, with a single round costing as much as a t-shirt. A trip to the bog reminds me how odd a place this is for a festival, as I bet at Wacken there's not a sticker on the back of the loo door informing you that 'Billy Bear Wants You To Wash Your Hands'. It's all dreadfully civilized, with the only problem being the volume, which is way too low, like it's turned up to 6 when it should be 11. Maybe it's the shape of the venue, maybe it's Butlins putting their foot down, but the lack of some decent decibels really takes some of the metal atmosphere away from the night.
It looks like our last chance for a bit of quality tonight may lie in the hands of the two female-tastic bands Vixen and Girlschool, neither of whom I have ever seen before. Mind you, as Vixen come on stage I get the feeling that these aren't the same pouty leather clad beauties I lusted over during their "Rev It Up" phase. I'm right, with the only original member being guitarist Jan Kuehnemund (above, left), tonight sporting a truly scary mane of blond hair that looks distinctly wiggy, and not in a good way. I feel a little old watching them, to be honest, as it looks like "Revenge Of The Soccer Moms" and I'm reminded that we're all getting older. That said, Vixen are a band with a back catalogue full of good songs, and the current incarnation (together since 2001) are perfectly capable of playing them as well as the originals did. Jenna Sanz-Agero (above, middle) has a great voice and looks good on stage, every inch the confident frontwoman. They start off a little hesitantly, giving "Rev It Up" an airing as well as a new song "Anyway", which is pretty good. After a few songs they seem to hit their stride, with the quality songs and musicianship winning over a crowd that may well not have been too sure if this sort of thing was what they wanted. Old faves "Love Is A Killer", "Cryin" and "Edge Of A Broken Heart" nestle alongside three tracks from the new album"Live & Learn" (see review elsewhere), with the band leaving the stage to great applause. Personally, I enjoyed the set, and at last have the feeling of being entertained, which is nice.
By the time Girlschool come on it's officially Saturday morning, so as that makes it my birthday I have another drink. My friend John "Swimming Trunks" Kardasz is making fun of Vixen being soccer moms so I tell him that Girlschool must be well old and manky by now, which makes him hiss and spit like a schoolgirl because he loves them and wants to have all of their babies. It's odd that I've never encountered the band over the years, and as such have no basis for my jibes. All joking goes out of the window, however, when they hit the stage with the power of, appropriately, an iron fist. Not only do Girlschool manage to musically set the place on fire at one in the morning, they also look bloody good whilst doing it. 'New girl' Jackie Chambers (above, right) especially impresses in a leather thing that has my loins tingling, sexist old bastard that I am. Watching them, I can see why they've been tied in with Motorhead for all these years. The music is fast, very metal and catchy, although to be honest I prefer Girlschool because they put that bit more melody into it. Kim McAuliffe is a great frontwoman, with a good voice and a nice self depreciating sense of humour. They storm through "Race With The Devil" (the only song I actually know) "Blue Murder", "Hit & Run" and "Never Say Never" amongst others, delivering an hour of solid entertainment. It all gets a bit surreal when they are joined onstage by our old friends the scantily clad girl dancers, along with the fire jugglers and spark throwers (probably not the bands idea, this) but they soldier on regardless. Much as I liked Vixen, Girlschool get my vote for band of the night.
Unfortunately, a bad cold and some good beer has taken it's toll by now, and instead of seeing Crucified Barbara and Tokyo Dragons (who apparently were brilliant), we decide to turn in and get a good nights sleep instead. Aside from the volume, it's been a very promising first day, and the general opinion is that Hard Rock Hell is a very good thing indeed, regardless of what Billy Bear might think.
DAY TWO
I awake Saturday morning ready for two things: meeting with Dee Snider and watching Turisas. The fact that I can do both of these before 3 o'clock in the afternoon is quite pleasing to me. I bump into one of Tesla's lads at breakfast, who informs me that singer Jeff Keith had to pull out of last nights gig with throat problems. Here's hoping that all is well by the time they go onstage in the small hours on Sunday morning.
With Dee Snider well and truly interviewed (nice chap), I make my way to the Porshamar stage (Porshamar are an Icelandic hotel chain, it seems) to watch Turisas. I reviewed their album a few months back and quite enjoyed the silliness, and have seen them on Rockworld TV, so am quite looking forward to the gig. I'm not prepared for the huge crowd they've drawn, especially since they're the first band of the day and, I would think, a bit of an acquired taste, what with all the war paint, the accordion and the fiddle. A few people at the front have brought their own plastic axes and swords and wave them about like children who have had too much sugar as a militaristic drumbeat accompanies the band on stage, along with much noise from the crowd. Apparently, they are named after the ancient Finnish god of war, and as such like to dress up in fur and wear stripey war paint. It would all be quite worrying if they didn't have such a brilliant sense of humour about the whole thing, and as a result are superbly entertaining from start to finish (or should that be Finnish?). Considering their songs seem to be about fighting and/or drinking, there's some great instrumental bits alongside the shouting and chanting, with the band sounding great. Lead nutter Mathias Nygard (Warlord to his fans) grabs the audience by the balls and forces them to have a good time, with the only downer coming when he informs us that all the backstage beer was drunk last night and has to beg the fans to bring him a pint, which arrives with a handy straw. Even better is when some guy (another band member, I think) comes on in a blonde wig pretending to be Dee Snider and telling the band they are crap and should get off the stage. He then leads a short, heavily accented singalong to "We Are Not Going To Take It", which frankly has me in stitches. The gig ends with Turisas dragging out their perennially popular cover of Boney M's "Rasputin", which has Warlord dividing the crowd into "Team A" and "Team B", something I haven't seen since the old Donington days. After an hour it's all over and I've got a massive grin on my face. Sorry, Girlschool, but Turisas just took over as band of the weekend and it's not even tea time yet!
I was hoping to see GMT, featuring John McCoy and Bernie Torme, but their set is delayed for half an hour which means I can only see two songs due to the need to interview angry young women McQueen elsewhere. They play a couple of cool tunes, with McCoy wearing his ever present shades, and the only thing that I'm left with is the feeling that they need to get a better singer than Torme to really shine. The thing is, they'd have to change the name so it probably won't happen (the G is drummer Robin Guy). It's a shame I have to go, as I miss Dee Snider (the real one) turning up for a track at the end of the set.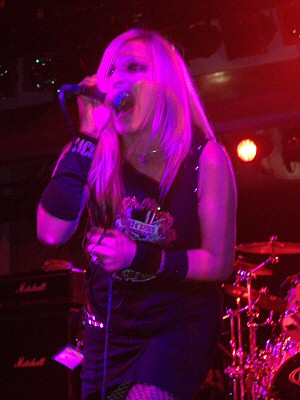 The rest of the afternoon is taken up with hob nobbing, interviewing and getting food inside me ready for the evening. McQueen are indeed feisty hellcats and I'm looking forward to seeing them open up the Rock Legends Arena (tonight's name for the Angels & Demons stage). It all kicks off at 6pm, with the whole event going on until at least five in the morning. Whilst I would like to stay up all night (and sleep all day, Slaughter fans!), I am fully aware that I am an old git who is likely to be having a few too many birthday drinks, so am hoping I can at least stay awake for Tesla, with not much hope being held out for Diamond Head, the last band onstage at about 3a.m. For now, though, it's openers McQueen, who have a decent sized portion of the crowd who are obviously existing fans, many of them girls who look like they will punch you in the face if you step on their feet. Appropriately, they come on to the tune of "The Great Escape", starting as they mean to go on with a snarly, energy filled version of "Bitch" (I think, sorry if I'm wrong here), snuffing out any fantasies about them not being able to hold their own kick starting such a good line up. Vocalist Leah is full of piss and vinegar (and possibly has Tourettes), but is a really good frontwoman with a good hard rock voice. When the singing turns to grunts it loses some impact, but maybe that's just me. Either way, she's backed by a truly competent band who seriously know their shit. They only get a short set, but stuff more talent an attitude in it than many other bands could manage, with some aggressive songs filled with melody. It's my first taste of the band, but I definitely wouldn't say no to some more McQueen.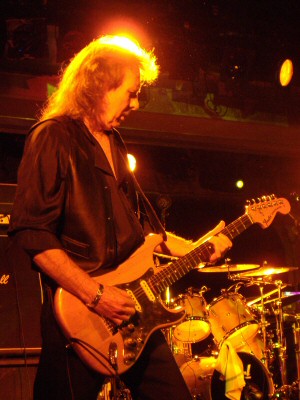 Things are going nicely, and I'm looking forward to seeing Fastway. After a short chat with singer Toby Jepson I'm disappointed that there won't be any songs from the "Trick Or Treat" album, but in reality I'm interested to see what difference the man himself makes to the band. For those not in the know, Fastway was once the project of 'Fast' Eddie Clarke from Motorhead and UFO's Pete Way, although this was nearly 25 years ago. Six albums and assorted band members resulted, and for some reason they're back on the nostalgia trail, although Clarke is the only tenuous link to the original band. So what we have here is basically a band going through someone else's motions, playing classic songs by a band that were never really that classic in the first place. The thing that immediately stands out is that Toby Jepson is an inspired choice, breathing new life into some tired old songs with his typically awesome vocals. For his part, Fast Eddie can still play some amazing guitar, whilst on the other side of the stage it's nice to see Mama's Boy of old John McManus plucking the bass strings. Some songs work, and some are beyond even Jepson's help, but the band are tight enough to make the set worthwhile despite the unfamiliarity of the songs to much of the audience. When all is said and done, this is Jepson's show, as without him it just wouldn't work half as well as it does. He doesn't steal the limelight or show off, he just does what he does best. Even so, there's still plenty of calls for Little Angels songs by fans who will go away disappointed that they don't arrive. I can't help feel that if Toby and some of the lads got back together it would be a huge success, but whatever happens you have a feeling that he'll do just fine.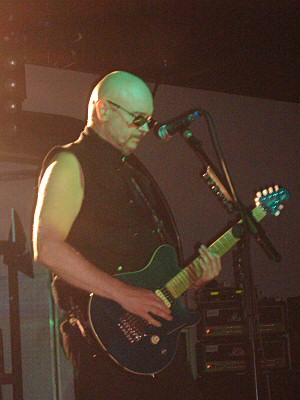 Time moves on, and beers get drunk. The arena fills up that much more in anticipation of one of Britain's best loved metal bands: Saxon. The headline spot may belong to Twisted Sister, but everyone is fully aware that this is a band on home territory who have never done a bad show. Amazingly, as it starts to look like they will be coming on, a chant of 'Saxon, Saxon' starts up and is taken on by enough people to make it sound impressive. I can't imagine any other band getting a chant before they've even come on, save perhaps Iron Maiden, and it shows the love and respect that the fans have. Before the music starts, Biff Byford looks bemusedly out at the venue and states "I'm not saying Hello Fookin' Butlins" with a grin. After this it's all business, with fan fave "Motorcycle Man" starting things off with a bang. A Headbang, even. It's nice to see Paul Quinn without his headscarf for once, coming out as a baldie, counterbalanced by Doug Scarratt and his lion like mane of hair on the other side. The whole band don't miss a beat, ploughing through the likes of "Crusader", "Let Me Feel Your Power", "Strong Arm Of The Law" and my favourite "Princess Of The Night". Unsurprisingly, "Wheels Of Steel" gets a singalong, although it's a shame that we don't get to sing the chorus these days. As usual, there is nothing to fault about Saxon's show, and the crowd laps up every second. Although they're over running a bit, they still come back to give us an encore with the mighty "Denim & Leather", about as anthemic as metal songs get. Biff Byford doesn't look like stopping any day soon, his voice as strong as ever combined with a mesmerizing stage presence that let's you know you're watching one of the best. Without a doubt, Saxon remain one of the best live metal bands in the world, and we're damned lucky that they could come to little old Butlins for the weekend. Fookin' brilliant.
So this is what it's all been leading up to, the band with their name at the top of the posters and t-shirts. I'm a bit of a Twisted Sister virgin, and although I have some knowledge of their music I've never encountered them live. As a result, I'm not totally sure what to expect, although if nothing else it should be a good laugh. There must be at least 3000 people in the room when they come out, most of them with a few pints inside and all expecting nothing less than pure entertainment. Thankfully, Twisted Sister don't disappoint. Dee Snider slouches out looking every inch the Mister Sister, plastered in bad make up and pink/black clothes. As they plough through "The Kids Are Back" and "Stay Hungry" it becomes vividly clear that Twisted Sister are more about entertaining you than impressing you with their technical excellence. Some of the guitar solos are so basic your cat could play them, but it doesn't really matter because the show is so brilliant. It's pure old school, with Snider declaring that heavy metal should "Kick you in the balls and make you want fucking more!" To demonstrate, they bring out a ball kicking monster called "The Beast", followed by "Shoot 'em Down" and "You Can't Stop Rock & Roll", after which the rest of the band have a break whilst founder member Jay Jay French gives us an entertaining rant about how great classic rock music is. Hell yeah! "We're Not Gonna Take It" is brought out mid set, with Snider sneering at bands who save their biggest song until the end, and they have the balls to follow it with "Silver Bells" from the "Twisted Christmas" album, bemusing a lot of people but almost working in the end. Through it all, Snider shows just why Twisted Sister can still pull people in, as he is one of the most natural, charismatic frontmen I've ever seen, a heavy metal preacher. After they finish with "I Wanna Rock" (including a great fun singalong section), it would be criminal to let them leave, even though they are already eating into UFO's set. "I Saw Mommy Fucking Santa Claus" and "S.M.F" see us on our way, along with what seems like a million thank yous, and we're left with that warm glow you get after watching a truly entertaining band.
By this time, I'm getting rather sloshed, and really do try and sit through UFO. The problem is, I've never really been much of a fan and their music just sounds dated. After half an hour we decide to wander off to try and wake up a bit, and am amazed to see the merchandise stalls shutting up for the weekend. I am informed that they won't be open tomorrow, which seems bloody stupid to me, as there will be a lot of people with leftover cash to spend in the morning. I don't know if this is due to Butlins or the promoters, but it's something that really needs to be sorted next time. Lightweight that I am, I call it a night at this point, missing what was apparently a storming show from Tesla, but sometimes you're just not in the mood for any more bands.
Hard Rock Hell was a brave experiment, and by God did it work well. The place wasn't trashed, the music was great and the atmosphere was superb. I'm sure loads of people will have their ideas about what should be changed for the better, and I hope the promoters listen, because it could be the start of something beautiful. Personally, I'd like to see a melodic rock stage, so that the likes of Wig Wam, Ten, Brother Firetribe and Leverage could show off their wares. Well, I can dream, can't I?
Review and photos by Alan Holloway,

21 November 2007
(c) 2007 RockUnited.Com