"Just For The Record" is a brand new section at the RockUnited site where 'DJ Urban' has a look at some old(er) records/albums in the great history of hard rock and metal. It could be some "obscure" minor record label release that simply didn't get the attention it so rightly deserved the first time around. It could also be a what you would call a "classic" album or sort of a best-seller. They all have one thing in common though. They all ROCK and and they all have at least one classy enough band member to answer our q's.
TUFF: "What Comes Around Goes Around"
TUFF and their debut album "What Comes Around Goes Around" from the year of 1991 (Atlantic Records). Definitely one of the very last f-i-n-e and f-u-n Glam/Sleaze releases from the classic hair-metal era. Unfortunately a couple of years too late in terms of release date vs. selling figures since the 'alternative' wave was just around the corner and they had to put up with the coming of the oh-so grungy stuff. TUFF had been playing the classic Sunset Strip for several years though as the history of the band dates back to the mid-eighties. They had a sort of different line-up in those days. The following lads completed the 'What Comes Around Goes Around' line-up in 91': Stevie Rachelle (vocals), Jorge DeSaint (guitars), Todd Chase (bass) and Michael Lean (drums). Original? perhaps not at times, but it's a catchy, fun record, blessed with a lot of attitude. Simply check out the ultra wicked strut of 'Spit Like This'. Mr. Rachelle has since continued to release solo as well as TUFF releases every now and then. He's also been keeping himself busy with his other creation, the 'Metal Sludge' website. Ehem, some kind of antagonistic, utilizing humour, take at hair-metal, but at the same time it was in a tongue-in-cheek manner as they did/do support (most of) the bands they cover. Yeah, Rachelle is a 'Good Guy' and as we all know they 'Wear Black'. However, whatever you do - don't mention Gerri Miller, Poison, or the fact that Rachelle was a real Bret Michaels look-a-like at the time and could probably still pass as his long-lost brother. TUFF are about to get ready to embark on a 15 date combo European tour during August and September with the lads from Shameless. The set will be filled with songs from this very record and you'll get to hear the likes of "The All New Generation", "I Hate Kissing You Goodbye", "Good Guys Wear Black", plus the global mega smash "American Hair Band". Here to tell us everything about the great 1991 release, the one and only, Mr. STEVIE RACHELLE...
How long did this album take to make from start to finish, recording-wise?
Well pre-production (basically rehearsal with the band, going through songs, choosing what to use, arrangements, etc..) with our producer Howard Benson started on Nov 1st for about a month. We had 3 lists of songs. An 'A' of our top 10 ideas, a 'B' list with our second top 10 choices. And a 'C' list of ideas in the works. I can tell you that the "Dokken Idea" from the 'C' list made the record. It's the opening track "Ruck - A - Pit Bridge".

We actually started to record the record on Dec. 26th 1990. The day after Christmas. Kind of like our dream Christman gift. Michael Lean & Todd Chase did most of the drums & bass @ Track Records in NoHo Cali. In about 5 days. Then in early Jan. 1991 we started doing over dubs w/ guitars, vocals, solos, back grounds, etc.. This was about a month. In early Feb. we were done. I'd say it was about 5-6 weeks in total. Mixing was about a week as well.
What kind of initial budget are we talking about here?
We were signed for $ 75,000.00 but went over budget and the CD cost $ 90,000.00 to make.
How much of the budget did you actually spend on useless equipment and other nonsense?
None. We barely got any of it. I do remember our producer turned in a budget, break down and cost for everything. I probably still have a copy somewhere. It's pretty interesting to see how money gets spent on these things. The band each got $ 600.00 a month to pay our rent. No other money. All of it was used for rehearsal space, recording studios, producer and related costs.
What kind of 'sound', production wise, did you have in the back of your mind, prior to entering the studio?
Huh? I guess our sound. The TUFF sound. We were definitely a hair band, or a glam rock band. But I think we had more balls than Poison or Warrant. We wanted it to be heavy, yet melodic. In looking back we probably had NO fucking clue what we were doing at 23 & 24 years of age.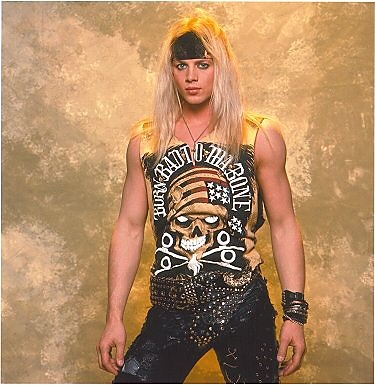 What kind of input did the producer have during the process?
A lot. Howard Benson was very smart. He did a lot of bands at the time. Bang Tango, Pretty Boy Floyd & Southgang. Howard had a lot to offer, and again, in looking back we argued what we wanted at times, and now I think "man were we stupid". Most young bands think they know it all. I have seen this over the years. And it's almost funny. I can admit I was a total punk and probably annoying idiot to deal with during the TUFF heyday at times. I learned a lot in 25 years though and have tried to pass my knowledge onto the band I manage VAINS OF JENNA. Howard is now a huge name in the industry and produces Hoobastank, Daughtry & a lot of big name artists.
And were you pleased with the final outcome? (sound - production wise)
Yes and no. I am and was very proud of that cd. And we did a lot more than many bands from our era. But no matter how much you sell, or make, it would always be nice to have made more, or accomplished more. I think anyone from any level could and would agree
Did the producer (you) use any (weird) experimental miking and/or recording techniques?
Not that I recall. However, I will say that making a record is A LOT more than setting up and mic'ing the instruments and playing the songs. It's a process and a art form. Again. Usually the older guy, producer knows best. To the young kid who can play fast, or signed the deal - they are usually like a rookie on a sports team. It takes time to learn the ropes.
How much time did you spend on overdubs?
Gee, I guess a week. Maybe 2-3 days. Once bass and drums were finished, we had a calendar/schedule, and each day Howard would tell us what we were doing the next day, that week, etc... and everyone had things to work on. My lyrics, Jorge solos, etc... It was almost 20 years ago, don't recall all details.
Which band member spent most of his days in the studio and why?
During the recording. I'd say Michael. He was done with drums in 5 days, but he was the leader of the band and was involved in everything. Very smart guy and was also the youngest member as well. I was 24 when we got signed and the oldest. Todd & Jorge were about 6 months younger. Michael was 22 I think when we got signed.
Which band member hardly spent any time at all in the studio and why?
We were all there. As much as we could be. Howard kicked us out when we got on his nerves or didn't need us. But the whole band was very involved. We all wanted to do whatever we could to make it happen.
Let's talk about the lyrics. Are you just as fond of them today or are they typical of its time?
Sure. I think "Forever Yours" is kind of lame, but this was written in the 80s.. when this type of stuff was at his peak. I think "Good Guys..." "Generation" and "Lonely Lucy" have some cool lines. I learned a lot about writing lyrics through Howard. He made me re-write "All New Generation" about 10 times. It's a great song, with great lyrics and a message.
How did you go on about capturing your 'live sound', or perhaps you didn't?
Umm. We plugged in and played. No samples. No backing tracks. No key boards. A live drummer, bass & guitarist and vocals. Everyone sang back grounds too. Give us a drum kit and a couple stacks and we were good to go. Nothing too fancy, just rock n' roll.
Did the record company interfere anything on your "sound" and "songs", considering what's 'hot and not' at the time?
Yes and No. Yes that they passed on releasing "Generation.." as a single and went straight to the ballad "I Hate Kissing You Goodbye". Which we were not happy about. We wanted a rock song out first. But they call the shots at the end of the day, and sometimes you have to bend. We made a record, they released and promoted it.
Your favourite songs off the album and why?
"Good Guys Wear Black" a true rock/metal TUFF track. Been playing it since 1988. "I Hate Kissing You Goodbye". Because I first wrote this in 1985, one of the first songs I ever wrote and it became a #3 video on MTV. "So Many Seasons". A song I wrote about my brother and father passing away when I was younger. I love the whole album.
Any 'oh-I-wish-we-had-never-recorded' song on this album?
I have no regrets...
Were there any other tracks recorded during those studio sessions that didn't make the cut?
No. A lot we never recorded, but we only did 10 for the CD. Songs that did not make the cut, that I wish could have are "Money Talks" "Put Out Or Get Out" & "When We Were Young".
Are there any 'crazy' behind the scenes anecdotes from these sessions that you can share with us?
Nothing too crazy. But had some friends come in and sing, hang out that were cool. Frankie from KingOfTheHill, Kristy Majors from PBF (Pretty Boy Floyd) & Kane Roberts from Alice Cooper band. All great guys.
Were you ever a "priority" case or merely just another release at your record label?
I'd say another release. Atlantic had AC/DC, Rush, Skid Row, Saigon Kick & Mr. Big putting out rock records at the exact same time. So we were definitely NOT a priority.
Did you ever feel like the record label supported you guys enough afterwards? (promotion-wise, tours, etc.).
I'd say no. But in reality, I was happy to have the chance we got. A lot of bands never got signed, or did, but didn't get to make a video, or tour in a bus. Etc.. I am very happy for the good things we got. But would have loved more. The fact is, that if Skid Row didn't have Bon Jovi & Doc McGhee involved, they might have sold like Slik Toxic and barely made an impression.
Any regrets whatsoever? (regarding the album of course)
None. But would love had it went double platinum. Or that it came out a year or two sooner. Nirvana changed the whole industry.
If there's anything you'd like to add, say, or promote, please do:
Yes, My current up n' coming European Tour in Aug-Sept 2010. See dates below along with my website and myspace. Rock n' Regards!

Aug 26th 2010 "Garage Deluxe" Munich GERMANY
Aug 27th 2010 "Rock City" Uster SWITZERLAND
Aug 28th 2010 "Paunchy Cats" Lichtenfels GERMANY
Aug 29th 2010 "Rock It " Arnsberg GERMANY
Sept 1st 2010 " Banale Estivo" Ponte di Brenta ITALY
Sept 2nd 2010 "TBA" ITALY
Sept 3rd 2010 "TBA" Trentino ITALY
Sept 4th 2010 "Rock Club" Ronchi dei Legionari ITALY
Sept 5th 2010 "TBA" ITALY
Sept 7th 2010 "Thunderbird Lounge" Saint-Etienne FRANCE
Sept 8th 2010 "Classic Rock Café" Roeselare BELGIUM
Sept 9th 2010 "TBA" Copenhagen DENMARK
Sept 10th 2010 "Dirty Harry's" Järnvägsgatan Växjö SWEDEN
Sept 11th 2010 "Stockholm Rock Out" Stockholm SWEDEN
www.tuffcds.com
www.myspace.com/stevierachelle

Interview by: Urban "Wally" Wallstrom,


Photos from www.tuffcds.com
(c) 2010 RockUnited.Com - Just For The Record!