"Just For The Record" is a brand new section at the RockUnited site where 'DJ Urban' has a look at some old(er) records/albums in the great history of hard rock and metal. It could be some "obscure" minor record label release that simply didn't get the attention it so rightly deserved the first time around. It could also be a what you would call a "classic" album or sort of a best-seller. They all have one thing in common though. They all ROCK and and they all have at least one classy enough band member to answer our q's.
TYKETTO: "Don't Come Easy"(1991)
TYKETTO and their debut album "Don't Come Easy" from the year of 1991" - Excellent Melodic Hardrock from NYC and originally formed by ex. WAYSTED (they broke up in late 87/early 88) vocalist Danny Vaughn, Brooke St. James (guitar), Jimi Kennedy (bass), and Michael Clayton (drums). The four of them played the local scene for a couple of years and Geffen Records contracted the group for this very album. Unfortunately they turned down or rejected the in my humble opinion almost better follow-up (Strength in Numbers), but that's another story. They recorded a new album (Dig In Deep) in 2012 but are constantly and currently touring the states and Europe (and The Monsters of Rock Cruise in April). Here to give us his insight and thoughts about 'Don't Come Easy', their classy singer and frontman, the one and only, Mr. DANNY VAUGHN...
How long did this album take to make from start to finish, recording-wise?
I'm thinking that it was about a month and a half in studio time. We started in a rehearsal studio in L.A. and worked through the songs with Richie Zito for several days until all the arrangements were agreed upon and locked in. We also used that time to get all of us accustomed to playing with a click track, which was a relatively new thing for all of us. From there we went into the big room at A&M studios to cut all the basic tracks. It took some time to settle in and get the sounds everyone was happy with. Drum sounds took a day. Guitar sounds took more. This was in the same room where "We Are The World" was recorded. Huge place and very intimidating and the sound console was a glorious, old Neve that had belonged to George Martin in Montserrat. When basic tracks were done we moved to a place called O'Henry's in Toluca Lake where all of the vocals, acoustic guitars, lead guitars and fine-tuning were done.
What kind of initial budget are we talking about here?
If I remember correctly Geffen spent close to £$200,000 on Don't Come Easy..
How much of the budget did you actually spend on useless equipment and other nonsense?
Best not to think about it!! Lol!! Back in those days you didn't question anything. If the record company said, "you need this" you got it. It was only in hindsight that we realized that we were, of course, paying for everything. Richie Zito had a lovely, blonde personal assistant with legs that went on forever. In the time we worked with him she was there every day and, aside from sometimes getting lunch for everyone, her main function was to look after his daily business. She was keeping track of other albums he had in the charts, making his calls for various business endeavours and all on our dime. To the tune of about $700 a week I believe.
What kind of 'sound', production wise, did you have in the back of your mind, prior to entering the studio?
We were a bit torn on that idea. Michael and I came from the Led Zeppelin listening school. We wanted bombastic sounds. Brooke was a huge Eddie Van Halen and George Lynch fan so he was into what was then becoming the more processed guitar sounds. This was a time when everything was getting bigger and fuller sounding all of the time. But there were albums like Bon Jovi's "New Jersey" and some of the Def Leppard stuff that we really wanted to emulate. Of course, to do that we would have to have spent 3 times as much money as we did. I remember one day we stopped into John Kalodner's office while we were working on our album and he played for us the recently finished mixes of Aerosmith's new album "Pump", which no one had really heard yet. We were floored." How do we get sounds like THAT???" The answer is: "you don't".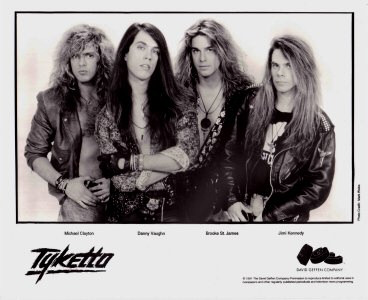 What kind of input did Richie Zito (the producer) have during the process?
He was involved in all of it. He had just finished working with Heart and Cheap Trick and had big hits with both of them. I was very intimidated because Robin Zander and Ann Wilson are two of my favourite singers. But Richie really put me at my ease and made the whole thing a pleasant experience for me. Not so much for Brooke, I'm afraid. Although from a very different style, Richie is also a guitarist and he really worked Brooke over hard. Really split hairs with him on stuff. Well, he did with all of us but Brooke took it the hardest, I think. Richie worked on the arrangements, the guitar parts, the vocal lines, everything. But his secret weapon was Phil Kaffel, the engineer. Richie was the man who understood the structure of songs, the nature of sounds and how to use them to full affect. Phil knew how to make our ideas physically possible. Phil was the genius behind the tools.
Did the producer (you) use any (weird) experimental miking and/or recording techniques?
The best one that I remember was when they recorded the drums. Michael was set up in the big room, which had a fantastic sound already. Then they put mics on the kit and put PA bass bins on either side of him with the kick drum coming through them. On the floor in front of the bass bins they taped these square shaped, flat microphones to record the "boom" coming off of the PA speakers. That made the kick drum sound like it was 5 feet high.
How much time did you spend on overdubs?
My memory is fuzzy but it was certainly half of the entire recording time.
And were you pleased with the final outcome? (sound - production wise)
We were more pleased with the rough mixes than we were with the final mastering. The mastering got handed off to a different person, a guy that was one of Geffen's "Go to" guys and we all felt as if he made it all too smooth and safe sounding compared to what it was.
Did you have the experience from your Waysted days to speak up if something went wrong?
Certainly. I was the only one of us that had made a proper record before and I'm glad I had because it's a very difficult thing to be "under the microscope". You're trying to maintain the honesty and emotion of the raw demo performances but now you are paying attention to a hundred different technical things at the same time. It can suck the life out of your performance. At least for this one I was a little more prepared than I was when I made "Save Your Prayers".
Did the record company interfere with anything on your "sound" and "songs", considering what's 'hot and not' at the time?
There were a few things. John Kalodner is notorious for making certain that he has something in the process to hang his hat on. Quite often he is right, too. In our case some of what he insisted upon is the stuff of small legends. The original title of the song. "Lay Your Body Down" was "Bourbon Street", named after the strip club in New Jersey where the band spent a great deal of its time and money. John refused to allow us to call it Bourbon Street because he hates the city of New Orleans. I'm still baffled by that one. How can anyone hate New Orleans? The other change he made was in the song "Seasons". Originally, at the end, as the song faded out I put in some really cool, James Brown like scat vocals. John hated them and made us take them out. He said I sounded like a black woman. To me, that is a huge compliment. But he didn't see it working with "white boy rock". Oh well.
Your thoughts about John Kaldoner and the experience of working with him?
John Kalodner, and our main A&R rep, Mary Gormley, were huge supporters of Tyketto. You couldn't have hoped for better. For the most part, I really enjoyed working with John, even though I didn't subscribe to his politics. He was more of a rock star than most of the bands he worked with.
Let's talk about the lyrics. Are you just as fond of them today or are they typical of its time?
Mostly, yes. There are differences. When I sang "Forever Young" back then, it was for myself. That is what I wanted to be. That is what I demanded to be. But time has a way of educating you. Now I don't sing that song for myself, but for the people that are kind enough to still love it and tell us that is has so much meaning for them. Once you record a song and send it out into the world, it's no longer yours. It belongs to the audience. And you have to respect what they do with it. A song like "Standing Alone" absolutely stands up today. It's content and theme is universal. When we wrote those songs I purposefully wanted to avoid being topical. My goal was to try and write anthems, if I could. Overall, I think we succeeded, which is why the album is still played in clubs all over the world today. And for that I am eternally grateful.
Your favourite songs off the album and why?
"Sail Away" is my story of Tyketto and how we all came together. It's a story about brotherhood and wading through the mud all together with your gang. It has become one of the most important songs in our live set and has grown longer and more involved as we get the audience to join in a sing-along that tips it's hat towards what Freddie Mercury used to do. "Standing Alone" is one of the most personal songs I've ever written. I still get mail form people today that say they identify with the song deeply. Perhaps even that it helped them get through some really dark times in their lives. What an amazing compliment! "Burning Down Inside" is Michael's favourite and I don't think we have ever played a concert where that one wasn't in the set.
Any 'oh-I-wish-we-had-never-recorded' song or other regrets?
None at all. I guess I wish we hadn't let them talking us into spending so much money! Oh wait! There is one thing. The cover. Geffen wanted to play up on the band's looks but they also didn't want to do a typical rock group pose photo. So they got in a New York City fashion photographer who took pics of us all over the city. There were so many great, outdoor shots that we loved but they went with the weird colors and pose from the studio session. We didn't want it because we thought it really didn't make any kind of statement as to who the band is. But they would not be moved.
Were there any other tracks recorded during those studio sessions that didn't make the cut?
No, but there was one other song that was used as a flip side for the single of "Forever Young". That was called "Walk Away"
Are there any 'crazy' behind the scenes anecdotes from these sessions that you can share with us?
Well, there were some crazed stalkers, some long nights in strip bars and walking around goggle eyed on the sunset strip hanging out with the who's who of rock fashion of the day. But mostly, we were a fairly straight up and somewhat boring band. That is to say, we all had a really good work ethic and nobody messed around until the work as done.
Were you ever a "priority" case or merely just another release at your record label? Did you ever feel like the record label supported you guys enough afterwards? (promotion-wise, tours, etc.).
We felt like a priority. Mary Gormley got us hooked up on the Nelson tour when they had the number one song in the country. We got massive exposure from that tour. We went over to England supporting White Lion when they were at the peak of their popularity. There were even attempts to get "Forever Young" on to one of the Rocky Movie sound tracks. I think they worked hard for us. But mistakes were made. Money was misspent and musical trends changed right in the middle of our ascent. It's easy to look back and cast blame on others but I don't do that. It just didn't happen for us in the way we thought that it would.
If there's anything you'd like to add, say, or promote, please do:
Yes, next year marks the 25th anniversary of the release of "Don't Come Easy". It's been out of print and tough to find for a long time now. It looks like it is going to finally be re-released on Rock Candy Records in 2016. We're not going to waste such a golden opportunity. The plan is to also release a brand new Tyketto album in 2016 and to tour more extensively than we have in years playing the new songs as well as playing the entire "Don't' Come Easy" album live. Keep your eyes on our Facebook page for more info on that as we go along. Lastly, thanks to everyone that has helped to give "Don't Come Easy" a small slice of immortality. 24 years on and people still love the songs, still have copies of the cd of vinyl they want signed and still give us the charge and impetus to make Tyketto what it is: a great live rock band!
Danny Vaughn

www.tyketto.de
www.facebook.com/pages/Tyketto-The-Official/272013509510636

Interview by: Urban "Wally" Wallstrom,


(c) 2015 RockUnited.Com - Just For The Record!