MRFS DAY 1 (+ intro)
The first and possibly the last MELODICROCKFEST SCANDINAVIA took place in Malmö, Southern Sweden. The venue was an old slaughterhouse, and it was quite excellent, plenty of room, several bars and a restaurant that served decent food. For the sound engineers the main room was apparently a bit tricky, and some of the bands suffered a little of that. As Sweden and the rest of the Scandinavia were experiencing a heatwave, it was quite hot inside the venue. I don't know whether it's as hot in there during normal circumstances. Hopefully not.
The festival began on thursday, and we missed some of the first bands. I take the blame for that - first of all I was in a Rockingham/Firefest state of mind, thinking that if we arrive on thursday afternoon, we'll be there a day before the event. Then I started looking at the flights, I assumed that the Malmö airport is the obvious choice, and didn't even think that it might be easier to fly to Copenhagen, Denmark. "Why would I want to fly to Denmark when I'm going to Sweden?"… well, maybe because it takes less time to get to Malmö from Copenhagen Airport than from Malmö Airport, and there's much more flights to Copenhagen!
Well, I found us ok-priced, direct flights from Helsinki. The guys from One Desire were on the same flight, and maybe a dozen other people, so there was plenty of room and good service. The small Malmö airport was a pleasure to walk through, no lines anywhere and we were in the shuttle bus 10 minutes from the landing. The only downside was that we landed in Malmö around 4 in the evening, which meant that we missed the Bad Habit acoustic set, Grand Slam, Colorstone and Midnight City.
The main man of MRF Scandinavia, Johan "Dr. AOR" Nylen was at the door when we arrived, and gave us the required passes and wristbands. We also met Jim Jidhed and had a brief chat with him, a nice gentleman with a golden voice he is indeed.
Then it was time to go, as we heard the sound of "Rawk" from the main hall. That can only mean GRAND DESIGN, those Swedes who have created their own spelling of certain words. Not to mention their own version of the vintage 80ies Def Leppard sound, which has become their trademark. The distinctive high-pitched vocals of Pelle Saether add some personality, and while the Leppard sound is still very much a part of them, they aren't trying to re-write Pyromania anymore.
At MRFS, the band had a short slot of some 40 minutes, and they included songs from all of their albums in their set list. Three songs from their latest one "Viva La Paradise" were played, and two songs with "Rawk" in the title… The band played with enthusiasm but somehow I didn't connect with them - maybe I wasn't in a Rawk mood yet? The setlist didn't include many of my personal favourites from their albums, this could be another reason. The band was good, they had chemistry and they probably won a few people over, but for me this was just OK.
SETLIST:
Get Up 'n Love Someone
U Got Me Good
Viva La Paradise
Don't Ice Me Out
10 Outta 10
Air It Out
Face It
Rawk'n' Roll Heart Attack
Let's Rawk The Night
ONE DESIRE had found their way from the airport to the venue and were next on stage. Still kicking off their show with their biggest song "Hurt", the band did have an explosive start, but I've questioned this before and do it again - why not save the biggest bang to the end? Anyway, the band's sound wasn't the best but what I noticed is that Andre Linman's vocals were the best I've heard from him live. He might not be the smoothest frontman when it comes to the song introductions and such, but then again, he seems genuine and unpretentious.
Guitarist Jimmy Westerlund provided fine melodic licks and good backing vocals, while bassist Jonas Kuhlberg added a bit of a "metal edge" to the frontline with his head banging stage persona. Founding member, drummer Ossi Sivula and additional member Antti Roslander on keys were on the background, yet vital parts of the sound.
I was secretly hoping for a taste of the new material the band is working on or maybe some other surprise, but didn't get that. The band played the same list as before, even in the same order if I'm not mistaken. Didn't mind that, I like their album and the songs work well live. Some even better than on the album, the set closer "Buried Alive" for example.
What elevated OD's show to another level was the crowd participation - the band really conquered the MRF crowd and had them singing along. When the next album is released and the band can boost their setlist with a few new hits, they'll be unbeatable, a force to be reckoned with, phenomenal and that sort of things!
SETLIST:
Hurt
Turn Back Time
Apologize
Love Injection
This Is Where The Heartbreak Begins
Whenever I'm Dreaming
Falling Apart
Do You Believe
Buried Alive
MELODIC ROCK FEST ALLSTARS was a special line-up assembled for this event. Herman Furin (drums), Ludwig Turner (guitar, vocals), Philip Lindstrand (guitar, vocals), Jona Tee (keyboards) and Andreas Passmark (bass) was the core band, with Jim Jidhed taking care of the lead vocals for a few songs. John Parker of Talon played drums on two tracks.
Before the event the was a discussion about the setlist, and the original idea was that the songs would be AOR classics, the kind of songs that everyone knew. I wasn't totally sold on that idea, because "songs that everyone knows" are the kind of songs that we might have heard a bit too many times before. Fortunately the Allstars had chosen a much more interesting setlist, with several cult AOR gems!
Giant's "I'm A Believer" was the opening track, with Reach-frontman Turner showcasing his skills as an axeman and (stand-in) Cruzh singer Lindstrand doing a respectable job on vocals. Turner and Lindstrand swapped roles continuously, with Turner singing songs such as Signal's "Does It Feel Like Love", Journey's "Separate Ways" and "Burning Heart" by Survivor, while Lindstrand sang Van Halen's "Dreams" , Michael Bolton's "You Wouldn't Know Love" and Richard Marx's "Satisfied". The lyric sheets and iPad were used by the vocalists, which was kind of awkward at times, but then again, this was an one-off gig so there's only so much time one can use rehearsing for it. What comes to singing, the singers were good. Well, apart from Turner-sung Bad English track "Straight To Your Heart", on which he tried a bit too hard, going overboard with his singing. John Waite's understated style is hard to replicate.
Alien vocalist, the great Jim Jidhed did sing another John Waite song, the classic "Missing You" and he succeeded, adding his own flavour to it. He also sang a track from his recent solo album "Push On Through", and a stripped-down "man & guitar" version the biggest hit of his career, "Only One Woman". Damn, he can sing!
SETLIST:
I'm A Believer (Giant)
Burning Heart (Survivor)
Separate Ways (Journey)
Dreams (Van Halen)
Does It Feel Like Love (Signal)
You Wouldn't Know Love (Michael Bolton)
Missing You (John Waite)
Glorious (Jim Jidhed solo)
Only One Woman (Alien/The Marbles)
Satisfied (Richard Marx)
Straight To Your Heart (Bad English)
The headliner of day one was TREAT, one of my favourite band since the mid-eighties. I was very much looking forward to their set, because this was the first time I've seen them headline. The previous couple of times I've seen them have been festival slots. Did they deliver? Yes indeed!
The band had their own sound engineer and probably because of that, the best sound of the day. They also had a good looking stage set, very suitable for a headlining act. What's more, they had the songs. As far as I'm concerned, in addition to their awesome setlist, they could have easily played another hour and a half of nothing but "personal hits", songs that I've always loved.
Vocalist Robert Erlund is a different kind of a singer, not the commanding frontman-type, more like just a band member whose instrument is his voice. His banter between the songs seemed nervous and a bit forced, as if he'd rather be just singing. But he did look very happy doing that, and I thought his voice was in good shape. So were the backing vocals, the rest of the band sang their heart out. Maybe some additional help came from a hard disc, but I was pretty close to the front row and I'm certain that the guys weren't just miming.
New bassist Pontus Ekberg and guitarist Anders Wikström were rather lively performers. At one point they played back to back, and unfortunately their wireless recievers got tangled up and this caused Anders some problems with his in-ear monitors and guitar. He soldiered on though, and eventually things were fixed.
It's not a small achievement when an "80'ies band" can play a set that includes plenty of recent material, and get away with it. There are bands whose new material is merely tolerated, not necessarily enjoyed by a majority of their fans, but that's not the case with Treat. Songs like "Ghost Of Craceland", "Non-Stop Madness", "Paper Tiger" and "Skies Of Mongolia" were welcomed just as well as the golden oldies. A special "Dreamhunter" medley contained snippets of the best songs from that album, with the exception of "World Of Promises", which was saved to the end of the set and played completely. I would have loved to hear the band's comeback hit "I Burn For You" and songs from "Pleasure Principle", from which we only heard the somewhat average "Love Stroke". Still, a great show from the kings of Scandinavian AOR.
SETLIST:
Ghost of Graceland
Better the Devil You Know
Nonstop Madness
Ready for the Taking
Papertiger
We Own the Night
Love Stroke
Dreamhunter medley: Sole Survivor / You're the One I Want / Take Me on Your Wings / Best of Me / Dancing on the Edge / Outlaw
Roar
Get You on the Run
Conspiracy
Skies of Mongolia
World Of Promises
MRFS DAY 2
Friday's first band was BOULEVARD, playing "unplugged" for the VIP ticket holders and us media people. The last time I saw them was at Firefest, where they played their triumphant comeback gig. To be honest, I wasn't as blown away back then as most people were, but maybe I wasn't ready then. One could say that I saw the light in Malmö, because both of the BLVD gigs were superb!
The short acoustic show was a very casual and relaxed event. The guys showed us that not only are they brilliant musicians, but also very funny entertainers, it was almost like an AOR stand-up comedy show. Especially keyboard player Andrew Johns has some serious talent for comedy… The band's melodic songs sounded really good in a stripped format, and the vocal combination of David Forbes and Andrew Johns was nothing short of spectacular.
The first act of the normal line-up was THE GRAND MASQUERADE. Those masked men had more than their share of bad luck and trouble just before the MRFS, as most of their instruments and stage clothes were stolen. They were on the verge of cancelling, but thanks to many helpful people, they were able to perform.
Despite playing borrowed instruments and wearing normal street clothes instead of their special stage costumes and masks, the band didn't make any excuses. They just came, played and sang their hearts out and pretty much stole the show for a while. Maybe the robbery was a good thing after all, now the band proved that they're not only a gimmick band, their songs stand up without the costumes and masks too.
The band played the songs from their now out-of-print EP and also a new song called "The Chosen Ones" (all available in Spotify, hint hint). I was particulary impressed by "Those Days Are Gone" with its' deadly infectious hook! Not having a CD product available was a bit of a commercial suicide – they could've easily sold a few dozen cds to this crowd. They did have the coolest looking T-shirts though.
SETLIST: (not in correct order and maybe missing a song or two)
By My Side
Those Days Are Gone
I Get This Feeling
Say You're Mine
The Chosen Ones
Live It Up
TALON were flown over from USA, and frankly, I can't understand why. It's not like the band has a significant following in Scandinavia, which would justify the expense. Maybe they had cut some sort of a special deal in order to get exposure over here. Anyway, I have reviewed the band's first album back in 2002, but haven't really followed them after that. I had to check what I wrote about them, and apparently I quite liked the debut: "Enjoyable selection of melodic hard rock, although nothing new under the sun" was my verdict then, and that still sums them up.
The band had a good frontman in Michael O'Mara, who had the looks and moves of a vintage 80'ies rocker. The rest of the guys – not quite as much. They played well and the songs were OK, but the band's performance wasn't one of the most memorable ones if this festival.
Setlist:
Fire In Your Soul
Holly Would
Paradise
Set Me Free
Spun
Mother Mary
Talon In My Heart
Rise Em' High
Wrecking Ball
After Talon's retro-eighties' hard rock, DEGREED offered something more contemporary. Their albums have been critically acclaimed and I've liked them too, but in a live setting they haven't been able to totally convince me of their greatness. It didn't happen this time either.
While the band has enough melodic songs to justify a slot at MelodicRock Fest, they really stretched the limits with some aggressive, noisy tracks. Then again, they treated us to a fine rendition of Steve Perry's classic "Captured By The Moment" and Ozzy's "Bark At The Moon". Out of their own songs my favourite was "Shakedown" from their latest album.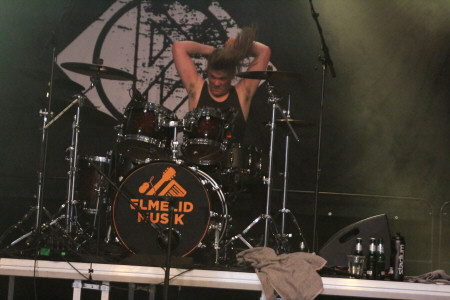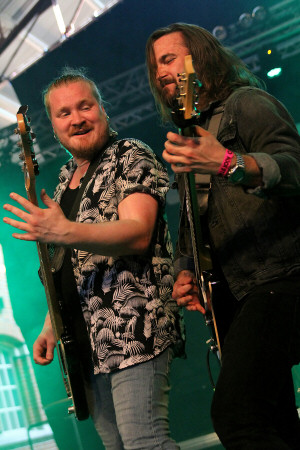 I tried to think why Degreed didn't win me over. They're competent musicians and have good songs, but something is missing. Hits? A frontman? More stage presence?
SETLIST:
Black Cat
Sugar
Little Bit
Captured By The Moment
War
Tomorrow
If Love Is A Game
Shakedown
Scam
Bark At The Moon
EDEN'S CURSE stretched the limits of this AOR-type of a festival too, with their melodic metal leanings. The band had their share of technical issues which didn't do any good to the "flow" of their set, but in the end they did ok. They had chosen some of their more melodic tracks to the setlist, including the catchy "Fly Away" and "Unbreakable".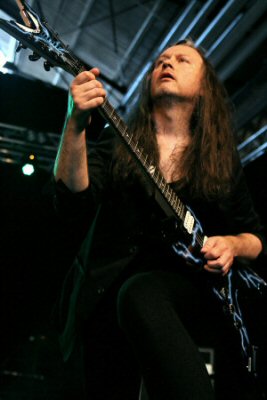 This international band has had a Finnish keyboard player for a while now, and interestingly he is an old co-worker and a friend of mine, Christian Pulkkinen. Coming from a prog metal scene, he has added some unexpected keyboard elements to the songs. He has a good grasp of showmanship too.
Vocalist Nikola Mijic has a fine voice and he's grown as a frontman since the last time I saw the band. Considering that it's been several months since the band's previous gig, their set at MRFS was a success. Maybe not a triumphant one, but a success nevertheless…
SETLIST:
Reign Of Terror
Break The Silence
Pretender Fly Away
Turn The Page
Sell Your Soul
Unbreakable
Evil & Devine
Angels & Demons
Malmö's own, CRAZY LIXX were happy to play on their own turf. They have a fanbase in their own town of course, and the hall filled nicely when their show was about to begin. There were also considerably more girls in the frontrow than for any other band so far…"Hellraising Women"?!
Crazy Lixx were definitely one of the most popular bands of the festival, and deservedly so. The intensity of their show stayed at top level throughout their set, and they delivered us crowd-pleasing anthems one after another. Engaging vocalist, two guitar heroes and a solid rhythm section with plenty of charisma and showmanship skills – what else could one ask for?
Some of the highlights of the band's super-energetic set were "XIII", "Blame It On Love" and "21 Til I Die", but it was total fireworks from the start to finish really. One of the highlights of the whole festival, and they're really cool guys offstage too!
SETLIST:
Wild Child
Hell Raising Women
XIII
Children Of The Cross
Rock And A Hard Place
Blame It On Love
Walk The Wire
Killer
'21 'Till T Die
KEE MARCELLO then… he's known as the guitarist of Easy Action, a glam rock band that turned into an AOR act on their second album. And yes, he replaced John Norum in a certain well-known band, that's nowadays referred as the "E-word" in the Marcello household. His stories about his son and life today were hilarious, if they're anything to go by I think I'll have to find a copy of his book, should be a good read.
It's the E-songs that Kee Marcello is best remembered for, and those songs dominated the setlist. There were even a few Joey Tempest-penned songs that Marcello didn't even record with the band, including "Carrie" and "The Final Countdown". A few Kee Marcello solo album tracks were included, out of which the pop-rocker "Don't Miss You Much" stood out. It does sound like a close relative to "I'll Cry For You" from "Prisoners In Paradise".
The Kee Marcello band was good, with veteran rockers Ken Sandin (bass, Alien) Darby Todd (drums), P-O Nilsson (keys) and a young guitarist Jonny Scaramanga. Kee took care of the lead vocals and guitars. He's a decent singer and his melodic guitar playing style is still a joy to listen to.
I thought the band's set was ok, with "More Than Meets The Eye" as one of the favourites. The dreadful reggae jam during "Superstitious" was the show's "WTF-moment", quite a few eyebrows were raised!
SETLIST:
Let The Good Times Rock
Scaling Up
More Than Meets The Eye
Fix Me
Don't Miss You Much
Girl From Lebanon
Carrie
Talk Of The Town
Black Hole Star
Superstitious
Tower's Calling
The Final Countdown
Friday's headliners were FM, veteran AOR band from the UK. I've seen them before a couple of years ago, when they headlined the Rockweekend AOR festival in Stockholm. They played very loud there, and I was a bit worried that they might do that again in Malmö. Thankfully their volume was on a much more pleasant level and they sounded very good.
FM played a fine "Best Of" set, with a few songs from their latest album "Atomic Generation". Steve Overland ruled the stage in very gentleman-like way and proved once again that he possesses one of the finest voices in rock. Smooth yet gritty, convincing and soulful. I guess we should be happy that he's still singing melodic rock, he could have gone the Michael Bolton way and become a blue-eyed soul crooner. I'm sure he'd be terrific at that too.
Some of the "goosebumps moments" for me were "I Belong To The Night", "Someday", "Bad Luck" and "Story Of My Life", among others. Very good!
SETLIST:
Black Magic
I Belong to the Night
Life Is a Highway
Let Love Be the Leader
Someday (You'll Come Running)
Killed by Love
Metropolis
Over You
The Dream That Died
Does It Feel Like Love
Closer to Heaven
Bad Luck
Tough It Out
That Girl
Other Side of Midnight
Story of My Life
Burning My Heart Down
DAY 3
Saturday's VIP event was another unplugged set. JIM JIDHED had already showed us how it's done with the MRF Allstars on thursday, and he did it again. Just like previous day's Boulevard show, the Jim Show was a nice and good-spirited event. Kicking off with "Go Easy", the evening got a very nice start, followed by songs from Jim's solo albums and the obligatory "Only One Woman". I don't actually particularly love that song, but Jim's emotionally charged version is always something special.
SETLIST (or some of it):
Go Easy
Glorious
Now We Cry
Don't Lose Any Sleep
Only One Woman
Back to the main hall, where the day's electric performances were about to start… RIAN, one of the signings of MelodicRock Records were up next. These young Swedes haven't been around for too long, and it kind of showed. They played well but didn't really mesmerize the crowd. When the album's standout tracks "In A Dream" and "Out Of The Darkness" were played as the first tracks, the guys were a bit short of ammunition for the rest of the set. But there's potential there, we'll have to wait and see.
CREYE were another young Swedish band making their live debut at MRFS. They could have failed miserably, because they were rather unknown, with only a few songs that people had heard from them. What's more, the band's vocalist Robin Jidhed wasn't able to attend this show for personal reasons, so they had to use a stand-in vocalist Alex Kvarnestig.
Sure enough, the band and their singer appeared rather nervous, but they got tremendous support from the audience. Their songs were just that good! They may have looked like a boy band but rest assured, they played instruments and didn't do any dance routines!
It's pretty safe to say that Creye's debut album is going to be one of the highlights of 2018, because on the strength of these songs the guys overcame all the obstacles and won over the crowd. They didn't do much on stage, the didn't ooze charisma and relied on taped backing vocals, yet their set was one of the festival's highlights. The songs! Number one requirement in my books - if you've got great songs, a few glitches here and there won't matter much.
I'm really looking forward to seeing these guys at Rockingham, hopefully with a few gigs under their belt and their real singer on board. Kvarnestig did sing very well, but he was a bit out of his comfort zone I guess.
Each one of the songs they performed sounded like a hit to me. With their youthful appearance and catchy songs they could very well find crossover success. Fingers crossed!
SETLIST (or what I can remeber):
Holding On
Never Too Late
Christina
Straight To The Top
No Easy Way Out


Local band PRETTY WILD was a pretty wild combination of characters. The guitarist looked like a Nikki Sixx clone, a true 24/7 rocker, while the bassist was a more of a rough biker-type guy with tattoos. Then there was the lead vocalist Ivan, who looked really young and non-sleazy between those two striking characters. He actually pulled double duty at this festival, as he was playing guitar and singing with The Grand Masquerade the previous day.

Anyway, the band's Crashdiet-like sound was maybe a bit too sleazy for some of the crowd, which had thinned considerably after Creye's set. Luckily the band had their local supporters and friends making sure that the front rows were crowded. Most of the remaining audience were people who were curious about the band, and some of them were won over, some of them chose to get lunch or whatever. Maybe this wasn't the right place for Pretty Wild's raunchy sound?
ALYSON AVENUE's comeback gig was one of the most anticipated ones at MRFS, and they didn't disappoint. I liked them back in the day, but always thought that their albums were a bit lacking when it came to passion and intensity. I don't know what has happened during the years, but now the band sounds more vibrant than ever.
Anette Olzon's years touring with Nightwish have certainly made her a strong front woman and a good performer. She really took charge of the show and entertained us and seemed to be enjoying being on stage.
The old AA songs sounded really good live, they had more edge and the hooks felt sharper. Anette said that this wasn't just a one-off, which hopefully means that there's new music in the works. If they can capture the live edge to the new songs, we're in for a treat.
SETLIST:
Tonight Is All You Get
Free Like The Wind
Perfect Love
Lost And Lonely
One Desperate Heart
I Have Been Waiting
Can I Be Wrong
All This Time
Without Your Love
Another Night
Boulevard's second show of the weekend was a full-band, electric one. It didn't come as a surprise that the band was highly professional and entertaining. They had that certain magic which turned each one of their songs into something special, even the ones that I normally don't really care about. When they sprinkled that magic to their best songs, we were in melodic rock heaven. Some of the highlights included "Dream On", "Crazy Life" and "I Can't Tell You Why". I want to also mention "Come Together" from the new album, which didn't leave that much of an impression on record, yet it came alive in a live setting. It was an uplifting, almost spiritual moment.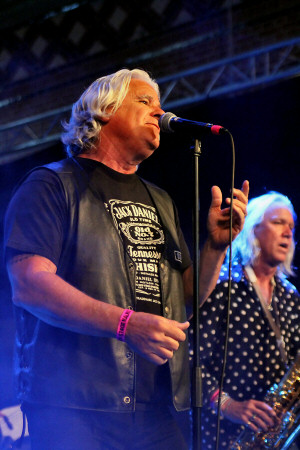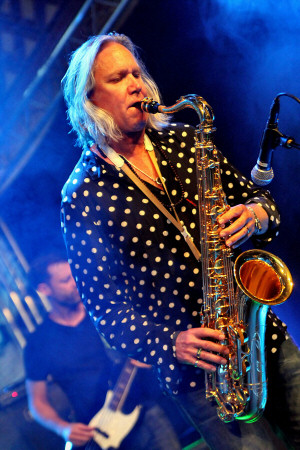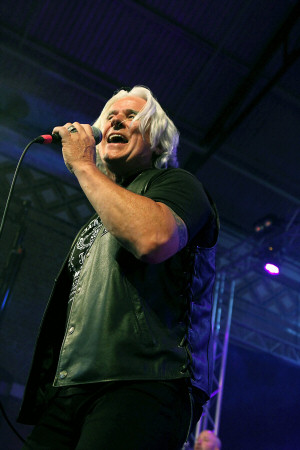 SETLIST:
Out of the Blue
Dream On
Laugh or Cry
Crazy Life
What I'd Give
Lead Me On
I Can't Tell You Why
Life Is a Beautiful Thing
Come Together
Talk To Me
Never Give Up
STAGE DOLLS:
The Norwegian trio (and a keyboard player) were one of the most anticipated acts of the festival to a lot of people. Despite being from the neighbour country, they haven't visited Sweden too often I believe. Their activities during the last few years have been quite limited, apart from some tours in Norway and a few singles. This year they've raised their profile again, and a while ago they were inducted into the Norwegian Rock'n Roll Hall Of Fame. Hopefully we'll get a new album from them soon.
Stage Dolls have a bunch of classic songs, but they also have a lot of rather basic rock songs, and their setlist was a mixture of both. At one point vocalist/guitarist Torstein Flakne said something like "we have a lot of good songs, but do you want to hear something average?" - Of course most of the crowd yelled "no", but then the band indeed played something average, maybe it was a medley of a few of their boogie rockers, unfortunately I can't remember exactly. I do remember being very happy when they stopped the boogie thing and played their great hit ballads like "Sorry (Is All I Can Say)" and "Love Don't Bother Me". Not to mention songs from their classic self-titled 1988 album, their US hit "Love Cries", "Wings Of Steel" and the sing-along anthem "Still In Love", those were pure ear candy. I wish they had included more songs from their "Get A Life" album, especially the title track which I consider one of their finest moments.
SETLIST (not 100% correct):
Left Foot Boogie
Love Cries
Hard to Say Goodbye
Highway of Life
Hey Rock'n Roll
24/7
Sorry (Is All I Can Say)
Commandos
Love Don't Bother Me
Wings of Steel
Still in Love
Soldier's Gun
DARE
The headliners of Saturday were UK's Dare.The charismatic Darren Wharton has the aura of a real Rock Star and a deep, dark voice that's pure melodic gold, and alongside him there's Vinny "The Viper" Burns, the guitarist from the legendary two first Dare albums, now back in the band again. The band released their rather fine "Sacred Ground" album in 2016, and their re-recorded anniversary version of "Out Of The Silence" has just been released. The setlist featured several songs from both albums, but also some choice cuts from their other albums. Of course Wharton's past in Thin Lizzy coloured the set a bit, they played a cover of "Emerald" and added some "Black Roses" to the great "King Of Spades", which itself is a song about Phil Lynott.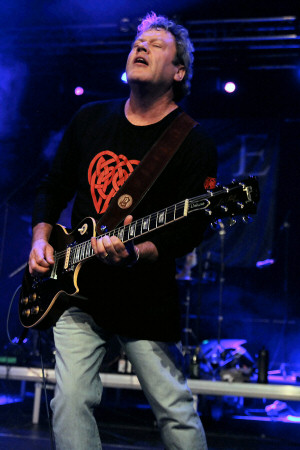 Most of the more recent Dare material is highly melodic and moody, really enjoyable but towards the midsection I noticed that my attention began to wander. Well, the band cranked up the power and played a couple of songs from their heaviest album "Blood From Stone", followed by classics from the first album, and the whole room was electrified again. It was a thrill to hear the whole crowd singing the chorus of "Into The Fire", I think I felt the whole building tremble a little… There was a spontaneous singalong by the crowd after the set closer "Return The Heart", which prompted the band to add one additional song to the set. If it wasn't for the curfew we might have heard even more, who knows. Wouldn't have minded hearing the whole "Out Of The Silence" album live!
Setlist:
Sea Of Roses
Home
Until
I'll Hear Your Pray
Days Of Summer
On My Own
Everytime We Say Goodbye
Silent Thunder
Where Darkness Ends
Emerald
Wings Of Fire
We Don't Need A Reason
Abandon
Into The Fire
Raindance
King Of Spades
Return The Heart
Beneath The Shining Water
These three days in Malmö were really nice, and although Andrew McNeice has said that there will be no more Melodic Rock Fests, I hope that Johan Nylen & Co will carry the torch and make a tradition out of this, even if it's called something else. "Slaughterhouse Festival?"