[19 December 2008]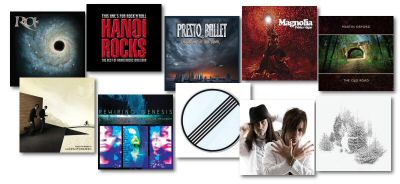 Reviews: A varied selection of reviews.
RA: "Black Sun"
HANOI ROCKS: "This One's For Rock'N'Roll"
PRESTO BALLET: "The Lost Art Of Time Travel"
MAGNOLIA: "Falska Vägar"
Martin ORFORD: "The Old Road"
SMOOTH REUNION: "Cleaning Up The Business"
REWIRING GENESIS: "A Tribute To The Lamb Lies Down On Broadway"
NERVED: "Finally"
SHINETH: "Lost Magic Place"
BARR: "Skogsbo Is The Pace"

[15 December 2008]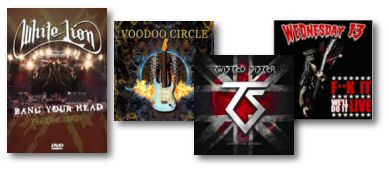 Reviews: The debut of Axel Beyrodt's Voodoo Circle and three live releases - White Lion, Wednesday 13 and Twisted Sister.
VOODOO CIRCLE: "Voodoo Circle"
WHITE LION: "Live At BangYour Head Festival DVD"
WEDNESDAY 13: "F**k It - We'll Do It Live"
TWISTED SISTER: "Live At The Astoria"

[2 December 2008]

Reviews: Some recent releases under scrutiny, including the one that too 14 years to make - "Chinese Democracy".
MASQUERAGE: "Moonlight Time"
CHINA BLUE: "Twilight Of Destiny"
GUNS N' ROSES: "Chinese Democracy"
ROBERT BERRY: "The Dividing Line"
DREAM ARIA: "Transcend"
DANGER AVENUE: "Avenues & Boulevards"
DORO: "Celebrate"

[17 November 2008]

Reviews: A few albums reviewed:
John Jeff TOUCH: "First Touch"
POLEY RIVERA: "Only Human"
STEELHEART: "Good 2 B Alive"
MIND GONE BLIND: "Liars And Preachers"
TRAGEDY - A METAL TRIBUTE TO THE BEE GEES: "We Rock Sweet Balls & Can Do No Wrong"
TESSMARKA: "Tessmarka"


Reviews: A few albums reviewed:
MARILLION: "Happiness Is The Road"
MARSHALL LAW: "Razorhead"
UNTAMED: "Insanity Bound"
SHARP PRACTISE: "Radiocity"

[30 October 2008]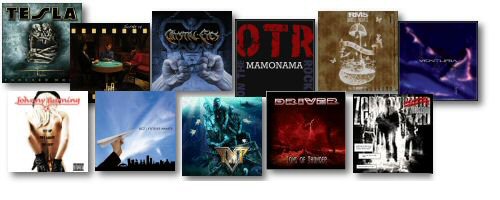 Reviews: ...and October ends with a set of reviews...
TESLA: "Forever More"
JaR: "Scene 29"
CRYSTAL EYES: "Chained"
OTR: "Mamonama"
theRMS: "Fates And Fairytales From The Mushroom Land"
VENTURIA: "Hybrid"
JOHNNY BURNING: "Get Up Get Loose Get Off"
RC2: "Future Awaits"
TNT: "Atlantis"
DRIVER: "Sons Of Thunder"
ZEROCROWD: "One Lifetime - Thousand Losses"

[25 October 2008]

Reviews: Saturday Night's All Right For Fightin', but it's all right for reviews too. Here's a few for ya:
LES PAUL & FRIENDS: "Children Of The Future - A Tribute To Les Paul"
THUNDER: "Bang!"
AXEL RUDI PELL: "Tales of The Crown"
HATE GALLERY: "Compassion Fatigue"
CRYONIC TEMPLE: "Immortal"
STONEWALL NOISE ORCHESTRA: "Constants In An Ever Changing Universe"
THE HUMAN ABSTRACT: "Midheaven"
CANNON: "Metal Style"
ENSLAVED: "Vertebrae"
GIRLSCHOOL: "Legacy"
GAMMA RAY: "Hell Yeah! The Awesome Foursome Live In Madrid"
WE MADE GOD: "As We Sleep"

[09 October 2008]

Reviews: An exhaustingly large selection of reviews. Read All You Can -type of a buffet.
FM: "Back In the Saddle"
SEVENTH WONDER: "Mercy Falls"
IVANHOE: "Lifeline"
DEAR SUPERSTAR: "Heartless"
KARMAKANIC: "Who's The Boss In The Factory?"
I HATE KATE: "Embrace The Curse"
EDEN: "Oblivion"
THE SOUND EX: "Palomino"
DESTINATION'S CALLING: "Invisible Walls"
NIKKI PUPPET: "Power Seeker"
WILLIE BASSE: "The Money Grind"
UNITOPIA: "The Garden"
FACTORY OF DREAMS: "Poles"
MY RUIN: "Alive On the Other Side"
TRAGEDIAN: "Dreamscape"
OhGr: "Devils In My Details"

[01 October 2008]

Reviews: A handful of discs reviewed. Read 'Em And Weep. Weeping not obligatory.
SILENT CALL: "Creations From A Chosen Path"
HIS WITNESS: "Kingdom Come"
THE RASMUS: "Black Roses"
LUNATIC SOUL: "Lunatic Soul"
HONEYMOON SUITE: "Clifton Hill"
EDEN'S CURSE: "The Second Coming"
DRAGONFORCE: "Ultra Beatdown"
FALCONER: "Among Beggars And Thieves"

[26 September 2008]

Reviews: AOR, hard rock, glam, prog, christian thrash... that's variety for you!
ELEVENER: "When Kaleidoscopes Collide"
ECLIPSE: "Are You Ready To Rock"
MILLION DOLLAR BEGGARS: "Million Dollar Beggars"
NEONDAZE: "Neondaze"
Neal MORSE: "Lifeline"
THE WILDHEARTS: "Live In The Studio"
THE SEVENTH POWER: "Dominion & Power"
DEUTRONOMIUM: "From The Midst Of The Battle"
Mikko HEINO: "Map3"

[20 September 2008]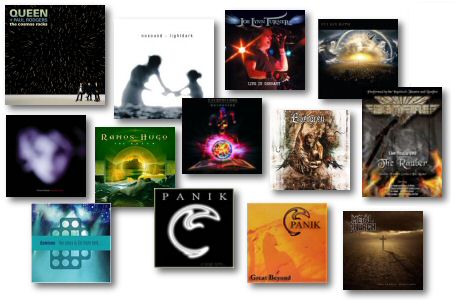 Reviews: a fairly eclectic selection of albums and a DVD.
QUEEN & PAUL RODGERS: "The Cosmos Rocks"
NOSOUND: "Lightdark"
Joe Lynn TURNER: "Live In Germany"
METAL CHURCH: "This Present Wasteland"
ULI JON ROTH: "Under A Dark Sky"
EVERGREY: "Torn"
DOMINOE: "The Story Is Far From Told"
TALETELLERS: "Detonator"
THE CROOKS: "High Society Rock n' Roll"
RAMOS/HUGO: "The Dream"
BONFIRE: "The Räuber DVD"
PANIK: "A Page Torn" & "Great Beyond" [re-issues]

[08 September 2008]

Reviews: Four "9's" but also a couple of "4's"... we haven't gone all soft!
METALLICA: "Death Magnetic"
The RAIN: "Yhtä Kuin Voitto"
BOB CATLEY: "Immortal"
ANATHEMA: "Hindsight"
ALIBI: "Voice of Reason"
ANIMAL :"Virus"
SARASIN A.D.: "Daggers – Lust - Disgust"
CROWN OF THORNS: "Faith"
THE CROOKS: "High Society Rock n' Roll"

[03 September 2008]

Reviews: A selection of albums, none which really blew our minds...
KEITH REID PROJECT: "The Common Thread"
JAM PAIN SOCIETY: "Black Light Messiah"
FALLEN SILVER: "Blood In Blue Eyes"
LEVEL-C: "Level-C"
The PLAGUE: "Autoerotic Electrification"
SLANG: "Sonic Graffiti"
SYMPHONITY: "Voice From The Silence"
MAPLE STREET: "Leaving Loving You"

[27 August 2008]

Reviews: Another major reviews update.
RICK SPRINGFIELD: "Venus In Overdrive"
TWO CHOICES: "Longest Journey"
THRILLS: "Frontpage News"
MOTORHEAD: "Motorizer"
The COTTON SOETERBOEK Band: "Twisted"
J.C. CINEL: "Before My Eyes"
STRAITJACKET: "Vices"
VALENTINE: "Live At Firesfest IV DVD/CD"
PLANETHARD: "Crashed On Planet Hard"
TEASER: "No Big Deal" EP
BLACKWINDS: "Flesh Inferno"

[16 August 2008]

Reviews: it's the biggest reviews update of the year and good ratings galore!
IT BITES: "The Tall Ships"
SPOCK'S BEARD: "Live"
THE WILDHEARTS: "Stop Us If You've Heard This One Before Vol 1"
THIN LIZZY: "UK Tour '75"
FROM THE INSIDE: "Visions"
LANFEAR: "X To The Power Of Ten"
Anders NORMAN: "It's Time"
RYCHUS SYN: "Rebirth"
MOTLEY CRUE: "Saints Of Los Angeles"
EPHRAT: "No One's Words"
EVERON: "North"
THIN LIZZY: "UK Tour '75"
OLIVER WAKEMAN: "Coming To Town"
APPEARANCE OF NOTHING: "Wasted Time"
STARBREAKER: "Love's Dying Wish"
LAND OF TALES: "Land Of Tales"
DIVINEFIRE: "Farewell"
LIPSTICK MAGAZINE: "Skin Deep"

[6 August 2008]


Reviews: The return of Extreme! And the man in bandanna...
EXTREME: "Saudades De Rock"
ECLIPTICA: "Impetus"
CLUSTERHEAD: "Times Of No Trust"
PLEASURE DOME: "For Your Personal Amusement"
Bret MICHAELS: "Rock My World"

[16 July 2008]

Reviews: Sunny Summer Selection of reviews... how's that for a cheesy foreword?
Kip WINGER: "From The Moon To The Sun"
GYPSY ROSE: "Another World"
ALICE COOPER: "Along Came A Spider"
Michael VESCERA: "A Sign Of Things To Come"
BRIDE: "Skin For Skin"
CHARING CROSS: "We Are... Charing Cross"
POLUTION: "Overheated"
SILENT RAGE: "Four Latter Word"
JUDAS PRIEST: "Nostradamus"
PAGANINI: "Medicine Man"
The STRIPT: "The Stript"

[11 July 2008]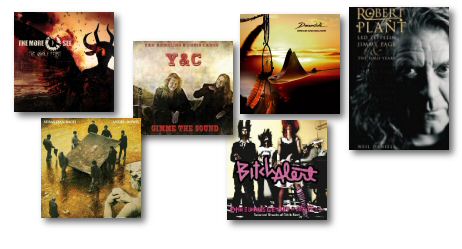 Reviews: Back in the saddle again... we've got Bach! We've got books! We've got... bitches? Oh, the many faces of culture.
THE MORE I SEE: "The Unholy Feast"
Sebastian BACH: "Angel Down"
Y&C: "Gimme The Sound"
DREAMTIDE: "Dream And Deliver"
NEIL DANIELS: "Robert Plant: Led Zeppelin, Jimmy Page & The Solo Years"
BITCH ALERT "Pink Bunnies Get Hit By Big Trucks"

[28 June 2008]

Reviews: We've got some Christian zombie rockers, re-issued 80'ies melodic hard rock from Finland, reissued 80'ies UK glam rock and meet-and-potato hard rock and more...
GRAVE ROBBER: "Be Afraid"
ANDROIDS: "Let It All Out"
TIGERTAILZ: "Young And Crazy"
WAYSTED: "The Good The Bad The Waysted"
FINAL AXE: "The Axe Of The Apostles"
PREY FOR SLEEP: "A Bitter Beginning"
WAYSTED: "Waysted" EP + Bonus
BROTHER FIRETRIBE: "Heart Full Of Fire... And Then Some" EP

[16 June 2008]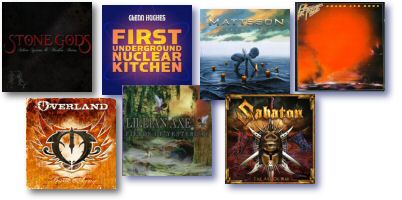 Reviews: A nice, diverse selection this time:
STONE GODS: "Silver Spoons & Broken Bones"
OVERLAND: "Break Away"
MATTSSON: "Dream Child"
LILLIAN AXE: "Fields Of Yesterday" re-issue
Pat TRAVERS: "Crash And Burn"
SABATON: "The Art Of War"
Glenn HUGHES: "First Underground Nuclear Kitchen"

[11 June 2008]

Reviews: AOR masters Journey, US hard rockers Hydrogyn and Iron Maiden-related, Russ Ballard's discovery Lauren Harris.
JOURNEY: "Revelations"
HYDROGYN: "Deadly Passions"
Lauren HARRIS: "Calm Before The Storm"

[03 June 2008]

Reviews: Plenty of re-issued "golden oldies" and the new one from Midnite Club.
CHEQUERED PAST: "Chequered Past"
Robin GEORGE/Glenn HUGHES: "Sweet Revenge"
MARCUS: "Marcus"
GRAND SLAM: "Glasgow Kiss"
MIDNITE CLUB: "Circus Of Life"
SPIDER: "Rock N Roll Gypsies & Rough Justice"
Stefan ANDERSSON: "Nr 90 Kleist"

[26 May 2008]

Reviews: Monday Morning Special - a selection of albums reviewed:
DIABLO: "Icaros"
DOMINATION BLACK: "Haunting"
DARK SKY: "Empty Faces"
SOUL SECRET: "Flowing Portraits"
REINXEED: "The Light"
STONEFUZE: "Stonefuze"
V-Project: "New Machine"

[16 May 2008]

Reviews: Another bunch of reviews for this week!
MOONMADNESS: "All In Between"
Phil VINCENT: "White Noise"
JOHNNY CRASH: "Unfinished Business"
HUNDRED MILLION MARTIANS: "Marseille"
ASGÅRD: "On The Verge"

[12 May 2008]

Reviews: A selection of reviews to start the week...
ROBBIE DUPREE: "Time And Tide"
SHANNON: "Angel In Disguise"
DREAMSCAPE: "Revoiced"
SOUL DOCTOR: "That's Live"
SLAVES TO GRAVITY: "Scatter the Crow"
DANTE: "The Inner Circle"
GEMINI FIVE: "Sex Drugs Anarchy"
KISKE: "Past In Different Ways"

[04 May 2008]

Reviews: A slightly overdue reviews' update. Big bands, small bands, solo artists...
DEF LEPPARD: "Songs From The Sparkle Lounge"
ALLIANCE: "The Road To Heaven"
WEDNESDAY 13: "Skeletons"
ASIA: "Phoenix"
ZEROIN: "The Death Of A Man Called Icarus"
M.ILL.ION: "Thrill Of The Chase"
ANIMAL ALPHA: "You Pay For The Whole Seat But You'll Only Need The Edge"
Daniel ANDERSSON: "Days In L.A."
Emir HOT: "Sevdah Metal"
RAGE: "Carved In Stone"
FROZEN RAIN: "Frozen Rain"

[23 April 2008]

Reviews: lots of good ratings this time...
CIRCLE2CIRCLE :"Delusions Of Grandeur"
JOE SATRIANI: "Professor Satchafunkilus And The Musterion Of Rock"
JON OLIVA'S PAIN: "Global Warning"
X-SINNER: "Fire It Up"
KILPI: "IV"
WHITE CROSS: "Nineteen Eighty Seven"
PSYCHOPUNCH :"Moonlight City"

[16 April 2008]

Reviews: A stack of CD's has been investigated again by the RockUnited reviewing dept...
DAVID MADER: "90 Days Of Rain"
LOST REALITY: "What Remains"
Michael BORMANN: "Capture The Moment"
SIENA ROOT: "Far From The Sun"
THUNDER: "Half A Dozen of The Other EP"
NEXXT :"Addicted To Sin"
Bryan ADAMS: "11"
SOUL OF THE CAVE: "Asphalt"
THEM PHILOSOPHY: "Thought Before Action"
REFLECTIONS: "Free Violence"

[11 April 2008]

Reviews: Wow, a big selection of reviews, various genres, various styles and various ratings...
WHITESNAKE: "Good To Be Bad"
DOMINICI: "A Trilogy Part 3"
MYLAND: "No Man's Land"
Peter FRIESTEDT: "LA Project Vol: 2"
BACK ONE OUT: "Helpless"
WHITE LION: "The Return Of The Pride"
ULTIMATUM: "Into The Pit"
TITANIC: "Full Steam Ahead"
EXCITER: "Trash, Speed, Burn"
THE SHIVER: "Inside"
FILTHY TEENS: "Target: Deceased"
PALLAS :"Moment To Moment" DVD
CHARLOTTE'S SHADOW: "Eternal Sleep"
CAAMORA: "She" DVD

[04 April 2008]

Reviews: 2008 is proving to be strong year for "our kind of music", and this bunch of reviews is a good proof of that.
S.I.N.: "The 13th Apostle"
HOUSE OF LORDS: "Come To My Kingdom"
H.E.A.T: "Heat"
KHYMERA: "The Greatest Wonder"
HEART: "Dreamboat Annie Live DVD"
VINDICTIV: "Vindictiv"
STONELAKE: "Uncharted Souls"
CIRCULAR LOGIK: "One"

[31 March 2008]

Reviews: A small reviews' update to kick off the week:
MALPRACTICE: "Triangular"
INCRAVE: "Dead End"
The SUN: "Here Comes The Sun"
PROSPERITY DENIED: "Consciousless"

[26 March 2008]


Reviews: A few reviews...ratings go from 10 to 2, so we're certainly using the whole scale...
AVANTASIA: "The Scarecrow"
SHENANIGANZ: "Four Finger Fist Fight"
EMERGENCY GATE: "Nightly Ray"
MISBEGOTTEN: "Keeping Promises"

[22 March 2008]

Reviews: It seems this update is heavier than usual, plenty of metal. Well, some glam and melodic rock too.
GATES OF WINTER: "Lex Aeterna"
RANDOM EYES: "Invisible"
HB: "Frozen Inside"
REMAIN THE SAME: "The Artefact"
TEMPESTT: "Bring 'Em On"
MESHUGGAH: "Obzen"
JET BOY: "The Glam Years Movie And CD"

[15 March 2008]


Reviews: The long-awaited new Brother Firetribe album, "metal supergroup" Fires Of Babylon and more!
BROTHER FIRETRIBE: "Heart Full Of Fire"
FIRES OF BABYLON: "Fires Of Babylon"
POWERWORLD: "Powerworld"
KING'S CALL: "No Alibi"
PSYCHO CHARGER: "Curse Of The Psycho"

[12 March 2008]

Reviews: A little bit of this and a little bit of that, prog, rock, metal and metal classics as lounge music?!
KAMELOT: "Ghost Opera - The Second Coming"
Neal MORSE: "Question Live"
OVERDRIVE: "Let The Metal Do The Talking"
BLACK CROWES: "Warpaint"
VOODOO SIX: "First Hit For Free"
SACRECY: "S/T"
DIVINE BAZE ORCHESTRA: "Once We Were Born..."
METALIUM: "Incubus Chapter Seven"
PALACE TERRACE: "Flying Through Infinity"
HELLSONGS: "Hymns In The Key Of 666"

[8 March 2008]

Reviews: A few singles and a couple of full-length albums.
Toby JEPSON: "Guitar, Bass & Drums Part 2"
RANDOM EYES: "Living For Tomorrow"
EDWARD: "Back Home"
STEEL ATTACK: "Carpe DIEnd"
KORPIKLAANI: "Korven Kuningas"

[28 February 2008]

Reviews: A couple of reviews, Germany's Bonfire and the finnish rockers Southwest Sunrise.
BONFIRE: "The Räuber"
SOUTHWEST SUNRISE: "Sleep In The Fire"

[26 February 2008]

Reviews: A slightly overdue update with a dozen new albums.
MAGNUM: "Wings Of Heaven Live"
KRACKERJACK: "Rock On"
RPWL: "The RPWL Experience"
AXEL RUDI PELL: "Live Over Europe" DVD
BULLET FOR MY VALENTINE: "Scream Aim Fire"
GINGER: "Market Harbour"
JADED SUN: "Gypsy Trip"
Andre MATOS: "Time To Be Free"
THE TANGENT: "Not As Good As The Book"
DELIVERANCE: "As Above, So Below"
STIGMA: "When Midnight Strikes"
TRASHCANNED: "Redemption"

[11 February 2008]

Reviews: A few album reviews for your reading pleasure. We've got metal, we've got prog... instrumentals, grungy rock...
LECHERY: "Violator"
TILES: "Fly Paper"
AUDREY HORNE: "Le Fol
DEADSTRING BROTHERS: "Silver Mountain"
MCM: "1900 Hard Times"

[8 February 2008]

Reviews: A Metal-dominated reviews update. Well, a bit of indie rock too.
VIRON: "Ferrum Gravis"
WHEN THE EMPIRE FALLS: "S/T"
MEXICOLAS: "X"
CROWN OF GLORY: "A Deep Breath Of Life"

[26 January 2008]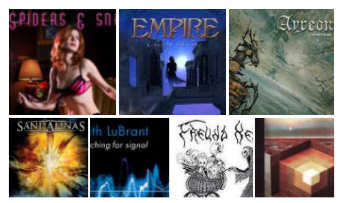 Reviews: Glam Rock, Classic Metal, Progressive Rock, singer/songwriter stuff, alternative rock and "hippie music"... oh the diversity of ROCK!
SPIDERS & SNAKES: "Melodrama"
EMPIRE: "Chasing Shadows"
AYREON: "01011001"
SANDALINAS: "Fly To The Sun"
Keith LuBRANT: "Searching For Signal"
FREUND HEIN: "Chaos Immanent"
BLACK MOUNTAIN: "In The Future"

[21 January 2008]

Reviews: An ecletic mix of CD's, the weirdest being the one with no guitars, but plenty of rhythm and lead basses...
SAINT DEAMON: "In Shadows Lost From The Brave"
VERTIGO: "Takes Me Back"
BASSINVADERS: "Hellbassbeaters"
PORCUPINE TREE: "Nil Recurring" [EP]
Julian ANGEL: "Choreography Sucks"
DISFEAR: "Live The Storm"

[15 January 2008]

Reviews: The second batch of reviews for 2008 includes some rather good new albums and a book.
AIRBOURNE: "Runnin' Wild"
MAN-RAZE: "Surreal"
LEVERAGE: "Blind Fire"
Ian CARROLL: "The Reading Festival" book
GLYDER: "Playground For Life"
ANGEL OF EDEN: "The End of Never"

[08 January 2008]

Reviews: A few reviews to start the year 2008 - Happy New Year to everyone by the way! We've got US hard rock, Swiss Sleaze, Swedish melodic rock, Brazilian hair metal and Euro-metal!
THE STREET: "The Divine Debauchery"
SILVER DIRT: "Sonic Live 2006"
NAUGHTY BOYS: "R U Naughty Enough?"
SNOW: "s/t"
RANDOM DAMAGE: "Human Flytrap"