MARIO PARGA: "ENTRANCED" 8

Midnight Café Music 2007
Review by the Bailey Brothers


11 June 2007
Arpeggios played as fast as humanly possible are about as appealing as a trip to the dentist for me. Thankfully Mario Parga has matured into a brilliant composer but The opening title track Entranced didn't blow me away, you can't fault the technique and execution but it brought nothing new to the plate and was beginning to sound like an 80's throw back. Song number two "The Journey" would have been a better opening introduction because it's 60 seconds worth of sheer class. This album has come together over several years but Parga has managed to make the album sound as if the songs were all recorded during the same time. He's backed off the distortion and the presence on his amps to create a sweet tone which is enhanced with clever use of reverbs. Another addition is the use of string arrangements which make songs such as "Haunted" tug on the heart strings; Parga's beautiful melodic playing on this song would bring a tear to a glass eye. This should definitely be a movie sound track or at least feature in some emotional epic because it's a brilliant piece of work. .He has played all the instruments on the album, produced it and even released it on his own Midnight Café label. "Storm Warning" brings a wall of layered guitars over a pretty basic rhythm section, sweep picking techniques are in abundance and the lead guitar solo in the middle shines through like a welcoming lighthouse to steer another quality song to safety.
"Ritual" shows Parga's prowess as a very accomplished acoustic guitar player. Living in Spain as a youngster may have influenced this espanic type ditty. Bringing the lead guitar in added a new flavor to what was already a tasty little number. There's an acoustic V Lead guitar question and answer moment at the end which may have just gone on a bit too long and ruined the desert. "Mirage" is another exceptional competition and this is Mario Parga in his comfort zone, hopping over strings like the cat on my bird table leaving many a player chasing shadows. Once again the clever use of string arrangements has provided the canvas that Mario Parga needed to leave his self portrait in all its glory. "Farewell" is a must listen to song because you won't find this type of song on many instrumental guitar albums. Once again, it's a very moving composition and definitely the direction Mario should go with. .
This album has been on my Mp3 player, in the car, on every system I own. I would have liked to have heard a drummer instead of drum samples just to lift some of the rocky songs and add more energy but when you can write songs like Haunted who needs drums anyway? Listen all you budding guitar heroes out there, play the song, then wait for the 2 second silence and then say those inevitable words - "I'll get my coat!" We stuck our arse on the line and put a young Mario Parga in front of Millions on MTV because we thought he had potential. It wasn't too long before he was working with the likes of Graham Bonnet and Cozy Powell and rightly so. He's living proof that Shred's Not Dead in 2007. "Entranced" should be on your music system right now and Parga should be getting the accolades lesser mortals take for granted.
www.marioparga.com
John MACALUSO & Union Radio: "The Radio Waves Goodbye" 8

Lionmusic 2007
Review by Urban "Wally" Wallstrom,


11 June 2007
Drummers and solo albums doesn't exactly go hand in hand, do they? Nah, just remember the rather horrible efforts by the otherwise excellent Cozy Powell (R.I.P.), Peter Criss (Kiss), or here in Sweden, Freddy Von Gerber (Easy Action), etc, etc. Let's not forget about Herman Ze German (Scorpions), Herman might just be a perfectly good reason for leaving the skin-basher chained to his chair and at the back of the stage for all eternity.
This time however it's a solo album by famed star drummer: John Macaluso (Riot, TNT, Yngwie Malmsteen, Spread Eagle, ARK, etc). Talk about gun for hire as he's been involved and recorded around 200 albums over the years. The guest list is large and quite impressive with lead vocalists such as: James LeBrie (Dream Theater), Mike Dimeo (Riot, Masterplan), Adrian Holts (ARK), and Don Chaffin (VOX). Musicians are just too many to mention, Vitalij Kuprij (keyboards) and Alex Masi, Jack Frost (guitars), are merely some of all the geezers in the Union Radio Project.
The music of John Macaluso is dark and moody progressive rock with influences from acts such as Pink Floyd and Black Sabbath??? I must admit that I can't find much of the latter acts music within these tracks as it's certainly more complexed and progressive than all the Sabbath albums put together. I don't believe for a second that anyone who buys this expecting the sound of Sabbath, would end up pleased with his/her purchase. In fact, "Yesterday I'll Understand", could just as easily have been included on the latest Winger album (IV). It's also close to the sound of Cenk Eroglu and his Xcarnation project. I actually appreciate the work of Cenk more nowadays then when I reviewed his CD. It's one of those projects that only got better with time.
The opening track, "Soul In Your Mind", features James LeBrie and his voice will make everything sound like Dream Theater (goodie). Mike Demeo next with "Mother Illusion" and this reminded me a lot of Xcarnation with a hint of ARK. Very moody and dark progressive music that will make you stop and think about life and things for awhile. "Dissolved" with Adrian Holts will take you on a journey of Pink Floyd and RPWL passages with a slightly jazzy feel and again, "IV" with Winger approach. The same could be said about several of the other tracks by the way.
I do enjoy John's sense of humour during the solo piece, "Pretzel". It begins with a conversation about how Suzy went to a concert and when the drummer did his drum solo thing, she went to get a "Pretzel". Yep, most of us tend to shy away from the live drum-solo thing as it's boring as hell most of the time. This solo piece is at least entertaining and short enough to keep me awake throughout the song. Eleven out of thirtheen tracks feature vocals by above mentioned singer though, there's no need to worry about all those long and boring drum solos.
"The Radio Waves Goodbye" is an album that you need to spin several times and then let it all sink in for a week or two. There's always new things to explore and passages to find and yes, you need to enjoy the moody rock with a complex song structure and arrangements. Good stuff though... not just another crappy solo album by a drummer with too many ideas about how to make his drums sound bigger and LOUDER.
www.johnmacaluso.com
RUDE AWAKENING: "A Tribute To Thin Lizzy" 8

Nidus Productions 2007
Review by Alan Holloway,

12th June 2007
Tribute albums are, by law I believe, pretty lame. Sure, on an album full of dire Scorpions covers you can usually find a gem or two (Thinking here of Sonata Arctica's version of "Still Loving You"), but in general these things shouldn't really exist. After all, if we want to hear a band, surely we'll just go out and buy the original discs, right? Well… yeah… mostly.
Rude Awakening are a band that threw out a few albums in the 90's before being invited to play a concert commemorating the 10th anniversary of Phil Lynott's death. By all accounts they went down a storm, with Phil's Mum lauding them with the title of "Best Thin Lizzy Tribute". Praise Indeed. Fast forward ten years and the band accept an invitation to the 20th anniversary gig and get the Lizzy records out again to sort out a set. Unfortunately, the gig falls through, but the band keep up the tribute work anyway, resulting in some well appreciated gigs and this album.
So should you buy this? That's the big question, because if you've got this far you're probably wondering why on earth it has gotten such a good score. Well, of the many tribute albums I've waded through this certainly ranks among the best of them, that's for sure. Mitch Urban gives a good account of himself on vocals, and the production shoves those twin guitars right to the fore. The tracklisting is pretty much what you'd expect, although a few oddities such as "Massacre", "Sha la La", "Warrior" and "It's Only Money" heighten the interest value. Musically, there's nothing to fault here, as Rude Awakening seem to have found their natural home with these brilliant songs.
As to buying it, I guess that's down to how you feel about tribute albums, I suppose. If you own and enjoy any of them, then this is certainly one to be added to your collection. Die hard Lizzy fans will find nothing new here, but I'm sure will appreciate the effort and talent on show, as well as the pumped up production that gives some songs that extra bit of beef they lacked in the bad old days. So make your own damned mind up, but if you're in Dublin on August 18th go and check them out at the 2nd Annual Phillip Lynott Statue Memorial Celebration, because I'd bet my bollocks they're not gonna let that "Best Tribute" crown be taken without a hell of a fight.
www.nidusprod.com/rude.html
MASS: "Crack Of Dawn" 7

Escape 2007
Review by Urban "Wally" Wallstrom,


10 June 2007
Mass may never have achieved commercial acclaim on the scale of Stryper and other peers in the CCM business of hardrock. They still claim a special place in the history of rock though. Any and/or everyone who's familiar with their "Voices In The Night" album from 1989 (produced by Michael Sweet of Stryper), know them to have a superb vocalist in Louis D'Augusta and some really strong material too.
They've been away from the scene since the early 90's and it's nice to see them back together again with almost all original members. They've found a new bassist in Lou Spagnola, but it's otherwise the "Voices In The Night" line-up with above mentioned D'Augusta, guitarist Gene D'Itria, and drummer Joey Vadala. The music style has slightly changed from the sky-high vocals and hairmetal of: "Cry out children, cry out, reach for the sky", to a more down-to-earth and seattled hardrock approach.
In fact, their music and songwriting is (still) pretty impressive and more in the vein of TNT and their "My Religion" album, add a big and healthy dose of BADLANDS, plus the Mass sound of the past of course, and you're pretty close to the core. Check out "Monkey Brain" for some excellent guitar work that will remind you quite a lot of Ronnie LeTekro and "My Religion". Mass has managed to find a great groove throughout the album and a energy that other bands spend years of studio time and millions of $$$ trying to create. However, keep in mind that you need to appreciate a rather "groovy" sound and it's very much an album effort and not so much about finding that special "hit" song.
Final verdict: excellent vocals, dito guitar work, overall a great groove. Perhaps not quite enough of memorable songs to turn this into a future classic though, but still enjoyable, enjoyable indeed.
www.massmusic.biz
TURISAS: "The Varangian Way" 7
Century Media 2007
Review by Alan Holloway,

9th June 2007
Turisas, for the record, are really into their Vikings. When they were little children I imagine they went to bed with horned helmets on and when the careers master asked them what they wanted to be when they grew up there was only one answer: Vikings. You get the picture here?
It's been three years since Turisas got all manly with their debut "Battle Metal", and hairy chested manly men accross Europe can rejoice when I tell you that "The Varangian Way" is definitely not for lovers of false metal. No real surprise there, especially when you see the band, who look like an explosion in a mascara and fake fur factory. Well, they would if such factories existed.
But enough mirth making - what about the music? First off, let me assure you that as soon as you hear opening track "To Holmgard And Beyond", you will be humming it forever. It's all very epic stuff, with Warlord Nygard (no, don't laugh) showing off an impressive set of lungs that manages to be shouty but still quite melodic. A Nice trick. The whole album is basically about, you guessed it, Vikings. If you really want to listen to the lyrics you will hear of perilous journeys and the like. It's all terribly macho. As an album "The Varangian Way" is certainly worth a listen, if only for the rare sound of an accordion on a metal opus, something that works very well.
If you like your music manly, epic, often overblown and rather well written, then Turisas will probably be right up your longboat. It's not perfect, as the overblown melodrama can sometimes get a bit much, but as far as a battle metal album goes, this is another success from Finland.
www.turisas.com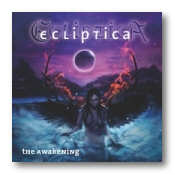 ECLIPTICA: "The Awakening" 5
Indie 2007
Review by Alan Holloway,

9th June 2007
Ecliptica are a six piece metal band from Germany (or perhaps Austria) led by ex Drunken Angels guitarist Markus Winkler. That's about the extent of my knowledge, I'm afraid, so lets get on with the review.
Ecliptica play what can loosely be described as symphonic metal, and seem to be trying to come from the same place as the likes of Nightwish. However, there's not nearly as much dramatic pap going on, although they do have a good go at times. Some of the songs are very well crafted and mix theatrical pomp with some galloping guitar. However, it seems that at times they have been caught out by a low budget, as the production doesn't do their ambitions justice.
Vocals on the album (or is it a mini-album?) are shared by Thomas Tieber and Evelyn Pieler, with Tieber coming accross like Geoff Tate at times. Well, if Geoff Tate had a German accent, anyway. Pieler has a pleasant voice that can wrap itself nicely around some tricky notes, although again you feel that the production stops her sounding at her best.
"The Awakening" is quite ambitious, and that is perhaps where it falls down. There are some good hooks and writing on show, but it doesn't grab you like it should. Could do better, then, and probably will. One to watch.
http://www.ecliptica.at/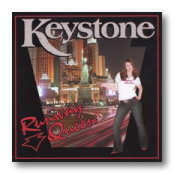 KEYSTONE: "Runaway Queen" 5

ParkRecords 2007
Review by Urban "Wally" Wallstrom,


13 June 2007
Keystone is a U.S. duo comprised of Patrick Kreisel (vocals, guitars) & William Letcher (bass) from Hazleton PA. They have recruited the multi-talanted Robert Berry (Alliance, 3, etc.) to produce their late 70's/early 80's sounding CD filled with harmonized guitars and soft-rock music. By the way, Berry isn't just the producer, he also helps out as a drummer, keyboardist, and background singer.
The music of Keystone is very much stuck in a timewarp and the sound of REO Speedwagon and Boston. It's actually a rather laidback affair and you can find traces of both country music and acoustic tingled rock. "He'll Never Come Back" kicks things off with smooth easy vocals and guitar playing that blend the Boston guitar sound with an acoustic approach. The following "Can You Hear Me" is a smooth mix of the most laidback music of New England with just a hint of the Nelson twins. It's all held together by a lighthearted, honest, approach and some excellent vocal harmonies.
I can't say that I'm fond of the corny honky-tonky rock of the title track, "Runaway Queen". Neither does "Hookin' Up" impress with its: been there, done that, rock of the early 80's. Keystone are definitely at their best when it comes to smooth semi-ballads in the vein of REO Speedwagon, Hirsh Gardner (New England), and various other acts of the late 70's. Funnily enough, the closing track, "Goal Is Rock-N-Roll", has unfortunately been blessed with one of those utterly corny refrains that Poison did in their heydays. OK, this may all sound a bit too harsh, since they're not all that bad, it's just that you can find better acts with a similar sound out there. However, check'em out at Myspace, it's mostly intended for the fan of the late 70's soft-rock.
www.myspace.com/keystonehazleton
THE CONQUISTADORS: "Mil Mascaras" 4

Elements Music 2007
Review by Kimmo Toivonen,

11 June 2007
The Conquistadors are not your average rock band. They've chosen to follow their own "dogmas" in producing music. The first dogma is that each song has to be written and recorded in a day, and therefore all the material on the album was written in the studio. While their music is quite electric, in order to create a "human sound" all of the vocals and instrumentals were recorded live and they were not edited. The band has also chosen to stay in anonymity, hiding their faces behind masks.
So what have The Conquistadors created with these dogmas of theirs? An album full of ethreal electro-pop with occasional nods towards eighties pop-rock á la Duran Duran or even INXS. Most of the album is extremely sleep-inducing "chillout music", moods and sounds rather than songs. Indeed, this album should come with a warning sticker: "Do not listen while driving"... the best moments for me are the first single "Daydreamer", a very good pop song with a Duran Duran vibe and "Something Good" which sounds a bit like Depeche Mode jamming with Inxs. As for the rest of the songs, they do sound pleasant, tranquil and relaxing... to the extent that they easily turn into nodescript background music.
www.theconquistadors.com
myspace.com/theconquistadorsmusic
FRANCIS SOTO: "Metalapolis Part One" 4
Francis Soto 2007
Review by Alan Holloway,

9th June 2007
First off, Francis Soto has nothing to do with Jeff Scott Soto, just so you know. In the same vein, he has nothing to do with Francis Dunnery either, but that probably wasn't even crossing your mind until I put it there. Sorry.
Mr Soto hails from Germany, and from my research I can tell you that he has got a lot of friends on MySpace. I have a feeling that I'm not going to be one of them, however, because "Metalapolis Part One" doesn't leave me with any desire to find out what Part Two is like.
"Metalapolis Part One" is supposed to be a hugely ambitious melding of all sorts of musical styles, because "Musically there are no frontiers". On top of that, I read that the whole thing is "Dominated by the voice of Francis Soto, who provides the songs with definitely catchy vocal lines". In reality, the album is a bunch of reasonale metal tunes held together by Francis Sotos heavily accented, rather pedestrian vocals. Don't believe the hype.
Whatever else it is supposed to be, "Metalspolis Part One" is ultimately a very run of the mill melodic metal album. There are a couple of tracks that almost get you going, but the sad truth is that the strongest feelings you will get from this is the anger of the time you've wasted listening to it.
http://www.francissoto.com/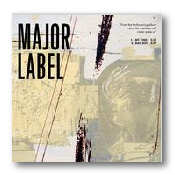 MAJOR LABEL: "My Time / Bad Boy" CD-single

Elements Music 2007
Review by Kimmo Toivonen,

10 June 2007
"If you want to have some kind of an idea about the band's music, listen to Sigur Rós and Race Against The Machine while watching movies by Wong Kar-Wai", says the press bio. Oh well... thankfully I have the option to listen to their single instead, it's easier this way. Sort of.
This Finnish trio, formed in 2000, plays contemporary metal. One could add several different adjectives: "alternative", "progressive", even "nu-" before the "metal", and one could argue that the "metal" itself could be "rock" just as well. The aggressive vibe and the guitar work is very metallic, yet the vocal melodies are more in the alternative rock vein, although at times the singing transforms into tortured hardcore screaming. It's not the kind of stuff that Top 40 radio stations would play, but rock stations might just fall in love with. I also have the feeling that s lot of critical acclaim might be waiting for the band from the mainstream rock press. Their alternative rock vibe mixed with metal elements might just be what the hip critics are after.
The band's sound doesn't really appeal to me (I guess I'm not hip!), but that doesn't mean that they are not onto something. There are millions of people, the fans of both Radiohead and System Of A Down for instance, who could get a kick out of these songs. I wonder whether there are many of those among our readers though.
www.majorlabelband.com
www.myspace.com/majorlabelband
REVIEWS ADDED 6 June, 2007 (WEEK 23)

BLASDEAD: "Ground Flare" 6
MajesticRock 2007
Review by Urban "Wally" Wallstrom,


2 June 2007
Would I be a complete and utter bastard if I stated that a majority of all singers from Japan are horrible? I'am merely speaking in terms of accent and their non-existent articulation (when it comes to the English language). They're dandy and fine as long as they sing their own language though, it's not like they don't have a couple of millions of great singers over there.
Blasdead vocalist Eiji Yokoyama is however a borderline case, given the benifit of a doubt, since he's clearly better than your average Metal hack from the land of the rising sun. He's a real power shouter in the guttural screams department and you can find a very competent guitarist by his side. Indeed, Shoji Yasuno is a master blaster with a six-string and the riffs are stapled on top of each other throughout the album. They're certainly paying a great deal of attention to the importance of dynamics and the whole interlude between the two characters.
There's a lot of RAGE into tracks such as "Behind A Mask" and "Mechanical Civilization". Yep, the band from Germany with Peavy Wagner as their main character. There's even a hint of the old NWOBHM to be found at times, even if I'd rather say it's a teutonic metal display 'ala Japan. Highlight of the album would have to be the closing track, "Keep Heavy... Stay Metal". This is a really fine Metal anthem that somehow reminded me of The Rods. The bottomline; "Ground Flare" is rather complex, varied, and even entertaining album at times. So if you fancy discovering something "unknown" outside of Japan and got some spare cash, you could do a lot worse than Blasdead.
http://www.k5.dion.ne.jp/~blasdead
TRAGIK: "Poetic Justice" 5
Escape 2007
Review by Urban "Wally" Wallstrom,


4 June 2007
Tragik is merely U.S. indie rocker Phil Vincent with a new monicker and haircut (erase the latter actually). Yup, Vincent handles all songwriting, vocals, keys, and guitars as usual. There's however a new lead guitarist (Damian D'Ercole) among the ranks as well as a proper drummer in Dirk Phillips.
I do recall him saying he was fed up with melodic hardrock and his latest(?) solo effort was a rather "heavy" experience. Oh well, he has now returned to the path of the fluffy and soft, "Poetic Justice", indeed. The music of Tragic plod down some well worn paths to create a rather one dimensional sound that lack any kind of original idea or spark. The sound of Winger is very present at times. Still not a bad thing, being influenced by the biggest laugh at the Beavis & Butthead show, and that aside, accepting this a third rate version of Winger could work out to some listeners.
Heck, "One Of Us", does actually remind me of one of those sappy ballads by Bon Jovi as of lately. Final verdict: not a complete failure whatsoever, but there's no real spark in the dark and it's difficult to rate this above average.
Chris POLAND: "Return To Metalopolis LIVE" 5
LionMusic 2007
Review by Urban "Wally" Wallstrom,


2 June 2007
Chris Poland with yet another "Return To Metalopolis" release? It's actually a live recording from the year of 1991 this time and he sure plays a mean guitar on the titletrack. Add to this a couple of previously unreleased studio tracks and a live enhanced video of "Alexandria", and you're pretty much done.
I can't say that the former Megadeth guitarist has ever left an lasting impression in my book of real guitar heroes. Poland is however at least a notch or ten above the average metal hack and he sure knew how to handle the second fiddle in Megadeth. With this live outing we get the traditional blues, the blistering metal of "Wake Up Dead", but also a couple of moments of sheer guitar poetry in the shape of "Psycho Boy" and "Nightmare Hall".
Merely the first six tracks are live on stage though and the line-up consisted of what later would become the band, Damn The Machine. Poland is no doubt a considerable musician, though his talent in the past has often been restrained by various subjects. But I'm afraid that this platter won't add anything to his rep or cred. The record is loud and with lashings of feedback from the amps, but it's strickly fodder for the mad Chris Poland fan and not intended to feed the starving masses of metal.
www.chrispoland.com
TOBRUK: "Wild On The Run" (2CD edition)
MajesticRock 2007
Review by Urban "Wally" Wallstrom,


4 June 2007
The good people at MajesticRock decided to re-release Tobruk's "Wild On The Run" as a deluxe 2 disc edition where the second disc is a six song performance from 1985. This had obviously to do with the tragic and sad passing of Tobruk vocalist Stuart 'Snake' Neale in December of 2006. And what better than to let his spirit forever soar into the future and the shape of his excellent vocals and this very album?
I don't have that much to add from my original review of the CD (click HERE to read). It's a bonafide rock album that rocks along the lines of BON JOVI and otherwise slick, perfectly executed melodic hardrock 'ala 1985. The tracklisting of the live disc reads as follows: "Wild On The Run", "Alley Boy", "Breakdown", "Falling", "Running From The Night" and "She's Nobody's Fool". I believe it's an old BBC Radio live show due to the quality of the gig, and that fact that you can also hear Snake shouting, 'hello to everybody out there in radio-land'. Well, if that's not a dodgy code for Tooting or sumthin'.
Good stuff though, highly recommended, all we need now is a live DVD with Tobruk.
CC ROCK: "EP" (6-track)
ZinkMusic 2007
Review by Urban "Wally" Wallstrom,


2 June 2007
Who or whom is responsible for the following info-sheet? CC Rock is according to the write-up: "music in the vein of Toto and Def Leppard". Yeah, well... sure, you might pick up a slight hint of both acts if you look hard enough. However, CC Rock is first and most of all POWER-POP and all songs are written by former T'Bell members, Patrick Tibell and Roger Ljunggren.
Tibell is also the man behind all vocals as well as production, keyboards, and programming. I'm not sure why CC Rock should be the "work" of the two guitarists Peter Lundin and Anssi Alatalo? They don't contribute with anything beyond the actual guitar work (read more about this later). All five songs on this six-track EP ("Dreamer" is included twice with a radio edit) are of highest quality and it's like a lovely mix of T'Bell and the power-pop of Jamie Meyer and his 2003 release, "It's All About Me". In fact, "The Best I Can" is a pure Jamie Mayer rip-off and "Angel" could just as easily have been included on the T'Bell CD.
The only downer: The guitars are frankly too distorted and upfront at times and it feels like you're listening to a great Power-Pop band with a couple of PUNK wannabees at the six-strings. C'mon, there can't be too much dist, you say? No, not when it comes to Heavy Metal, but this kind of music, absolutely. They've managed to find a rather annoying sound too. This became quite obvious as you block out all the other instruments and focus mainly on the guitars. Anything else to complain about? Nope, not really, it's catchy music that fits perfectly to lazy summer days ahead of us and cruising with the top of the car roof down. All together now: C-A-T-C-H-Y.
www.cc-rock.net
<!— ARTIST: "Album Title" RATING-->ICED EARTH: "Overture Of The Wicked"
Steamhammer/SPV 2007
Review by Martien Koolen,


3 June 2007
This CD-single is the start of something awesome as what will follow could rather be the most epic-proportioned metal release so far in the new century. This single will lead up to the release of the first two studio albums called "Framing Armageddon" and the second one concluding the Something wicked story will be released in 2008. The "Overture of the wicked single is the re-recorded version of that trilogy and the first single "Ten thousand strong" (a new song) will appear on the "Framing Armageddon" CD. It is an up-tempo song, rather trashy with screaming vocals from Ripper Owens.
The other three songs are re-recordings, originally recorded back in 1998 with vocalist Matthew Barlow, and sound a bit more modern and heavy than the original ones. I will be looking forward to the new album as this is only 3 minutes and 54 seconds of new Iced Earth material. So, watch out for the new album!!
<!—TO BE DELETED if not used FROM here----------------->
www.icedearth.com <!— TO BE DELETED if not used TO here------------------>
REVIEWS ADDED 1 June, 2007 (WEEK 22)

Steen GRONTVED: "Night Vision Googles" 9
Lion Music 2007
Review by Endre 'Bandi' Hübner


30 May 2007
I have to be honest, the first 10 seconds of this album scared the hell out of me with a chaotic jazzy intro but then it turned into fantastic laid-back jazz-rock of the best kind. My funny ole man used to categorize this kind of stuff as "teletext-music" and it was downright precise description as most of the cable TV channels tend to pick smooth instrumental jazz-rock to go along with their TV-screen text message programs early in the morning and after program closing time.
Though in stores you will most probably find this item under "instrumental guitar music", the real strength of the album is in its fantastic arrangements that leave enough room for all the instruments, not only the guitar. A prime example of that would be the tasty "The Worm". If you do not like this one, you won't like the rest of the album either as this track pretty much sums up everything that is good on it. No brainless shredding here, just great songwriting, fantastic arrangements, and very precise musicianship. There's a weak attempt to go Satriani with "Run" but it does not look good for the guys. The so-far fantastic and very tricky drums by Josef Aarskov are simply annoying here; a jazz drummer playing rock music sounds as awful as the other way around. Hit it like it is for f..k's sake or leave it to a big bad tattooed long-haired guy the next time. Thankfully after this one Steen and his crew find their way back to what they do best, first with the moody "Bye", then with "Secret Lab", one of my favorites of the entire album with its catchy drum-bass patterns, tricky breaks and interesting leads with great guitar sounds.
You get some oriental fingerpicking stuff, you get ethnic some vocal experimenting, you get some smooth-jazzy, pretty much everything you wish for. Just be careful as it is not for shredder freaks, it is for rather grown-up listeners appreciating a mixture of different influences and absolutely professional musicianship. Had there been no attempt for rock music, this would have been a 10 pointer for sure but a 9 point rating speaks for itself, I guess. Recommended, obviously.
Ari KOIVUNEN: "Fuel To The Fire" 8
SonyBMG 2007
Review by Kimmo Toivonen,

29 May 2007
Apparently the owners of the "Idol"-format have been quite shocked that a metal/hard rock-vocalist was able to beat all the odds and win the competition here in Finland. Young Ari Koivunen was the "metal guy" from the start, a bit of a rebel and one that divided opinions. In the end, although taking a lot of flack for mostly metal/rock styled song choices from the judges and getting his share of tabloid-style publicity as well, he ended as the winner, and was immediately whisked away to a studio.
Under the guidance of producers Nino Laurenne (Thunderstone) and Pasi Heikkilä, and with the help of Finnish top metal musicians and songwriters, it took only a month or so and "Fuel For The Fire" was in the can. And make no mistake about it, this is not a disposable "Pop Idol"-album, but pure melodic metal. Even the tailormade "Idol-winner" single has been left off the main album, although it was a major hit! It's only available on the second CD, along with Ari's version of the Billy Joel hit "Piano Man", which took him to the "final 7" from the "Idols" semi-finals.
What you'll get is a selection of songs ranging from Maiden-like metal tracks to more radio-friendly melodic hard rock. The heavier tracks include the full-throttle opener "Gods Of War" (written by Tuomas Heikkinen of Leverage and Kimmo Blom of Urban Tale) and Tarot/Nightwish-bassist/singer Marco Hietala's song "Our Beast". Among the less metallic tracks are the first single "Hear My Call", Timo Tolkki's fine ballad "Angels Are Calling" and the anthemic "Stormwind". I must also mention the bonus track "Hetki Lyö", which is a cover of Finnish singer Kirka's hit from the late eighties. It's been given a real metal treatment and it sounds very good. Kirka's not with us anymore, but I'm sure he would have approved this version.
All of the above mentioned tracks are solid material, and there are really no weak links among the rest either. The real standouts may be missing, but the overall quality of the songs, the production and the musicianship raises the album to a higher level.
When it comes to Ari's vocals, they remind me a lot of Eric Martin, although with a definite Finnish accent (think of Timo Kotipelto). I thought he was okay in the "Idols" TV show, but with this material he really starts to shine and live up to the potential he showed early on.
"Fuel To The Fire" is a real kickstart to Ari's career, which I hope will be a long and prosperous one. Along with Daughtry's album, this is a proof that one can enter a competition like "Idols" and use the format to make one's dreams come true. One doesn't have to become a record company puppet singing safe and bland pop.
www.arikoivunen.fi
Ray DETONE: "Guitar Noir" 8
Dancetone Music 2006
Review by Endre 'Bandi' Hübner


30 May 2007
With such a name you either wind up tuning pianos or playing the guitar. Well, Ray does the latter and in grand fashion. The title of the album may be tricky though cuz I'd rather say "Guitar Colorée" instead. The album is a vivid mix of bluesy hard rock, funk rock, some acoustic Latin stuff all performed soulfully.
The opening "Lights Down" is a bit out of place as it reminds me of late Pink Floyd with all the fluffy keyboard pads and the thick guitar sound but the rest of the album is more straightforward stuff like the following "Sexy Heavy" (I can hear the heavy but I can't hear the sexy. Never mind.), it is a cool hard rock stomper with decent guitar playing. So is "Guitar Suicide" but don't let the title get you wrong, Ray is not a brainless shredder, rather a tasteful player equipped with the necessary skills and a clear vision of where his music is heading to. "Tequila Funk" is just what its title suggests, while "La Bomba Beauty" is a tasty Latin number with a great piano solo. Songtitles like "Funk you too!", "Jazzy Blues Bop" or "Spanish Gypsy" clearly tell you what to expect from the album.
My personal favorites were the funky tracks as well as "March of Grind" a heavily programmed one, but one with a really soulful lead, a cool bass pattern, and just great arrangement altogether, the beautiful "Twilight Suite" and the Western-movie influenced "Spaghetti Score" which was a welcome break towards the end of the album. With 14+1 tracks the album is definitely value for your money if you like old-fashioned instrumental guitar music. Recommended indeed.
STURM UND DRANG: "Learning To Rock" 8
Helsinki Music Company 2007
Review by Kimmo Toivonen,

01 June 2007
These days when the mainstream radio is what it is, mostly the same hits played over and over again, it's very rare that a song on the airwaves makes me want to stop and actually listen. That did happen with "Rising Son", the first single from Sturm Und Drang. Their unashamedly eighties' like hard rock fooled me to believe that the song might have been a new Scorpions single or something... A quick research made it clear that these guys weren't German veteran rockers, quite the opposite in fact - a bunch of 15-16 year old youngsters from Vaasa, Finland!
Blessed with a cover that would make Spinal Tap (or indeed the aforementioned Scorpions) proud, the first album from SUD contains 10 solid and vintage sounding metal/hard rock tracks. Most of the material sounds a bit like a mixture of Sonata Arctica and Stratovarius, with a couple of more straightforward hard rock songs in between. Apparently the boys are spending most of their spare time in their rehearsal room, which has already paid off quite nicely - there's no sign of sloppiness in these songs. Sure, vocalist/songwriter André Linman's lyrics and pronunciation are a bit on the clumsy side at times, but let's not forget that he's only 15...
Let's take a closer look at the songs... "Broken" opens the album, obviously a Sonata Arctica-influenced track, with a fast tempo and very "Tony Kakko"-like vocal melodies. "Talking To Silence" has a balladic intro, but it soon transforms into a Maiden-like track with tasty dual lead guitars. "Forever" has the kind of song that Stratovarius used to release as the first single of their albums - catchy and not too heavy. I have to say though that the Mickey Mouse choir during the chorus does sound a bit funny.
"Rising Son" is one of the more hard rock-styled songs - a good track for sure and one that has opened a lot of doors for the band. Then it's time for another Strato-inspired track, "The Raven". The obligatory (?) ballad "Indian" follows, and while the clumsiness mentioned before is probably more evident here than on the other songs, there's something quite likeable in it.
"Learning To Rock" brings back memories of 80'ies Metal, bands like Warrior, Fifth Angel and the likes..."Fly Away" is again another melodic metal track with a bit of Strato-vibe and again those odd mouse-like backing vocals. And while we're on the subject of "odd", the contrast between the lyrics and the music is just that in "Mortals" - the lyrics deal with "destruction, anguish and fear", yet the song is an easy-going track with a strong resemblance to Poison! The album is closed with the second ballad "Miseria".
All in all, a very good debut from a young band. If this is what they come up with while they're "Learning To Rock", who knows what the can do when they've learnt the basics!!
www.sturmunddrang.fi
www.myspace.com/sturmunddrang
SWITCHBLADE: "Rock n' Roll 4ever" 5
Perris Records 2007
Review by Endre 'Bandi' Hübner


30 May 2007
I know one should never judge an album by its cover but taking a look at this one I couldn't help but feel I was fooled and somebody wanted to trick me with a band from a 1985 Quentin Tarantino movie. What else can you believe with such a band-name and an album title, not to mention the image on the artwork? Add that the title of the opening track is "Cocksuckin' Suzie" and sounds like a cheap imitation of early Circus of Power and you are absolutely lost and will have to check the calendar on the wall to make sure it says 2007.
However I always give credit where it is due: these guys can talk the talk and can walk the walk. For what it is supposed to be [simple, raw, sleaze rock oriented at drunken bikers] the music is rather good. The band is tight, the sound is thick, the lyrics are simple and memorable and the vocalist has just as much voice as needed for this kind of stuff (read: none).
As the band is from Denmark I'm having a hard time picturing them out on bikes roasting rattlesnakes at a biker-gang party somewhere in the desert but if you want it bad enough you can get that image listening to their music. I even liked "Show me all your stuff" as it reminded me of the early years of The Almighty, a band that I have never really been a fan of but my bro used to play a lot at home. The 11 tracks and the 45 minutes running time are okay for such an album, fans of the genre (are there still any?) will like it for sure but if you seek for anything that is remotely original, stay far away from this one.
REVIEWS ADDED 28 May, 2007 (WEEK 22)

SCORPIONS: "Humanity Hour 1" 9
Sony/BMG 2007
Review by Urban "Wally" Wallstrom,


28 May 2007
Scorpions is an institution in their homeland. Germany's most successful international music export ever actually. Well, here in Sweden it's ABBA, The UK have The Beatles, I guess it's only fair that Kaiser Franz and co. gets to hang out with super heroes such as Meine, Schenker, Jabs, and the gang. There's been a lot of fuzz about the new album, especially since it's been produced by song-smith, producer, Desmond Child (Kiss, Alice Cooper, Aerosmith, Bon Jovi, etc). Can you ever trust the hype? Well, yeah, it's probably their best release since "Crazy World".
There's been a slight tendency to mess up the tracklisting at Sony records lately. The worst song of the CD as the opening track??? Sure, it's obviously just a matter of different opinions, however, first Ozzy and now Scorps, that's twice in a week guys. Yeah, I know, nit-picking to the extreme, but truth be told, "Hour 1"... not the perfect opener as it leaves a rather average impression at first. It's a rather typical stick-it-somewhere-in-the-middle-section of the album tune. It gets better with a couple of spins though and youäll get to like it more and more. "The Game Of Life", now we're talking major hook and a killer instinct. This could just as easily have been included on "Savage Amusement". Co-written by Des Child and Michael "Nord" Andersson it's a great continuing of the late 80's sound. "We Were Born To Fly" is a moody semi-ballad with a great refrain and guitarwork by Schenker/Jabs.
"The Future Never Dies" is the first power ballad and it's top-notch stuff as always. "You're Lovin' Me To Death" is the co-work of Swede, Anders Carlsson, and Des Child. Excellent stuff that sounds like a 50/50 mix of ol' Scorps and the latest Paul Stanley CD. "321" is THE rocker of the album, opens up with some heavy riffing by Schenker and finish things off with a killer jawhook. I believe it's time for yet another power ballad, "Love Will Keep Us Alive", won't disappoint as it comes complete with a retro sound of the late 70's/early 80's. "We Will Rise Again" is once again a 50/50 affair between the old and new sound, nice. "Your Last Song" and "Love Is War" is a slow song double-feature and the guitarwork is so soulful in places that it hurts. "The Cross" is almost "Alien Nation" part 2, only even more progressive and dare I say, darker? two thumbs up!
Make sure to always save the best for last? Closing track, "Humanity", is a blistering piece of work and a reason alone to pick this up at your local CD store (check out the haunting string section in the background). Final verdict: it's difficult to find any real fillers, sure, a couple of stinkers, but overall a strong compilation of tunes. Recommended.
www.the-scorpions.com
Roadstar: "Glass Mountain" 9
Magic Hat Records 2007
Review by Alan Holloway,

24th May 2007
Is there any real point reviewing this? After all, Roadstar are no more! Yes, the most promising British hard rock band for a decade have hung up their crimpers and guitar straps to pursue other interests. The debut album "Grand Hotel" was one of the best debuts of the last five years, and no sooner do we get the follow up than we lose the band. Bummer.
I'm going to review this anyway, because as a legacy it's not at all shoddy. Roadstar, for the uninitiated, play blues influenced melodic hard rock that will have toes tapping like there's an electric current going through them. They were originally known as Hurricane Party, but changed the name after a little blowhard named Katrina gave hurricanes a bad name. They became Roadstar after their best song, although nothing else changed. Until now, of course.
"Glass Mountain" is a great album, no doubt about it. The star of the show, as usual, is vocalist Richie Heavenz (NOT his real name...), who gives the band a real Aerosmith/Black Crowes vibe. Add to this the fact he looks the part and is a great live frontman, and you get the feeling that Richie will certainly not disappear quietly. This is not to say that the band are slouches by any means, as the musician ship on display is pretty much faultless. The production is spot on, the songs well written and the whole thing reeks of class. If you haven't yet noticed, I'm quite fond of "Glass Mountain".
I'm gonna miss Roadstar, but I'm glad they got a chance to release album number 2 before they went. There's some huge songs here, with a beautiful low slung bluesy feel married to more traditional melodic hard rock. It's all a bit like Guns n Roses partying with Aerosmith and The Doors. If that all sounds a bit mental, then tough. Just go out and pick up a copy whilst it's still available.
P.S: Best place to go is the label website, as the likes of Play and Amazon seem to be having trouble getting copies without their traditional lengthy wait.
www.magichatrecords.com
OZZY OSBOURNE: "Black Rain" 7
Epic/Sony 2007
Review by Urban "Wally" Wallstrom,


25 May 2007
"Not Going Away" is a really poor opener and not the kind of stuff we expect to hear from the Prince of f***in' darkness. Zakk Wylde is usally a fine guitarist, however, the main riff used on this song is probably the most boring one of the century. In fact, the entire song reeks of 1994, Seattle, and yes, you almost feel like screaming: please do go away. OK, we're off to a really dodgy start and things can only improved and get better, yes?
Indeed, "I Don't Wanna Stop" is a great party stomper that comes complete with a refrain that you just know somehow from the past. The only annoying part... I friggin' can't remember which song it is??? I just got this one liner sitting in the very back of my mind: "I just wanna be by your side". And no, that's not the title. Nevertheless, the title track of the album next, a rather dark story about how the human race are contaminating the world in every way possible. I do enjoy the entire vibe of the song as its filled with anger and emotion and it's all put together with a nice melody.
"Lay Your World On Me" is a classic Ozzy ballad with a rather touching message actually. The chorus goes along the lines of "Give me your pain, give me your anger, let me be your rock, I can be the pillar of strenght that you need". I'm not goin to speculate too much about the lyrics or how much strenght Ozzy has nowadays, the message comes through as very sincere and honest though. "The Almighty Dollar" is an okay rocker, "Silver" is a crappy tune with a Marilyn Manson sort of refrain. "Civilize The Universe" is the first mid-tempo track and it works out great in the end. "Here For You" is the second big ballad of the album with a similar message to the first one really. Full marks once again even if Ozzy howls quite a lot at times. "Countdown Begun" is the Perry Mason of the album and closing track, "Trap Door" is a nice way to end the CD.
I don't understand why everything has to be so "dark" all of the time though? Ozzy is known as a party rocker and a fun geezer that used to bring us both sides of the story. I just wish he could, you know, every now and then, serve us a kikk-azz, just for fun, party anthem in the vein of "Bark At The Moon" or "Crazy Train".
www.ozzy.com
ARTIST: "JK NORTHRUP: Wired in My Skin" 7
<!—Alien Records, 2007-->Alien Records
Review by Petri Kautto,


24 May 2007
If you were a guitarist and looking for someone to sing on your album how would guys like Ted Poley (Danger Danger), Johnny Edwards (Foreigner, King Kobra), Kelly Keeling (Baton Rouge) and Terry Ilous (XYZ) sound like? JK Northrup has managed to get these guys to contribute on his second solo effort "Wired in My Skin". This is a well-produced rock album that sails smoothly from the beginning to the end.
There are 11 songs of which 3 are instrumental and mainly written by Northrup, but the vocalist have also written lyrics on some of the tracks. Guitar and bass on all tracks is handled by JK himself, who has also recorded and produced the album. The instrumentals showcase Northrup's obvious talent in a somewhat Satriani-like way. In addition to having some quality tracks (like the title track with Northrup's killer guitar solo) the album is interesting because of the supporting cast. Ted Poley was a good choice, his voice is sunshine on any song and on this album he sings on two, "Perfect Imperfection" and the ballad "If I Were James Taylor (I Could Finish This Song)". The other's don't do badly either but maybe they don't stand out as clearly as Poley does.
The album doesn't really have weaknesses but it's no mind-blowing highlights galore either. It's an album with a safe sound that you like listening to and there's enough quality to entertain throughout the album. If you're a fan of the above-mentioned artists this is as safe as it gets. Good sound, good production and a good vibe in general with your favourite artists.
http://www.jknorthrup.com/
JK Northrup at MySpace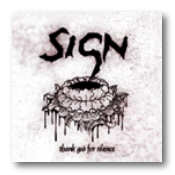 Sign: "Thank God For Silence" 7
R og R Music, 2007
Review by Alan Holloway,

24th May 2007
I can count the number of Icelandic bands I know on one finger, but because that would mean thinking about the mad pixie that is Bjork I prefer not to. Thankfully, I can now think about Sign instead, as they too hail from the land of ice, snow and extortionate bar prices.
At first, Sign take you a little off guard. This is due to vocalist and songwriter Zolberg, who sounds not a million miles away from a fire at a cattery. Give him a few songs, however, and he gets much easier to appreciate. So much so, in fact, that "Thank God For Silence" should be making regular visits to your CD player.
The album has been about for a while now, but we at Rock United were oddly unaware of the band who have been getting good press since it's release. It was seeing them support The Wildhearts recently that turned me on to their brand of metal, and I'm glad I wasn't hiding in the bar at the time. Then I said they reminded me of Skid Row crossed with Vain, and although this isn't as pronounced on record, it's still a pretty good analogy. Zolberg (isn't he in Futurama?) has a high pitched voice with a slightly rough edge that reminds me of the likes of Tony Mills and Davey Vain if they had a really bad cold. Behind him, the band turn up the guitars to eleven with some blistering hard rock that never forgets that melody is as important as volume. The happy result is ten tracks that have a certain power mixed with a retro melodic sensibility. Hmmm...
Apart from the curiously titled "_", a shit ballady thing that just sucks major ass, the tracks are well worth a listen, particularly the title track, which although slow is beautifully constructed. Apparently the band are going to record a version of "Youth Gone Wild" for a Summer Kerrang!freebie, but if you can't wait that long be sure to check out their site and have a listen to a few tracks.
www.sign.is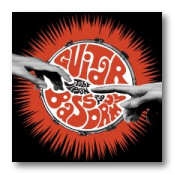 Toby Jepson: "Guitar Bass & Drum EP1"
Townsend Records 2007
Review by Alan Holloway,

24th May 2007
Toby Jepson, or "Him out of Little Angels" as he is known, is still rocking. Something of a surprise to some, I suspect, but certainly not to those who have been lucky enough to see him live over the last 6 months. This year he's releasing 3 Eps under the banner of "Guitar Bass & Drum", so I suppose this one is "Guitar". Or not. Whatever.
Our Tobe is lucky enough to look and sound like he did back in the days, and all he's ever needed is a few good tunes behind him and the magic takes hold. On this EP he's got exactly that: five catchy, melodic tracks that suit his voice down to the ground. Opener "Motivated" is not a million miles away from being one of the better Little Angels songs, with a great hook and a fantastic vocal performance. In fact, the whole EP is very in keeping with the old Angels sound, but without copying any of the old songs.
As a reintroduction to Jepson, this is very welcome, and a great taster for the next two EPs. If, like me, you've missed one of the better British singers and his work, you really should check this one out.
www.tobyjepson.com
REVIEWS ADDED 23 May, 2007 (WEEK 21)

HEAVY PETTIN: "Prodigal Songs" 9
MajesticRock 2007
Review by Urban "Wally" Wallstrom,


20 May 2007
Throw a party and throw it my way. "Prodigal Songs" is the retrospective return of the prodigal sons of Glasgow. Yes sir indeed, prepare yourself for a party and get your throwing arms together, the Heavy Pettin lads are ready to embarke on yet another homerun for Scotland. Well, to be honest, there hasn't been too many homeruns for the highlanders lately.
This is however an entire album of previously unreleased material (13 tracks) and the quality of the songs does surprise. That's an understatement really, I can't recall the last time a band released such a impressive bunch of left-over. It's material recorded between the years of 1982 and 1987 and it's songs created without the interferance from any three-piece suits aka tossers. For example, you have from the first HP recording session in 82, "Speed Kills", which remained a solid live favourite but was never officially released up until now.
"Break It Down", recorded in 1987, opens up the CD and sets the standard of the entire album. I'm not sure about that horrible sounding keyboard on "I Don't Care What You Say Anymore". Straight out of the 70's Pop, boogie-woogie culture, I believe? It's otherwise an ok toon though. "Keep On Believing" is a great semi-ballad that was recorded in preperation of what would become the "Rock Ain't Dead" album. I simply can't get, "Hot Women", out of my mind (heh!), the song has been blessed with one of those killer beats in the vein of "The Stroke". Recorded in late 1987 and in anger of the ill-fated "Big Bang" album, this has clearly become one of my all-time favourite songs by the band. Marvelous beat, catchy refrain, and a fun party sound, makes this a great feel-good moment.
Yep, this is sure something worth getting excited about. It's very much the classic sound of Heavy Pettin and a must have for the fan of mid-80's hardrock. Can't find the CD in your local stores? try getting it direct from the majesticrock.com site. Recommended.
www.heavy-pettin.com
KAMELOT: "Ghost Opera" 8
SPV 2007
Review by Urban "Wally" Wallstrom,


22 May 2007
"Ghost Opera" is, like the title would suggest, a very operetic approach to metal and quite pompous too, I may add. The overall song structure rely a lot upon Roy Khan and his soaring vocals. One thing's for sure, they could never pull this off with a less talanted singer. Khan is indeed at the centre of attention (once again) with really powerful and at the next minute, emotional vocals, which can almost be described as the Geoff Tate of the new century.
"Solitaire" is merely an instrumental introduction of the movie and people still rush to get to their seats with popcorn and beverage all over the place. "Rule The World" is the masterplan at work, stormy as Halle Berry and with the energy of a shaken can of Coca Cola (not the diet kind), it'll get the picture going for sure. It's a rather smashing opening track in other words. The titletrack had me worried at first as it's felt more like a dodgy sequel to "March Of Mephisto". It's a grower though and it just got better for each spin, up to a certain point of course, I'd still be playing it otherwise (duh!).
"Love You To Death" is an emotional piece that goes straight to the heart with touching lyrics and its big cinema picture approach. You'll get lots of images and movies inside of your head and it's a very pompous medieval ballad in the vein of "Braveheart" or "Highlander". The female vocalist add that special ingredient and blends just perfectly with Khan's killer vocals. "Ghost Opera" is album orientied metal and you can certainly play the entire CD without feeling let down by the material. It's symphonic and pompous metal in a good way (not like Rhapsody Of... zzz!) and there's also a great variety in their music.
www.kamelot.com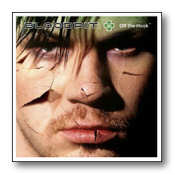 BLOODPIT: "Off the Hook" 7
<!—Sony BMG, 2007-->SonyBMG 2007
Review by Petri Kautto,


11 May 2007
Bloodpit is one of the Finnish bands that have been bubbling under for quite a while. They were supposed to make it big with their first album "Mental Circus" and the hit single "Platitude" even made it to NHL 2007 soundtrack. They are still waiting for their big breakthrough and this time they are "Off the Hook", which is more solid of an effort than their first-borne.
It would be easy to label this album as grunge in the vain of Alice in Chains but that categorisation would be too narrow. They have their own sound which blends in nuances from goth, sleaze and melodic rock. Some songs do sound rather similar to what many other bands have to offer but this album has more highlights than their predecessor. "Rotten to the Core" has a refrain that you find yourself singing along to and the first single "Wise Men Don't Cry" has the same effect. "Blue in the Face" is a more melodic song and it flows on beautifully. Then there are songs like "Born a Whore" and "Leave Me Dead" which leave you feeling like you've heard all that before.
The album is well produced and the band seems to have put effort into the songs. Their obviously different musical influences gives variability but they do not sound too ragged. It all boils down to an album that interests you enough to give it more than just 1-2 spins and you might even pick it up in a year or two because the are some quality tracks here. Not enough for world domination but will not leave you disappointed either.
Bloodpit homepage
Bloodpit at MySpace
Andrea CASTELLI: "Planet Time" 5
Guitar Chef 2007
Review by Endre 'Bandi' Hübner


17 May 2007
When I first played this album I said to myself: This is poor man's Rush. It started out with some progressive rock, with some melodies and a general songwriting approach very similar to Rush, just awfully underproduced. Okay, I understand that the album was recorded in like four different studios but when it came to mastering the engineer must have had some serious ear-infections. Neither the deeps nor the middle ranges are present in the mix, and the whole sound is just generally weak. Imagine a bass player's solo album with non-existent deeps. Own goal!
Then as the album progressed and the songs became more and more chaotic I thought to myself: this is another prime example why a bass player should not release a solo album. Though everybody (four vocalists, two guitarists, two drummers, two keyboardists) all contribute their share, (and maybe because of this) the songs do not get consistent at all. After a dozen spins and too many headaches to count, I still cannot recall ANY melodies from any of the songs. I remember a bass-solo at the end of one of the tracks, as well as the beautiful acoustic closing track but other than that, not much.
"Planet Time" is only for those who have an unlimited amount of time to analyze and memorize each and every track (there are 14 of them). An "average" listener will most probably struggle with it as much as I did. Play samples before buying it!
MARILLION: "Somewhere Else" 5
Intact 2007
Review by Urban "Wally" Wallstrom,


20 May 2007
I wish I could be, "Somewhere Else", since this is clearly not the Marillion we love and adore. It's almost like they're still gobsmacked and confused by their previous album chart success, and decided to write a bunch of tunes that could possibly work as elevator music and mainstream stuff. But are they excellent enough to become "hits"... nah. Not that we would ever expect Marillion at the top of the pops anymore, but c'mon, whatever happened to the top-notch stuff? Have they finally lost their Marbles??? (ouch - now that's a really poor joke).
I really enjoyed "Marbles" though (one of my fave albums of 2004), they decided to bring in some U2 and pop influences into the mix and it worked out greatly. I don't actually mind the mainstream influences as long as they can keep a high standard in their songwriting. Let's face it, it's all about the quality of the songs and not as much the name of the band or what we expect them to sound like. Good music is always good music, no matter if you're Marillion, U2, or My Chemical Romance.
However, I honestly believe that Marillion need to make a fast decision about which way to go with their music. They're standing at a crossroad with one feet in the mainstream business and the other still in proggy-land. Thus why the material leaves a rather cold and average impression and merely tracks like "Most Toys", "The Wound", and the titletrack, would end up as real winners in this race. Pretty average stuff for such a great band as Marillion.
www.marillion.com
Emiliano SICILIA: "Devotion Materialize" 5
Horus Music 2007
Review by Endre 'Bandi' Hübner


17 May 2007
Take an extremely talented guitar player with lots of great ideas and a bunch of friends with bad influence whose talents are only a far cry from the guitar player's. Make the guitar player write a bunch of fantastic instrumental songs, then let the friends come in, add their vocals to the tracks ruining them all. And you get Emiliano Sicilia's "Devotion Materialize" album. Sad but true.
This guy has an enormous amount of uncontrolled talent, an experienced producer with the necessary amount of criticism could have turned him into the next Satriani. However Gianluca Galli, the producer of the album paid more attention to the overall sound of the album (which is great ) than to the overall style of the album (which is non-existent cuz what you get is a weird mixture of pretty much everything from hard rock through latino influenced dance music and fingerpicking bluegrass to death metal or whatever that growling is supposed to be). There's a guy ruining half of the songs with shouting un-articulately and on top of all that some annoying techno-intermezzo pop up here and there. Too bad cuz the album starts out in grand fashion with the instrumental "Cyber Room" which is a great track and is pretty much the only one left un-affected by "blessing contribution" (sic!) of friends.
"Neurosaloon", the next instrumental is also okay, reminds me of early Satriani with an even worse drum-machine sound than the Satch debut. Then you get another annoying vocal track, and another hard-to-follow instrumental called "The Green Mirror" that has some interesting Eastern melodies in the intro then turns into a midtempo rocker with weird programmed drum patterns that change with almost every 12 seconds. Again: far too many ideas squeezed into one song that makes the final product overwhelming and impossible to enjoy. That is typical for almost the entire album. I really feel bad saying this because Emiliano is obviously a great guitar player. The way to go on? Get a real band who'd kick his ass when he wants to put more than 5 themes into one song and forget about these "singers" once and for all.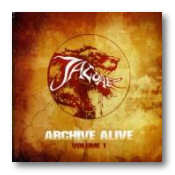 JAGUAR: "Archive Alive Volume 1" 5
MajesticRock 2007
Review by Urban "Wally" Wallstrom,


19 May 2007
Believe it or not, this is actually the first of three planned CD's covering Jaguar's early, unreleased recordings. It's NWOBHM at its purest and most primitive form and, "Archive Alive Vol.1", covers the birth of a U.K. band in the very early 80's. The first three tracks (Feel The Heat, Piledriver, Battlecry) are the first three songs that Jaguar ever wrote and they were recorded at Sound Conception Studios, St Pauls, Bristol on 26 March 1980.
It was the bands first ever visit to a studio and they certainly did go haywire in the process. It's slightly blurred and bewildered New Wave Metal (not to be confused with any other new wave of the 80's), and it's music that sounds awful like a frantic bulldog in a tight leash. Live version of "Hell Riders", follows up well with a nice headbanging riff, but suffers damage when it kicks in as the production, well, the lack of production, smothers the sound and leaves us with plenty of noises.
But that's what NWOBHM is all about really and the following five tracks (Killer, Black Stallion, Stormchild, Devil's Answer, War Machine), were all recorded at The Granary Club in Bristol on 10 July 1980. The bottomline: leaves a rather lifeless impression in comparsion to the excellent Heavy Pettin compilation. Strickly intended for the mad NWOBHM collector.
www.jaguar-online.com

You can find older reviews and everything else in the Reviews Archive. If you're looking for a specific title, use the search engine on frontpage or on the Reviews Archive page!
If you came to this page from a search engine, click the logo to view the entire site!