LIPSTIXX'N BULLETZ: "Bang Your Head" 8
Sleaszy Rider Records 2009
Review by Kimmo Toivonen,

1 December 2009
Sometimes the band's name tells you everything, and that's the case with this band. With a name like that, it'd be pretty damn weird if they were anything else than a Glam band... Lipstixx'n Bulletz - power metal or progressive rock? Don't think so! These guys follow hot on the heels of such Swedish rockers as Crashdiet, Crazy Lixx and their ancestors Shotgun Messiah, with a catchy, attitude-fuelled glam rock sound and an image to match.
Vocalist Andy Lipstixx has throaty vocal style reminding me a bit of Michael Monroe, so he's not your average nasal glam singer. He and guitarist Rikki Bullet churn out metallic riffs that owe as much to the likes of Accept as they do to Poison, and the rhythm section of Jamiee Teaze (bass) and Michael Sweet (drums) provide a driving, powerful foundation to the songs. Hell, these guys might even have a shot a being accepted by metalheads, especially since their image is more... "Shout At The Devil" than "Theatre Of Pain", if you get my drift.
Not every song on the album is a killer, but "Rock Me", "Do Or Die", "Wild At Heart" and "Be Mine Tonight" are damn catchy stuff. On the other hand, "You Poison Me" and "Love In A Needle" are far from killer, the first one a very fast track with a chorus that reminds me of Toni Basil's "Mickey" (Wayne's World anyone?), while the latter one sounds a bit messy and somehow amateurish. Anyway, majority of the songs are very impressive, and fans of the aforementioned bands and the glam rock scene in general should investigate. Here's where 2 start, tell' em we sent ya:
MySpace
HANOI ROCKS: "Buried Alive"
Backstage Alliance 2009
Review by Alan Holloway,

2nd November 2009
Hanoi Rocks are one of those bands who seem to have been around for ever. I remember hearing about them back in the early 80s, and it has indeed been 28 years since their debut album, only followed by seven more in the years that followed. They did have a big break in the middle, and it was a great when they came back, all the way up to the final, quality album "Street Poetry". The second coming of Finland's finest glam rockers is at an end, though, as Hanoi Rocks have called it a day.
To see themselves off, they played a show (Ed: four shows actually.) at the Tavastia Club in Helsinki, playing 32 songs in a two hour plus set, trying to cram in everybody's favourites one last time. Unsurprisingly, it-s a great gig, with an energy overload befitting the band?s legacy. Michael Monroe struts about the stage like a predatory lion, and even Andy McCoy moves about and seems to be enjoying himself a lot more than when I saw him last. There-s no real point in listing all the songs here, as the odds are that if it's one you like then it will be in the massive set list. The action is captured well on several cameras, with no complaints about the nice, clear sound either. "Buried Alive" is a fine send off for the band, and as with all good live DVD?s it makes you wish you had been there. If you've ever been a fan, this is definitely one for your Christmas list.
www.backstagealliance.com
OVERLAND: "Diamond Dealer" 7
Escape 2009
Review by the Bailey Brothers


3 December 2009
If you have been living in a remote island for the past three decade then you may have an excuse for not knowing who Steve Overland is. He's the vocalist with British AOR gods FM. The only thing you will find more polished is my mum's silverware. FM return next year with a new album Metropolis, but in the meantime Steve has a new solo album available called Diamond Dealer which he wrote with Tor Talle, a Norwegian guitar player/songwriter best known for the Northern Light project and working with Joe Lynn Turner (Deep Purple, Rainbow), Fergie Frederiksen (Toto), Rob Moratti (Saga) and Tony Mills (TNT and Shy) among others.
Overland's vocals are consistent through out the disc with touches of Lou Gramm (Foriegner) especially on the very poppy "You Lift Me Up". There's been talk of a film version of Baywatch and some of these songs wouldn't be out of place as they sound quite dated. Take the opener "Train Train" and it's the same old Bon Jovi type guitar riff during the verse. "Brave New World" is a bit more fresh and "Hearts Don't Lie" is a nice ballad. "Bring Me Water" is the only song trying to raise the tempo. If I had to pick one song to check out it would probably be "Roll Back The Years" although again a bit dated. It's got touches of Danny Bowes of Thunder in parts, simple but catchy.
I get bored real easy with AOR and although the credits come across as a band recording, it resembles a home studio project with wav files passed over the internet rather than a band vibe. If you are a lover of mid tempo 80's rock then this is right up your street. Steve Overland shows once again he's still one of the best AOR vocalists we have produced, it's easy listening and a decent little album.
Overland website
DELANY: "Blaze And Ashes" 7
MusicBuyMail 2009
Review by Kimmo Toivonen,

1 December 2009
"Blaze And Ashes" is an ambitious concept album based on Wolfgang Hohlbein's fantasy novels. Volker Leson, a member of the German metal band Wizard, is the man behind the concept and a songwriter, with cult glam hero Davy Vain contributing several songs and his valuable production skills to the project. Additional songwriting help comes from Torsti Spoof, guitarist of Leverage, not to mention a songsmith for Place Vendome project. Dennis Ward mixed the album. Musicians include vocalists David Readman, Lana Lane and Davy Vain, guitarist Jamie Scott (Vain) and keyboard player Erik Norlander, to name a few.
With plenty of talent onboard, it would have been strange if this would've turned out to be a crap album. I was expecting a little bit more than just a "good one" though. I've played this album quite a few times, yet only a few of the songs have left their mark on me. Pretty much each one of them is good enough, except for "Incarnation" which seems to go on forever. I'm not quite sure about the pompous "London Bridge" either, which sounds a bit like a musical theather number to me. Otherwise it's all good, but in the end not much much more. The highlights are "Here Comes Lonely", an old Vain song revisited, Lana Lane-sung midtempo track "Shadow On Your Heart" and two Readman-fronted songs, "Web Over London" and "Dead Undead". Especially the last one is treading the line between good and great, but ultimately not crossing it.
I don't know who wrote what, but I have to say that Mr. Vain's songs are quite easy to spot (I think?!). His vocal melodies are quite unique, as are his vocals. One can't really name too many singers from the glam scene who would have a personal vocal style, but Davy Vain is one.
Album info
CINDERELLA: "Live at the Mohegan Sun"
Frontiers 2009
Review by The Bailey Brothers,


3 December 2009
Cinderella Live at the Mohegan Sun! The concert was held in Uncasville, Connecticut on July 21, 2005 and is now officially released in Europe as an appetizer to the ultimate live return of the band on the European soil, which is planned for the year 2010! Featuring the all original line-up of Tom Keifer (vocals, guitar), Eric Brittingham (bass), Jeff LaBar (guitar) and Fred Coury (drums), first out of the traps is "Night Songs". Tom Keifer sounds more like Brian Johnson (AC/DC) than he does. It's a real gravelly vocal style, one dimensional at times but very much the sound of Cinderella. There was always something about Cinderella that was more impressive than the image and that was the sleazy bluesy approach to their songs and the fact that Tom could actually play guitar and looks comfortable on stage doing it. "Somebody Save Me" is pretty simple but memorable.
"Heartbreak Station" shows Kiefer can add some warmth and depth to his range with this nice ballad, there's also a slide lead guitar solo which makes an interesting change. Heartbreak Station doesn't hold any surprises but it was worth hanging around the platform for the last train to arrive. Full steam ahead for "Coming Home" which has a cool mix of clean strumming guitars and then lead harmony guitars which gave the mid tempo ditty a much needed lift.
Any real stand out songs? Well "Gypsy Road" and "Don't Know What You've Got Till Its Gone" but more from a nostalgic trip down memory lane rather than the performance. To be honest I found the vocals the weakest and most disappointing element in what could have been a memorable release. Yeah it's an acquired taste and a style that helped Cinderella sound a little different from the pack way back but over 20 years on the novelty factor has worn off. So from a fans point of view, yeah great to hear the guys are still cranking it out live but from a musician and scribers ear I found very little to rave about. At best it was a poor representation of a band who had an arsenal of great songs for ammunition but very rarely hit the target! My brother Mick and hardened Cinderella fans may disagree so on my head be it. After a few listens and a few beers it may sound much better. Let's hit the bar anyway!
www.cinderella.net
REVIEWS ADDED 26 November, 2009

LEVERAGE: "Circus Colossus" 9
Spinefarm 2009
Review by Kimmo Toivonen,

18 November 2009
Leverage got a good start with their debut "Tides" back in 2006, which was a truly exceptional piece of melodic metal. Their second album "Blind Fire" was a good album as well, but to be honest, after the sensational first effort it was a slight disappointment. Now, with their third album there was a question in the air - do they still have it in them? The answer is a colossal YES! The band has pulled out all the stops and created a massively bombastic album with great songs, great production and great performances.
With a cinematic intro that could easily grace an epic Hollywood movie, the album starts in grand fashion. The first real track "Wolf And The Moon" follows seamlessly, showcasing the new, more epic Leverage sound. The orchestration and the explosive nature of the song reminds me of Nightwish. "Movie Gods" kicks off with a relatively understated AC/DC'ish intro, yet the song progresses into another hugely melodic metal epic. Well, the song title itself demands something bigger than life, doesn't it?
A trio of my favourite songs is in the middle of the tracklisting, starting with the powerful, yet melodic anthem "Rider Of Storm". Great keyboards and a superb chorus, not to mention Pekka Heino's fine vocals. "Legions Of The Invisible" starts with the good ol' accapella chorus trick, which may have been used a "few" times before but it still works. The chorus itself is possibly the best one of the album. The third killer track "Revelation" is a bit special one, as I can only describe it as a perfect combination of Journey and Iron Maiden! Sounds weird, but that's how it sounds to me. Magnificent keyboards again courtesy of Marko Niskala, who seems to be taking a bigger role on this album, but not overshadowing anyone else.
Now that I've poured superlatives over this release, you might as why I'm not giving it the full points? Well, there are a couple of tracks that I'm not that fond of. The ballad "Don't Keep Me Waiting" is a beautiful number with only a piano, some strings and vocals, but somehow it sounds more like an interlude than a real song. Knowing how capable the band is at writing ballads, I would've like to hear a full-length epic ballad than this short (2:31), not so memorable one. The other culprit is "Worldbeater", possibly the most aggressive track of the album, and also the most average one. Having lived with the album for a while, it's one song I tend to skip. Mind you, apparently the Japanese fans get two additional tracks, one of them a great-sounding ballad and another a cool uptempo track... had they been on this version of the album instead of these two, guess what my rating would've been then?
www.leverageband.com
Patrick DECOSTE: "MMIX EP" 8
Indie 2009
Review by Endre 'Bandi' Hübner


25 November 2009
It's always nice to see an independent artist coming back with a second release, especially if you had a positive critique of the first. I really enjoyed Patrick DeCoste's first solo album and the second effort a couple of years later is equally good. He chose to go the clever way, instead of trying to come up with a full-length instrumental album, he went for an EP and that's filled with absolutely quality stuff. It's better to know where your financial (studio time, musicians, promotion, etc.) and creative (decent enough songs to make it to the album) limitations are.
Since his last release Patrick seemed to calm down a bit, most of the compositions are rather laid-back here. There are lots of acoustic guitars, when plugged the guitar sounds are not too far over-driven, there's no up-tempo speeding here, just well written, enjoyable, and memorable SONGS. All six tracks have something to offer. My personal favorites were the opening "Hello World" and the catchy "Saudade" but "Out On My Own" would definitely please any Craig Chaquico fan for that matter and if you enjoy Jeff Urso's stuff "Mark Twain" is a song for you and if Neil Zaza is also among your favorites "San Jacinto" is a good start.
As you can see from the references listed here, these six songs are intended for all those who are into the more melodic side of instrumental guitar music and I am definitely one of those; hence the high rating. Yet I'm afraid there's not much market out there for an instrumental EP of this kind (let's hope I'm totally wrong here). Anyway, make sure to check Patrick's site as he is selling it for a reasonable price and he may as well come to play somewhere around you. <!—TO BE DELETED if not used FROM here----------------->
decosteonline.com <!— TO BE DELETED if not used TO here------------------>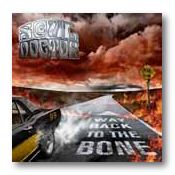 SOUL DOCTOR: "Way Back To The Bone" 7
Metal Heaven 2009
Review by Alan Holloway,

16th November 2009
Germany's Soul Doctor seem to be stuck in the role as "Nearly Men" in the melodic rock scene, pumping out some good albums that are never quite impressive enough to make people go "wow", but always a good listen nonetheless. Part of their appeal is vocalist Tommy Heart, once of Fair Warning.
Once again, Soul Doctor have released a very competent album, veering away from early AC/DC comparisons, now more happy in their own skin belting out blues based melodic rock. At times there's a bit of Whitesnake creeping it, at others the Black Crowes or even Thunder, and yet Soul Doctor don't rip off these bands at all. When they get it right, such as on the fast paced "Here Comes The Night", they positively fly, with some great guitar widdles backing up Heart's excellent throaty vocals. It's one of several top class tracks on the album, although when the quality dips Soul Doctor can become a bit like too many other bands, although never less than entertaining.
It's always nice to hear a laid back, cool album by a talented band, and "Way Back To the Bone" is just that. It's hard to get too excited, but it's a good listen from start to finish that deserves to get the band some more recognition.
www.souldoctorrocks.com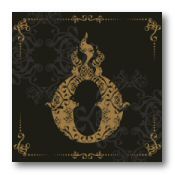 ELDORADO: "s/t" 7
Eldorado 2009
Review by Kimmo Toivonen,

18 November 2009
Spanish Eldorado are bound to make a few friends with their timeless, bluesy classic rock. It maybe a bit too much of a 70'ies thing to really appeal to me, but I can't deny to overall quality of the material. Produced by Richard Chycki (Aerosmith, Gotthard), the album sounds as good as you'd imagine it would. Groovy, riff-driven songs with influences from the Classic Rock heroes such as Zeppelin, Bad Co and the likes is what you'll get, and the star of the show is the vocalist Jesus Trujillo. He has a great voice for this kind of material, reminding me of both Sammy Hagar and Tesla's Jeff Keith. Indeed, Tesla fans should really check out this album, because the two band work in the same area.
The highlights for me are "The House Of The 7 Smokestacks", "Falling Falling" and "Free (A Chain Reaction)". The cover of "I Don't Need No Doctor" is one of the weaker tracks, and I frankly would've listened to another Eldorado original instead.
www.eldoradorockband.com/
MySpace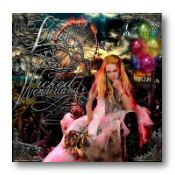 LITA FORD: "Wicked Wonderland" 7
Ear Music 2009
Review by Alan Holloway,

16th November 2009
Well, here it is. This album seems to have upset quite a lot of people out there on the interwebs, provoking such bile as "terrible is how I describe it", "this release does not have even one hook", and "disappointment of the year". Blimey - what happened to the Lita we all knew and loved? Well, it seems she got married…
For those not in the know, Lita is married to Jim Gillette, once a horrendously haired glamster in Tuff and Nitro, now looking more like a cage fighter. Jim and Lita wrote this album with guitarist/producer Greg Hampton who, tellingly, also had a big hand in Alice Cooper's "Along Came A Spider Album". I say tellingly, as "Wicked Wonderland" is very reminiscent of Mr Cooper's stuff, all heavy guitars, industrial beats and a million miles away from Lita's old style. There's no "Kiss Me Deadly" here, although Fuck Me Ragged might be closer to the truth.
Yes, this is an album that you can stick firmly in the "MILF Rock" section, as Lita sings about rude things with nary a double entendre in sight. The mostly one word titles are telling, with "Crave", "Indulge", "Love", "Betrayal" and "Bed" sounding more like chapters in a bodice ripper. But underneath all this is a pretty good album, bringing Lita Ford right up to date whether you want it or not. Despite protests from elsewhere, there's plenty of hard as nails hooks here, and plenty of songs that I reckon will blow people away when played live. What this album has in spades is passion, which practically drips from every track. Lita doesn't sing like she used to, because that just wouldn't work here. Instead, she lets each syllable drip from her lips like acid from an alien, with more sleaze than a British political scandal. It's effective and it's seductive, but if you're looking for the Lita you used to know she ain't at home. If you like Alice Cooppers post 2000 output then "Wicked Wonderland" will tingle you in all the right places.
www.myspace.com/litaford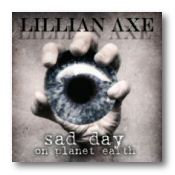 LILLIAN AXE: "Sad Day On Planet Earth" 7
Blistering Records 2009
Review by Kimmo Toivonen,

24 November 2009
Almost exactly two years ago I reviewed "Waters Rising", the comeback album of Lillian Axe. Only guitarist Steve Blaze remained of the old line-up, and the sound of the band had changed into something darker and heavier, and unofortunately quite a bit duller than before. The rating I gave the album (7) seems a bit generous in hindsight - the album's been collecting dust ever since and frankly I can't remember a song from it. Might have to dig it up and revisit it, I don't know...
Thanks to the disappointment caused by the previous album, I wasn't that keen on reviewing this one. The first time I listened to the first few tracks, I thought "more of the same new era Axe" and decided to listen to something else instead. However, a couple of days ago I chose to play the album again, and lo and behold, it started to "open up" for me.
"Sad Day On Planet Earth" has clearly more in common with the older Lillian Axe albums than its' predecessor, and it seems that Steve Blaze has discovered some of his melodic sensibility again. His songwriting style is unmistakable, which is something that you can only say about a handful of artists. Vocalist Derrick LeFevre has a suitable voice to sing Blaze's melodies, and I can't complain about the rest of the band either - classy stuff. The production is decent enough, but somehow a bit "dry".
My first impression holds true to the extent that the first five songs are not quite as good as the ones later in the tracklisting. What they have in common is that apart from "Jesus Wept", they have only small traces of the Lillian Axe sound, they sound quite faceless actually. "Jesus Wept" does have those Blaze-melodies, but the chorus is a bit of a letdown.
The first real highlight is the title track, a beautiful slower number with a touch of Queen and a lot of Lillian Axe. "Hibernate" is another melodic track, a good song but in a different class to the excellent ballad "Within Reach", which showcases Blaze's ability to create fine melodies which sound like Lillian Axe, no-one else. "Blood Raining Down On Her Wings" is another good song that grows from a ballad into a cool rocker. My favourite track is "Cold Day In Hell", a dark heavy rock track with a superb, very melodic chorus.
With fifteen songs, the album is way too long. The band could've tightened it up by dropping a couple of the weaker tracks and probably a re-thought tracklisting might have worked for their benefit. Now there are several slower tracks in a row, which doesn't do any good to the overall vibe of the album. A couple more "Cold Days In Hell" in between would've been great, but then again, maybe an album called "Sad Day On Planet Earth" has to be a bit depressing? In any case, this is an improvement from the previous album, and I hope the trend continues.
www.lillianaxe.com
STEREOFLUX: "Stereoflux" 7
WTO Records 2009
Review by Endre 'Bandi' Hübner


25 November 2009
Stereoflux are from California. This surprised me to a great extent, especially after reading their bio that said they played "alternative rock". Well, they definitely sound brit pop/rock to these ears; sometimes they are dead-ringers to Manic Street Preachers and the alikes. As some of us here at RockUnited (especially Urban and me) really dig the latest Manics album, I decided I ignore the "alternative rock" categorization and like the album.
It is filled with good hooks, interesting lyrics, and though I admit it is a bit too psychedelic for me at times and far too depressive at others, most of the songs would appeal to an open-minded melodic rock fan; especially if you enjoy the late Kip Winger efforts (which personally I don't so never mind the poor reference). With 14 tracks and a video the disc is a value for your money package, the sounds is good, there's decent engineering so the mix is balanced, clear, and rough enough to suit this kind of music.
There are all kinds of influences to note from punk to jazz, from melodic rock to brit pop, sometimes it's a bit chaotic but definitely enjoyable and the album manages to reserve its novelty for quite a few spins. Not recommended for Drive She Said fans or people who like their music polished but definitely worth a shot for those into a sleazy sound and a psychedelic approach. <!—TO BE DELETED if not used FROM here----------------->
www.myspace.com/stereoflux <!— TO BE DELETED if not used TO here------------------>
GUN: "Popkiller EP"
Townsend Records 2009
Review by Alan Holloway,

26th November 2009
The big worry for some (me included) was that, with Toby Jepson aboard and contributing, the new Gun material would sound like Little Angels. This may seem like an odd thing to fret about, as Little Angels were a bloody awesome band, but if this happened it would sort of make calling the band Gun pretty pointless.
Personally, my own fears were assuaged when I heard the free to download song "Let Your Hair Down", which leads off this 5 track offering. It's everything that Gun used to be: quirky, catchy and blessed with a chorus that goes round your head for days. Whilst Jepson sings very well (as always), he doesn't utilize the same register as he did in his Angels days, so there's no "Do You Wanna Riot " type screaming, just studied vocals doing their best to fit the song. "Popkiller" is a tight EP, giving the listener five tracks that compliment each other perfectly. Four are upbeat, whilst the melancholy "Ripping Up The Letters" is quite a grower, perhaps the closest to Jepson's Little Angels days stylistically. Each of the other four tracks carries a hook big enough to catch Moby Dick, boding extremely well for the future. As a way to get some well missed Britich rock talent back in the game, the marriage of Guiliano Gizzi, Dante Gizzi, Gordon MvNeil and Toby Jepson is a welcome one, so watch this space because Gun are firing on all six.
www.gunofficial.co.uk
Neil DANIELS: "All Pens Blazing"
Bright Pen 2009
Review by Kimmo Toivonen,

18 November 2009
Neil Daniels has written quite a few rock books during the last few years, including books on Judas Priest, Bon Jovi and Robert Plant, some of which we have reviewed. This book is a collection of interviews he has done with several rock writers. It might have a slightly more limited appeal than those band books, but for someone like me, who has spent quite a lot of time reading Kerrang!, Metal Hammer and Raw during the 80'ies, it's an interesting read. Especially the writers of Kerrang! were big personalities, and to catch up with them via this book was quite nice. Daniels has also intended this book to be "a handy reference tool for the aspiring metal writer", and most of the interviews do contain some wise words from the veteran writers about what one should do or shouldn't do.
Due to financial reasons, Daniels has tried to include as much material as possible to a certain number of pages. Because of that, the font size used in the book is really small, which makes it a bit harder to read than usual. It's not necessarily that big a thing, as the interviews are short, and at least I jumped from one interview to another, choosing to read about those writers I was familiar with first. This is not the kind of book one could read in an evening, more like little by little.
www.neildaniels.com/
FM: "Wildside EP"
Riff City Records 2009
Review by Alan Holloway,

2nd November 2009
I guess this really does make it official that FM are back. After years of waiting, I am finally holding actual physical product in my hands, in the shape of a new EP that, in all honesty, is the length of a new album at over 45 minutes. Speaking of new albums, Rock United will be giving you all the details of the forthcoming "Metropolis" as we get them, so stay tuned.
The focus of the EP is a brand new track "Wildside", and I can tell you it's a proper stonker. Heavier than we're used to from FM, it nonetheless sounds like the band, and not just because Steve Overland's precious pipes lay down the vocals. It's crunchy, melodic, and shows off some cool soloing by new guitarist Jim Kirkpatrick. There's just something right about the whole song, and whilst it doesn't have the melody of "Bad Luck" or "That Girl", it's a solid return to form from one of the UK's most loved AOR bands. Check out the video at the bands website.
A nice addition to the new song is a studio recording of "Dangerous", a track that up to now has only ever been recorded live and stuck on the b-side of the original "Frozen Heart" single (although you can get it on a special version of "Indiscreet" if you look hard enough). It's a good song, still, and it's nice to have it here. The third studio track is an excellent acoustic reworking of "Does It Feel Like Love" that allows Overland to really show himself off. As with the other two, it's a brand new recording. For the remainder of the running time you get some live tracks, recently recorded with Jim in the band. There's "The Dream That Died", "Hard Day In Hell", "Other Side Of Midnight", "American Girls" and "Bad Luck" (With a live version of "Wildside" hidden at the end). They're all very clear, although there's not much audience sound to be heard. It's good to hear "AMerican Girls" live again, although this isn't as powerful as the old live version. Overall, a welcome return for the band, delivering great value for money at £6, so there's really no excuse not to get this.
www.fmofficial.com/fmofficial/index.htm
THE LEVELLERS: "Live At The Royal Albert Hall"
On The Fiddle Records 2009
Review by Alan Holloway,

16th November 2009
The Levellers are one of my guilty pleasures, and are probably a bit of a mystery to many of our European readers. Then again, they could be worshipped as gods in Europe, so what do I know. They have been going for twenty years or so now, and whilst they have bothered the lower end of the charts several times they've never really been clasped to our nation's bosom. That said, they have a loyal following that ensure they will never go hungry, a bit like Thunder but with more fiddles…
Proof of their popularity was cemented last year with this performance at the Royal Albert Hall, played half electric and half acoustic. Unfortunately equipment failure lost several tracks, and so we're left with these ten tracks. Thankfully they're bloody good 'uns. The Levellers specialize in folk music with a tinge of rock, sometimes light and sometimes heavy, but always played with real energy and belief. It's great to hear such gems as "Julie", "Hope Street" and "In This Garden", and a real shame that there's no "One Way" or "Bozos", two of my personal favourites. Regardless, it's still a great, relaxing collection.
The true soul of the band has always been in their live performances, and the ten tracks here made me wish that the rest of the recording had been completed. Perhaps a bit of a specialist band that don't fit into many pigeonholes, I would still heartily recommend this to anyone with a passion for well played folk rock. Please note that it is Download Only.
www.levellers.co.uk
THE DWYERS: "Gas Station Masturbation" 5
Psychedelica/Airiston Punk-Levyt 2009
Review by Kimmo Toivonen,

18 November 2009
What a catchy title for an album! "GSM" is an 11.track platter with no-frills punk rock in the best Ramones tradition, short and straightforward songs with simple choruses. The Dwyers might not have the pop sensibility of The Ramones, but they can write decent enough three-chord anthems.
The similarity of the songs does make the album a bit boring, especially when almost every song is played in the same tempo. Vocalist Eemeli's shouty style remains the same thorughout the album, which doesn't help either.
At its' best, The Dwyers' punk rock is actually quite convincing and catchy. The songs for me are "This Is The Day" and the title track, which is indeed quite catchy. Otherwise, recommended to die-hard punk fans. I just wonder whether there will be too many of those reading our reviews....
www.thedwyersmusic.com
MySpace
VANDAALIT: "Sattuu"
Edel 2009
Review by Kimmo Toivonen,

23 November 2009
Vandaalit are one of the original Finnish punk rock bands, formed way back in 1977. This is their latest comeback single. They are really "keeping it true", as the studio track on the single sounds like it was recorded during the band's formative years, lo-fi sounds and everything. Two other songs are live tracks. I won't claim to really understand this kind of music, but fans of vintage Finnish punk could do worse than check out this single... I do have a feeling that they've already done that though. Best track - the curiously catchy "Palava Kaatumatautinen".
RAAKA-AINE: "Elämän Tarkoitus"
Edel 2009
Review by Kimmo Toivonen,

23 November 2009
Now this isn't really too bad at all! Slightly metallic rock with Finnish lyrics and good choruses. The band has a sound somewhere between Apulanta and Klamydia, which could be a recipe for success, and I'd imagine that they would go down a storm on the Finnish summer festivals. Well, that we'll see next summer I suppose.
www.raaka-aine.com
REVIEWS ADDED 10 November, 2009

<!— artist:"album" rating-->TRANSATLANTIC: "The Whirlwind" 9
Inside Out Records 2009
Review by Martien Koolen,


31 October 2009
This is without any doubt one of the best prog rock albums of 2009. After 7 years of silence, Transatlantic is back with their third album and it is a glorious one! Neal Morse (ex-Spock's Beard), Roine Stolt (Flower Kings), Pete Trewavas (Marillion) and Mike Portnoy (Dream Theater) have made an absolute prog rock gem. The album only consists of one track, that clocks over 77 minutes and which is divided into 12 separate musical parts.
The album kicks off with the breathtaking instrumental overture and right from the start I had the feeling that this is their best album so far. This is mind-boggling multi-layered prog rock as it is meant to be. There is lots of variation of mood, timbre and metre, making this a true eponymous star album. My favourite parts, besides the overture, are: A Man Can Feel (with Roine as the leading musician), Lay Down Your Life and of course Is It Really Happening. The latter being the absolute musical highlight of this album, because here those four musicmonsters really go wild. Listen to this and you will be a Transatlantic fan for the rest of your life. Really stunning and amazing!!
Well,after you have read this,you will probably think, why does that guy does not give a perfect 10 for this album? Musically speaking I should but I think that sometimes the production of this album goes a bit overboard. Furthermore I would like to say that these 4 guys (especially Morse) take themselves far too serious.... Lighten up, guys! However this album is doing overtime in my cd-player! <!—TO BE DELETED if not used FROM here----------------->
www.transatlanticweb.com <!— TO BE DELETED if not used TO here------------------>
BLANC FACES: Falling From The Moon" 9
frontiers Records 2009
Review by Alan Holloway,

2nd November 2009
This is the second album from brothers Robbie and Brian La Blanc (hence the name), and whilst I haven't heard the debut I'm certainly intrigued enough to want to track it down. "Falling From the Moon" is what I would term a "grower", as at first it just seemed like a pretty average West Coast style melodic rock album. All very nicely done, but not necessarily anything special. Well, as yhou may have guessed by the score this one has really taken hold in my consciousness, and over the last few weeks I just keep coming back to it again and again.
Make no mistake, Blanc Faces are firmly in the wimp rock camp, with no soaring guitar heroics or gigantic riffs here. This is laid back rock for playing in your open top sports car on a hot summers day, but if you can't do that it's quite nice inside the house on a cold winter night as well. A heady mix of the likes of Survivor and Foreigner, with a sterling production by Dennis Ward, Blanc Faces have really pulled out all the stops here.
Robbie La Blanc fronts the show, showing a fantastic voice that suits the music to a tee. The album is stuffed with some horribly catchy mid paced rock tunes, starting with the deadly duo of "I Come Alive" and the title track, undeniably two of the best songs I've heard this year. It's these two that had me coming back over and over to the album, allowing me to get into the rest of the tracks and showing the need for a good running order, even in this day and age. The fantastic opening is balanced by some slightly slower but no less fun tracks and a couple of very decent wetter than wet ballads. Every time I listen to this album I end up singing along like a loon, which is always a good sign unless you've heard my voice. It's been a great second half of the year for melodic rock, and Blanc faces should be right on your list along with W.E.T, House Of Lords and Danger Danger. Great stuff.

<!— artist:"album" rating-->REDEMPTION: "Snowfall On Judgement Day" 9
Inside Out Records 2009
Review by Martien Koolen,


30 October 2009
Finally a new album by progressive metal rockers Redemption. Their new CD is again a mix of progressive metal, breathtaking melodies and amazing vocal parts by Ray Alder. Snowfall On Judgement Day is a brilliant album and a must for lovers of melodic, outstanding prog metal.
Absolute highlight is the song Another Day Dies in which Alder sings a duet with James LaBrie from Dream Theater. Can it get better than this, two of my favourite metal singers in one song.... You should also check out the epic last track Love Kills Us All; a true prog metal masterpiece. The album was mixed by no one less than Tommy Hansen (Helloween, Jorn) so you know what to expect as a listener. One of the musical highlights of this year and this album will stand as a watermark for progressive metal for years to come!
<!—TO BE DELETED if not used FROM here----------------->
www.redemptionweb.com <!— TO BE DELETED if not used TO here------------------>
<!— artist:"album" rating-->NIGHTMARE: "Insurrection" 8
AFM Records 2009
Review by Martien Koolen,


31 October 2009
French metal pioneers Nightmare celebrate their 30th anniversary and they celebrate this with their new studio album Insurrection. It is their seventh album and it is almost a copy of their previous one; only better! Typical power metal songs like Angels Of Class or Eternal Winter are really gripping and during these songs it is hard to sit still.
Singer Jo Amore really dominates this album with his powerful voice and the very exciting riffs and hooks are also a treat for every power metal fan. The production of this album was done by Achim Kohler, who is known for his work with Primal Fear and Sodom.
Nightmare prove that they are THE best French metal band ever and If you like bands like Brainstorm, Nevermore or Iced Earth, then you should really check out Nightmare.
Listening tip: Three Miles Island, and keep on banging those heads!! <!—TO BE DELETED if not used FROM here----------------->
http://www.myspace.com/nightmareofficial <!— TO BE DELETED if not used TO here------------------>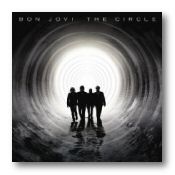 BON JOVI: "The Circle" 7
Mercury 2009
Review by Alan Holloway,

2nd November 2009
Sometimes I think Bon Jovi would have been better off splitting up for several years, then reforming with a bit of fire in their collective heart. It's a shame that they haven't made what I would call a complete album since "Keep The Faith" way back in 1992. The rot started three years later with the half hearted "These Days" and has continued since. Sure, each album had some good songs on (even the dire "Lost Highway" had a couple) but they never recaptured the sheer passion and vigour of the first five albums.
And so onto album number eleven, twenty five years after the self titled debut stirred up a small fuss and the band donned some highly embarrassing spandex for the "Runaway" video. I appreciate that Bon Jovi have matured as a band, like any band would, but inside I just want to hear them rock out a bit, and am pleased to say that "The Circle", whilst it doesn't exactly bring the band full circle, is an actual Bon Jovi album, rather than another pale imitation.
Make no mistake, this still isn't up to the classic standard we fell in love with. There's no "Bad Medicine" here, no "Keep The Faith" or "Tokyo Road". That Bon Jovi have gone, but they finally seem to have been able to make the best of what they left behind. Take lead song "We Weren't Born To Follow", which by itself is a pretty cool fist in the air rock song, but when you probe deeper it's really just another version of "Born To Be My Baby" by way of Bruce Springsteen. That said, it's still pretty enjoyable. The main problem with the album is that Bon Jovi still seem to be unable to just rock out and give us a big assed anthem to sing along to. The most rocky song on offer is "Bullet", sort of a cross between "Keep The Faith" and "It's My Life", but even then it feels like the band are holding back. For the first time in ages, there's a real cracker of a rock ballad in "Live Before You Die", which is probably the standout track on the album, bringing to mind some of the old classics. There are several pretty decent tracks, like "Brokenpromiseland", a nice mid paced rocker, "Work Fore The Workingman", a nice stomper with a bass line stolen from "Living On A Prayer" and "When We Were Beautiful", an atmospheric number reminiscent of U2 at their best.
So although this is still Bon Jovi lite, I would happily say that "The Circle" is the best, most complete album they have done since "Keep the Faith". There's no country music here, thank God, just an album full of decent rock music that deserves to tempt some of the lost sheep back to the Bon Jovi fold. All we need to do now is remind Bryan Adams how to rock and life will be good again…
www.bonjovi.com
MASTEDON: "3" 7
frontiers Records 2009
Review by Alan Holloway,

2nd November 2009
Twenty years ago, I thoroughly enjoyed Mastedon's debut album "It's A Jungle Out There", because it was stuffed full of memorable rock tunes and carried by the superb voice of John Elefante. Okay, so it was a christian album, sometimes annoyingly so, but there really were some great tunes so I let it slip. Just one other album, "Lofcaudio" followed, after which John and his brother Dino seemed to disappear from my radar. So it's been a while, and I was pleasantly surprised to hear that the brothers had dredged up the Mastedon banner once more.
The simply titled "3", has been once more getting Mastedon plenty of good press, much of it aimed at John Elefante's vocals as much as the songs. It's great to hear him singing rock music once more, his voice similar to John Schlitt from Petra (a band the Elefante's have produced), high it pitch but equally capable of a lower rock growl when needed. As an album, "3" doesn't live up to it's predecessors, but in all honesty is still a fine melodic rock album. When they get going, such as on "Water Into Wine", there's plenty to like, as on "You Can't Take Anything", which seems to be channelling Foreigner's "Urgent" to a point. John Elefante used to be a member of Kansas, and this becomes quite evident in the proggy loveliness of "One Way Down By The Lake", a cool number with some very 70s keyboards and a ten minute running time.
"3" doesn't really jump out and grab you by the throat, but it survives on the talents that are held within the disc. Standing between prog and melodic rock, it should do a good job of pleasing fans of both, and if, like me, you enjoyed the original 2 albums this is certainly worth investigation.
www.johnelefante.com/jmla/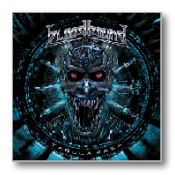 BLOODBOUND: "Tabula Rasa" 6
Blistering Records 2009
Review by Kimmo Toivonen,

04 November 2009
On their third album, Bloodbound continue on their chosen path, playing Heavy Metal, as simple as that. As on the previous two albums, they take their cues from Iron Maiden, Helloween, Judas Priest and other "metal gods". The controversial black metal masks are long gone, and the band is relying on the music to do the talking. I'm sure it speaks volumes to many, but somehow this selection of songs doesn't appeal to me as much as their earlier efforts.
Granted, this is very well executed metal, great playing, singing (original singer Urban Breed behind the mike again) and good production too. But... most of the songs don't really move me that much. Noteworthy tracks are "Dominion 5" with its catchy hook, the slightly Dokken'ish "Night Touches You", the opener "Sweet Dreams Of Madness" and both of the "Tabula Rasa" songs, especially the Part Two which has some very Kamelot-like melodies. They're all quite good, but I doubt that many of them would make it to a "Best Of Bloodbound" compilation, if I was to make one for myself.
I was expecting to like this a lot more, but when the spark is missing there isn't much to be done. A good band but only an OK album.
www.bloodbound.se
<!— artist:"album" rating-->AT VANCE: "Ride The Sky" 5
AFM Records 2009
Review by Martien Koolen,


30 October 2009
The new At Vance album brings nothing new and in fact it is a boring and really tiresome album with songs you tend to forget right after you heard them. Where is the magic of their previous album? Just listen to dull power metal tracks like Torn or the title track and you will not believe that this is the same At Vance...
Absolute horror songs are: You And I - a rather obnoxious tearjerker of the worst kind - and the Free cover Wishing Well (I hate f.... covers). No, as much as I hate to say it, but At Vance is At Vance not anymore, something strange happened with this band during the recording of this album. Let's hope that this is a once in a lifetime failure. I will give them another chance....
<!—TO BE DELETED if not used FROM here----------------->
www.at-vance.com <!— TO BE DELETED if not used TO here------------------>
STONELAKE: "Shades Of Eternity" 5
7Hard Records 2009
Review by Kimmo Toivonen,

02 November 2009
This is one of those albums that sound OK if you're just listening to one or two tracks at a time, but not as a whole. The music's decent enough, melodic metal with progressive and AOR touches, but somehow the band runs out of the steam quite fast. They've come up with an impressive selection of great intros, but unfortunately the songs itself don't live up to the expectations set by them. It doesn't help that the screechy vocals of Peter Grundstrom are definetely an aqcuired taste - he sounds like a hybrid of Ratt's Stephen Pearcy, W. Axl Rose and Rob Halford of Judas Priest. I'm sure that some might think that he has the ultimate metal voice, but his vocals just don't work for me.
The band sails quite effortlessly from the AOR of "Can't Steal Your Heart" and "Rescue Me" to the Queensrÿche-like prog metal of the title track, yet never really hit their stride. I quite like their idea of mixing these styles, but they'd need stronger songs and a singer whose voice I could actually tolerate for more than two songs to make me a fan.
www.stonelake.se
REVIEWS ADDED 26 October, 2009

The POODLES: "Clash Of The Elements" 9
Blistering Records 2009
Review by Kimmo Toivonen,

22 October 2009
"The Poodles" might sound like a name for a "hair band" parody act, but while these poodles might have their tongues firmly in cheek, their music is seriously good melodic hard rock. "Clash Of The Elements" is their third album, and it's easily their strongest effort so far. It's only maybe a few songs too long, because if it had been a shorter album with the least impressive songs removed, I might have been forced to hand out the full 10 points!
The band has really put together a strong set of songs, with at least half of the songs going straight to the list of their best songs so far. "Caroline", "Like No Tomorrow", "I Rule The Night" and "Don't Rescue Me" are such songs, as are the album's three ballads, which are as good or better than any of the band's previous slow numbers. As for the weaker tracks, the slightly Aerosmith'y "7 Days And 7 Nights" and I could've done without, and the opener "Too Much Of Everything" might have big orchestration and everything, but I still tend to skip it. Otherwise it's all pretty good or even better!
I'm not the greatest fan of Jacob Samuel's vocals, but he can surely hit the right notes, and the strong material helps me to overlook the "emergency alarm/axl rose" effect in his voice! New guitarist Henrik Bergqvist replaces Pontus Norgren, and he does a good job providing heavy riffs, which add a little crunch to the hellishly catchy pop melodies.
If you liked the band's two previous efforts, I don't see any reason why you wouldn't like this one. The band's sound hasn't really changed, only the songwriting has improved. Wuff wuff.
www.poodles.se
www.myspace.com/thepoodles
The VIOLET HOUR: "The Fire Sermon" 8
Sony/Sky-Rocket 2009
Review by Urban "Wally" Wallstrom,


14 October 2009
'Dream of me, dream of me, I will be there. Calling your name from the shore'. The Fire Sermon is a rather difficult CD to classify. The one and only effort by the cult U.K. band, The Violet Hour, originally released by Sony Records in August 1991. It's been out of print for years and quite a collectors item in the Progressive Rock circle. This re-release by Sky-Rockets records includes the B-sides as bonus tracks and liner-notes by vocalist Doris Brendel.
Actually, not 'strickly' a prog-rock album as the music is more towards atmospheric, melancholic, emotional, haunting, folk, melodies. Their main influences at the time were however Pink Floyd, Kate Bush and Clannad. They were loosely compared to All About Eve and it's been described as 'dream-prog' by some geezers?
It's quite obvious that Kate Bush must have been a great source of inspiration to Doris. Not always as much vocally perhaps, than just as a strong female frontfigure and person. However, 'The Spell', could just as easily have been the work of Bush. It features a grand piano (most tracks on this CD do), a slow upbuilding mood in the vein of Supertramp, and backing vocals by Sam 'Stop' Brown. Brendel has been compared to Janis Joplin, however, she's not at all that awful (damn hippie) and doesn't "scream" at much. Think more Sandi Saraya with a warm and raspy approach and you're closer to home.
The refrain of 'Offertory Song' is very much in the tradition of Pink Floyd. The track, 'Falling', a close to perfect mix of Supertramp and Heart. 'Hold Me' is a really beautiful piano ballad in the vein of Heart vs. Tori Amos. 'Ill Wind Blowin' (that's "ill" wind blowin') is a mish-mash of everything from Marillion to Simple Minds and Jethro Tull. Final Verdict: Very 'unique' and melodic stuff for the open minded Prog/Rock fan. Recommended.
www.dorisbrendel.com
MySpace site
COVERED CALL: "Money Never Sleeps" 8
Blistering Records 2009
Review by Kimmo Toivonen,

22 October 2009
Yeah, this album's been available for quite some time, but sometimes some albums don't find their way into our hands until later... At least this is a 2009 release, so it's still somewhat current. We're catching up!
Covered Call is have been around since 2006. After a few line-up changes during the years, the band has now settled to a 5-piece unit. The most well-known member of the band is vocalist Thomas Vikström (Talk Of The Town, Candlemass, Therion), who does a welcomed return to melodic rock. He's in fine form here, giving us a top-notch vocal performance.
"Money Never Sleeps" is the kind of an album that anyone into melodic rock should like, but whether it'll become a genre classic remains to be seen. It's certainly a "feel-good" album with a lot of good, upbeat guitar-driven songs somewhere between Van Halen (Hagar-era), Thunder and Europe. What's missing are the real jewels, the killer songs which would push this album closer to the "milestone" status. The uncharastically moody opener "All Because Of Me" and the delicate piano ballad "Anything You Want" are quite close though, as are "Nothing At All" and "Never Again", which reminds me a lot of Thunder's "River Of Pain". Actually it's all solid stuff, well performed and produced. With a couple of killer tracks more I wouldn't have hesitated to give this a better rating, but now it remains a strong "8".
www.coveredcall.se
www.myspace.com/coveredcall
VISHUSGRUV: "Dirty Little Secrets" 8
AOR-FM 2009
Review by Urban "Wally" Wallstrom,


14 October 2009
Wish Us Groove or Vicious Groove? Seriously, 'VishusgruV' is a r-e-a-l-l-y dodgy monicker no matter what. The name probably scared away quite a few of potential fans just by looking at the concert poster. 'Dude, this must be some kind of Indian (not the native americans) folk music group, let's grab a pizza and catch a movie instead'.
However, it's yet another obscure gem dug up by Bruce Donachie at AOR-FM records. They were a talented bunch though. The impressive power vocalist Trace Edward Zabar of David Shankle Group (ex-Manowar), played keyboards and sang mostly backup vocals (lead on 'Dreamer'), while Jeff Dewbray took the lead. That's how talented they were. By the way, there goes the credibilty of Zabar, considering all that 'death to false metal' image.
Certainly worthy of your attention if you're into pompous melodic rock with mega fat keyboards in the style of Gregg Giuffria. Actually, the sound is quite similar to all the classy acts of Gregg's: Angel, Giuffria, House Of Lords. Opener, 'Destiny' is a storming rocker 'ala Giuffria during their era of 'Silk + Steel'. The singing voice of Dewbray is quite similar to David Glen Eisley's. 'Dirty Little Secret', more of the same Giuffria/House Of Lords sound. However, this time with a touch of White Sister during 'Fashion For Passion'. Very catchy and again, those keyboards, great!
'Poison Kisses' sounds like it should be a major hit from the eighties. 'Heart Of Stone' features harmony vocals not of this earth and that's not so strange, considering all the superb vocalists in the band. All songs were recorded in 1993, orignally titled 'II', and only ever released in a limitied quantity of 100 as a cassette promo. Sure, not the best of sound, but the songs are all top-notch.
www.mariomassi.com
MySpace site
ANTHONY: "Fragile" 5
Hercul Music 2009
Review by Urban "Wally" Wallstrom,


14 October 2009
Blimey... it's Anthony. Who? You know... Anthony! Who??? Exactly. I won't even pretend to have all or any knowledge about the band nor the person behind the name. He/they are appearantly from France and sing in their native language. To be honest, it's all french to me... and posh titles such as 'Un Monde Perdu' and 'A Tout Jamais', could be about just everything from Notts County to Sven Göran Eriksson.
Actually, just kidding. I do have some basic knowledge about the language (skool days). The music is radio friendly power-pop of today and in the vein of Daughtry. Well, hinting more towards the poppy side of things actually and perhaps even a male version of all the Pink's, Kate's, and Avril's. Feel free to add any of those 'Idol' artists from the states as of lately. They do a so-so cover of Cyndi Lauper's Time After Time.
Not poor whatsoever. However, just as stereotyped as 80% of all the releases from Frontiers Records. It's the same old melodies in a new package. Catchy, poppy, melodies though. By the way. I removed the plastic wrapping on my review copy and found a CD-R? WTF? surely they can't be selling this on CD-R's? I wouldn't pay a dime for a stinking CD-R!!!
www.herculmusic.com
MySpace site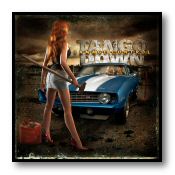 TANGO DOWN: "Damage Control" 5
Hercul Music 2009
Review by Urban "Wally" Wallstrom,


14 October 2009
I believe it's time for a serious chat with the CD artcover artist at Kivel's. He's been basically doing the same old cover (girl & car) for all of their releases as of lately. Hey, they're all good... but... at least remove the car next time, since it's blocking the path for the poor lass.
Despite the band's name, this has nothing to do with choppers, ma-ma-machineguns, war bloody war, and playing soldiers and terrorists (it's the new 'cowboys & indians'). Tango Down are essentially a band stuck in the early nineties melodic hardrock sound and agenda. They're a strange bunch and not a particularly original one at that.
'I'm Done Lovin' You', sounds like something not even Silent Rage (the band at $immons records) would touch with a ten feet pole. And they were never any good at playing the game of "original" and/or "groundbreaking" in the first place. 'Radio' on the other hand is a completely different kind of ball game. It's a fun uptempo Nu-Punk rocker and more of the sound of MTV acts of today. The cover of 'Change' by Holly Knight and originally performed by John Waite, does work, since it's got more bite and attitude than the original.
"I Can't Wait" is a strawl down the memory avenue and a poor man's version of Winger rock (think, 'Can't Get Enough'). Not necessarily a poor CD, but it certainly lacks in creativity.
MySpace site
REVIEWS ADDED 16 October, 2009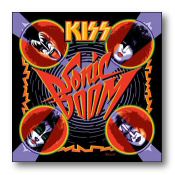 KISS: "Sonic Boom" 9
Roadrunner 2009
Review by Urban "Wally" Wallstrom,


9 October 2009
You wanted the best, you got the best... KISS album in many, many, years. Then again, 'Sonic Boom' is their first studio release since 1998 and I'm sure you're all fed up with the hype already. It's all retro and back to basics. And just take a look at the stunning artcover done by the same geezer who did the excellent 'Rock and Roll Over'. Really? Because it sure looks like the work of a 8 year old after spending five minutes playing around on photoshop. Geee... let's hope they didn't pay him a lot of money for that garbage.
I must confess being a bit disappointed by the retro sound at first spins. The songs didn't impress and it was really just too much of the seventies. However, it's a real grower and you need to keep the disc a going for a week or two to really get the full picture. It's a real album effort with no real downer really.
Opener and first single, 'Modern Day Delilah', comes complete with a groove and sound 'ala Exciter and the Vinnie Vincent era. 'Russian Roulette' is Gene behind the mike and he actually sings like in his young days. The standard of all the $immons songs are sooo much better than usual and thus why the high rating. We already know that Paul will always come up with the goods anyhow. 'Never Enough' is the sound of classic Kiss (70's) and 'Yes I Know (Nobodys Perfect)' sounds like something off 'Dressed To Kill'. 'Stand' is the bombastic sound of 'God Gave Rock N Roll To You', as well as a duet between Gene & Paul.
'All For The Glory', this time with the 'Fake-Cat' at the microphone is a really catchy uptempo rocker and not just another sappy ballad (thank God!). Eric Singer's voice is quite similar to Peter Criss' though. 'Danger Us' is a rather simple (almost too simple), straight-forward, rocker by Stanley. 'I'm An Animal', Gene at his best/worst with the evil sound of both 'Unholy' and 'Rock and Roll Hell' in the back of your mind. 'When Lightning Strikes', the first song ever with 'Fake-Ace' at the microphone. Tommy Thayer does a great job vocally. He's not too shabby as a songwriter either for that matter (something which Black N' Blue fans should already be aware of). 'Say Yeah', a huge sing-a-long anthem by Stanley. There you have it. A really fine effort with a huge sounding production and everything. Recommended.
www.kissonline.com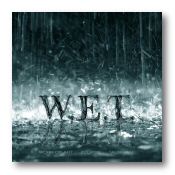 W.E.T.: "W.E.T." 9
Frontiers 2009
Review by Kimmo Toivonen,

14 October 2009
Work Of Art, Eclipse and Talisman is apparently a W.E.T. combination. Yeah, can't say I'm too impressed by the band's name, but Robert Säll (WOA), Erik Martensson (Eclipse) and Jeff Scott Soto (Talisman) have put together a superb album which more than makes up for it!
The band isn't trying to reinvent the wheel with these songs, but somehow they've managed to create fresh-sounding music from familiar ingredients. What you'll get for your money is elements of the three bands mentioned, the sound of Eclipse's last album being the closest comparison. W.E.T. are more AOR-friendly though, and the fans that Jeff made during his stay in Journey will find a lot to enjoy.
The best tracks of the album are simply immaculate examples of melodic rock. The first video/single (?) "One Love" could very well be the best track I've heard this year. The killer opener "Invincible", the AOR gems "Running From The Heartache", "I'll Be There" and "My Everything" and the mega-ballad "One Day At The Time" aren't far behind. The couple of more straight-forward hard rock tracks ("Put Your Money Where Your Mouth Is" and "Just Go") are the ones with the least impact, but I guess they do add some edge to the album.
When this project was announced, Jeff Scott Soto said something to the effect of them beating Journey at their own game, and I wondered whether this album would turn out to be a wannabe-Journey one. Thankfully the Journey-cloning is limited to one song, the closing track "If I Fall". I really can't take it seriously, because the Twin Peaks-like intro aside, it's a Journey tribute. Soto stacks up all of his Perry-isms to his vocal performance, and the song itself is built out of pieces of "Be Good To Yourself", "After The Fall" and a few other Journey classics. A good song for sure, but how could it not be, if its' main "components" are AOR classics?
I truly hope that W.E.T. will sell well, because this album deserves a follow-up. Wouldn't mind an extensive european tour for the guys either, with a gig or two in Finland. Maybe the W and the E could be the support acts?
www.myspace.com/wetrocks
MR. BIG: "Back To Budokan"
PINK CREAM 69: "Live In Karlsruhe"
Frontiers 2009
Review by Alan Holloway,

8 October 2009
Okay, so it may seem a bit lazy to lump these two together, but live albums these days are anything but a mixed bunch. In the bad old days you would get horrendous overdubs, or no audience noise, but modern mixing desk technology means we can get a live recording as clear as we want, audience and all.
So, Frontiers have been nice enough to chuck out a couple of decent live double CDs from two very good bands, and for this we have to be grateful. Not so grateful for the fact that these are also being released as DVDs which we haven't been sent, but you can't have everything. Let me say, though, that if the DVDs are as high in quality as the CDs (and there's no reason to think they won't be) then they're going to be well worth buying.
Mr Big's reunion gig at The Budokan in Tokyo is a fine concert, with Eric Martin in superb voice, and includes all you would expect it to. There's Paul Gilbert shredding up a storm, Pat Torpey getting a drum solo (never the most exciting thing to watch, let alone listen to) and Billy Sheehan twiddles about on his bass. Mr Big have always felt very technical, perhaps unavoidably given the musicians involved, and this can make some sections seem overly planned. On the whole, however, it's a very good album, which also includes new track "Next Time Around", which thankfully slots into the bands repertoire perfectly and bodes well for a new album.
Pink Cream 69 are a different kettle of worms, as all you get from the 2 discs is a sense that they really are having a great time. This is, or course, mainly thanks to David Readman, who combines a great voice with natural charm in front of an audience. It's not many bands who can pull off "So Lonely" by the Police, let alone inserting Bob Marley's "No Woman No Cry" in the middle, but PC69 have no trouble whatsoever. Again, the sound is spot on, and of the two albums this is the one I'd want to pick up a DVD of the most.
So, two live albums that pretty much do exactly what they say on the tin. Great bands with plenty of quality songs, playing as good as they ever will, recorded to perfection. You really can't say fairer than that.
www.mrbigsite.com
www.pinkcream69.com
REVIEWS ADDED 12 October, 2009

W.A.S.P: "Babylon" 9
Demolition 2009
Review by Alan Holloway,

29th September 2009
WASP seem to have been around forever, and part of me can't believe I bought an "Animal…" Pig-ture disc way back in my teens. For me, that parent baiting song remains a metal classic, all raw power and melody ruled over by Blackie Lawless and his masterful growl. Screw the Crue and Ratt, WASP were my LA band of choice. It's now twenty seven years on, and the band refuse to go away, and with "Babylon" showing that they can still cut it after 14 albums I wouldn't have it any way.
If anything, "Babylon" is a real treat for old school fans. As the riff to opener "Crazy" starts you will immediately think "Wild Child", as the similarity is striking. It helps you get straight into the album and has a chorus that really shows off Blackie's superb vocal range. There's a real immediacy about this album that makes it a hoot to listen to straight from the off, due to the flawless vocals and also some very well judged guitar from Doug Blair, who breathes real life into the tracks. Surprisingly, there's a couple of cover versions included, in the shape of Deep Purple's "Burn" and "Promised Land" by Chuck Berry. I was quite taken aback by how well "Burn" fits into the WASP style, giving me a new appreciation for the song, which I have always considered one of Purple's best. The rest of the album has some real crowd pleasers, like "Thunder Red", a song with the same badass vibe and pace as "Blind In Texas", or the broody "Into The Fire", which, along with "Godless Run", sees the band slowing it down a bit and giving Blair license to showcase his soloing abilities.
Listening to "Babylon" has given me a renewed faith in WASP, and it's certainly up there with the best they've done. Lawless is on fine voice, backed up by top notch musicians and aided by a great production. If you've lost contact with WASP over the years, then this is a great excuse to get back in touch.
www.waspnation.com
<!— artist:"album" rating-->MIND KEY: "Pulse For A Graveheart" 9
Frontiers Records 2009
Review by Martien Koolen,


25 september 2009
The new album of Italian prog rockers is obviously more in your face and more progressive than their previous album. The new vocalist Aurelio Fierro has a lot of power and will be a real treat for fans of Jorn. Just listen to great tracks like Sunset Highway or The Seventh Seal and you will catch my drift.
Sometimes the music is a bit overproduced and their sound is a bit too eighties-like, you know good old fashioned hard rock. But most of the tracks are really good showing the great potential of this band. However I do not really like the obligatory cliche power ballad A New Generation.
Interesting is also the performance of Derek Sherinian (Citizen Of Greed), Tom Englund of Evergrey who "fights" a duet with Aurelio (Graveheart) and guitarist Reb Beach who plays a solo in Now Until Forever. Conclusion: again a great prog metal album from one of the best Italian rock bands of this time. Check it out!! <!—TO BE DELETED if not used FROM here----------------->
<!— TO BE DELETED if not used TO here------------------>
WINGER: "Karma" 8
Frontiers records 2009
Review by Alan Holloway,

29th September 2009
I know that Kip Winger has been around for twenty years or so, but I have honestly never heard an album by him. I don't know why, as he seems to make the sort of music that I love. I've heard a few songs here and there, but that's it, so I thought I'd review this new album to give a fresh opinion, unsullied by expectation or history.
It should come as no surprise to hear that Winger have delivered a first class melodic rock album with "Karma". This isn't to say it's all sweet as honey, as there's plenty of crunch to liven up the running order. The first two tracks, "Deal With The Devil" and "Stone Cold Killer" are satisfyingly heavy, the former reminding me of Slaughter (obviously minus the squeaky vocals). Speaking of vocals, Kip Winger seems to have more of an edge to his voice these days, a more throaty delivery, although he can still croon when he needs to, as in the superb "Always Within Me", a mid paced track that stands up with the best Winger tracks of old. He's ably aided and abetted by Reb Beach, who turns in his usual classy act with grinding riffs and intricate solos. The only oddity about the album is the fact that it saves the two ballads until the end, both of them over 6 minutes long. Normally this would give me an excuse to stop playing the album at that point, but I have to say that both songs are really very good indeed, and would have served the album better by being placed elsewhere.
Aside from that minor quibble, "Karma" stands up very well indeed. It's not in the same league as the recent Danger Danger and House Of Lords albums, but will certainly please anyone who likes high quality melodic rock. Looks like I'm going to have to get hold of the back catalogue…
www.wingertheband.com
<!— artist:"album" rating-->BRAINSTORM: "Memorial Roots" 8
AFM Records 2009
Review by Martien Koolen,


2 october 2009
The new album of Brainstorm is a must for lovers of power metal as this album is again filled with super metal anthems like e.g. the epic "The Conjunction Of 7 Planets" or "The Final Stages Of Decay". Especially Andy's voice is better than ever making the songs sound even greater.
Most of the choruses are really mind blowing and a song like Victim (very fast) really kicks some serious ass! My personal favourite however is: "Would You", a classic power metal track with all the necessary ingredients. Listen and weep. Brainstorm prove with this great album that they belong in the major division of power metal bands. Fans of Symphorce or Angel Dust should really check this album.
<!—TO BE DELETED if not used FROM here----------------->
<!— TO BE DELETED if not used TO here------------------>
KINGS OF MODESTY: "Hell Or Highwater" 8
Escape 2009
Review by Kimmo Toivonen,

29 September 2009
Finnish Kings Of Modesty have created an interesting brand of metal for themselves. You can find elements of power metal, progressive rock, AOR and modern metal in this package, not to mention some gothic flavours here and there. Virtuoso playing, fine production and high'n proud vocals from Jason Flinck (Brother Firetribe bassist) combined with quite original and catchy songwriting make this album a clear winner, even though there might be a couple of less impressive songs somewhere between the better tracks.
A "winner album" needs a strong opener, and that's what the band have in "Never Touched The Rainbow". It's a powerful rocker with a bit of a Sonata Arctica/Malmsteen meets The Disturbed vibe a times. If you can imagine that. The next couple of songs are fast-paced, metallic numbers which merely pave the way for one of the album's highlights, the haunting "Starin' Eyes". It's a fine song with slightly HIM-like keyboards and a fine chorus. The aggro-metal of the title track fails to impress me, but it's followed by a couple of excellent songs, the prog-meets-hardrock anthem "Suicidal Mission" with its' furious guitarwork and the big ballad "Once Upon A Time".
"Tailspin" is a good song too, although the chorus sounds uncomfortably high for a male vocalist. "We Will March Our Way" is another aggressive track, and it also features some exceptionally high vocal melodies. What next, music that only dogs can hear? "Miracle" takes us back to a more accessible direction, as it is a rather good song with a strong chorus and excellent axemanship. Finally, the closing number is a suitably dramatic ballad "Two Hearts Collide" with almost Queen-like harmonies.
www.kingsofmodesty.com
www.myspace.com/kingsofmodesty
CREKKO: "Paint The Town Red" 8
7Hard 2009
Review by Alan Holloway,

7th October 2009
I really wasn't expecting much from Crekko, what with their grubby album cover and rummage sale image, but they turned out to be a pleasant surprise. Hailing from Germany, "Paint The Town red" is their debut album, and there's a good chance it might not be their last as well.
Information on Crekko isn't forthcoming anywhere, so let's get to the music. The best way to describe what they do is Nickelback meets Foo Fighters. "Goodbye", for example, is one of the best tracks Nickelback never wrote, a great, melodic crunch filled monster carried by Marco Selter's aggressive but tuneful vocals. This isn't to say that's all they do, as Krecco have very much their own sound elsewhere, but there's always an undercurrent of Canada's finest rockstars. The tracks are all big, meaty affairs, with no ballads dragging the listening experience down, and each one is pretty darned good. Perhaps the worst track is "On My Own", in which Selter seems to sing the verses with a blocked nose, but it's still got a killer chorus.
There's plenty of people out there who like the new Grunge of the Foos , Nickelback, QOTSA and their ilk, and if you are amongst their number then Crekko should be right up your street. Although they're German the vocals are only slightly accented (at times not at all), and there's nota duff track in sight. Definitely the pleasant surprise of the month for me, Crekko deserve to be listened to.
www.myspace.com/crekko
COWBOY PROSTITUTES: "Let Me Have Your Heart" 7
Sunny Bastards 2009
Review by Kimmo Toivonen,

07 October 2009
With a name like Cowboy Prostitutes, you'd expect a fair amount of sleaze in the band's music, right? Well yeah, that's what you get! The Swedes will be a suitable substitute for those who are mourning over the end of Hanoi Rocks. Vocalist/bassist Luca Isabelle has a very Monroe'nish style, although quite a bit rougher, and the guitarists Tobbe Johansson and Lao (just Lao) throw gritty riffs all over the place, with Jonas Lewen keeping the engine running with his solid drumming. Okay, the Prostitutes don't quite have the Hanoi Rocks' pop sensibility and the album could use a little bit more variety, but in small portions their music works really well.
The strongest songs of the album are the opener "Outrageous" with its' hysterical "Die Die Die Motherfucker You Gotta Die" chorus, the subtle(?) "Up Yours", "What Shall I Do?" and the GNR-vibed "Waitin' Around". Actually none of the others aren't that far behind, it's all decent stuff. None of the songs are going to jump to my "best of 2009" list, but they're all somehow likeable. Luca's full-throttle singing style on every song is a bit one-dimensional, but I'm sure that in a live setting these guys could prove to be quite unstoppable. Hanoi/GNR/Sleazerock fans in general - check out these guys right away!
GRIMMSTINE: "S/T" 7
Metal Heaven 2009
Review by Alan Holloway,

7th October 2009
Steve Grimmett doesn't seem to enjoy much free time, always popping up with another project every now and then. The Grim Reaper/Lionsheart man is still at it, although in the picture on the back of my copy of Grimmstine he looks disturbingly like a mad old lady. Thankfully he doesn't sing like one, and has teamed up with the impressive American guitarist Steve Stine, hence the band name.
It's no surprise at all that this album has an old school feel to it, as Grimmett has never tried to reinvent the wheel. What he does do is deliver his usual collection of melodic heavy metal, characterised by his often flawless vocals. There's plenty of full tilt head banging stuff, combined with some more laid back fare, such as the ballad "This Don't Look Like Love To Me", something of a departure for Steve, but a successful one, aided by Stine's Malmsteen-a-like solo. To close the album they even go acoustic with a sweet song called "To Sing A Lullabye", which again showcases the fact that Grimmet isn't just a metal shouter. Who knows how long the partnership will last, but Grimmet and Stine have teamed up to make a very good album of classic style melodic metal. Stine's guitar work is of the highest calibre, with some mad, fiddly stuff in evidence alongside the neat riffs and fills.
Steve Grimmet has many fans out there, and for good reason. Grimmstine doesn't blow me away, but it is still an album well worth a spin and a few quid of your hard earned. Hopefully there will be some live dates to back it up, but even if this doesn't happen the album itself is a good showcase of two truly talented metal masters. As an album, this is about as good as could be expected after 27 years of the band. It's not stale, and at times it's good fun, but in the end it's just another rock album that would not have been so praised had it been released by anyone else.
www.myspace.com/grimmstine
RICHIE KOTZEN: "Peace Sign" 7
Columbia Records 2009
Review by Alan Holloway,

7th October 2009
It's twenty years since Richie Kotzen shredded his way through his debut album, and since then he's made more than thirty albums, mostly solo but also with the likes of Mr Big and a single Poison album that worked much better than you'd think. Following on from this years Wilson Hawk album, he's back as himself with a collection of tunes that really couldn't have come from anyone else.
The immediate thing with "Peace Sign" is Richie's unique voice, not a million miles away from Mr Big bandmate Eric Martin, full of soul with a rough edge. Musically, it's pretty much business as usual, with a nice mix of rock, funk and soul, all stuffed with Kotzen's trademark guitar sound that only he seems to be able to pull off. When he gets going on a solo you can almost see the blissful guitar face he must have been pulling when he recorded it. There's plenty of melody here, a fair smattering of invention and a nice mix of styles that stops it all getting dull. The last four tracks slow the pace down, getting progressively more mellow, and although they're good tracks it doesn't do the album any favours to have them all together. Despite this, "Peace Sign" is yet another good album by RK, always feeling like it was made with great care and passion.
www.richiekotzen.com
SALUTE: "Toy Soldier" 6
Escape 2009
Review by Kimmo Toivonen,

08 October 2009
Escape Music is "keeping it in the family" with this project, as it's a collaboration between Mikael Erlandsson, Martin Kroklund and Imre Daun, all involved with other acts on the label. Erlandsson's regocnizable voice will drawn instant comparisons to his other band Last Autumn's Dream, and admittedly both bands are playing in the same field. Salute does seem to be a slightly harder rocking project though, and Erlandsson's vocals might be a little raspier than usual.
While the material on the album is far from bad, something doesn't quite "click". It's quite enjoyable to listen, but only a few of the songs really steal my attention. The others just rock along, and more often than not I've found myself at the end of the playlist, with only vague memories of the tracks I've just heard. Still, let's take a close look at what we've got here - it's time for a track by track.
First up: "Lost In A Dream". Energetic hard rocker with a good hook and cool guitarwork. "Cheated" follows, and it reminds me a whole lot of The Sweet. The chorus bounces along nicely, but I'm on the fence whether I like it or not. The title track is a bit Aerosmith'y midtempo track, but it also sounds like it could've been included on one of the recent Michael Voss-produced albums. Maybe he had a hand in writing the song? I Don't know, promos don't have much credits. Anyway, not one of my favourites.
"I Am Your Prisoner" is another midtempo track, but armed with a rather good chorus. The song reminds me a lot of classic Bonfire, which is a good thing in my books. "Dynamite" tries hard to blow me away (ehh...), but it doesn't succeed. Don't know why it reminds me of ABBA, but it does. The ballad "I Really Want You In My Life" sounds an awfully lot like a mediocre The Rasmus song mixed with the old "evergreen" "Love Hurts". Somewhow repetitive and boring, so we'll move on to the next one, which is much better. "It's My Time" is a breakup song, a declaration of independence if you will. While it doesn't have a real killer chorus which would've been the icing on the cake, it's still one of the album's highlights. "Follow The Sun" has probably the strongest chorus of the album, and a laidback vibe similar to Joey Tempest's solo albums or the first couple of Stefan Andersson discs.
The heavy rockin' of "Running Away With You" has a dose of Europe (the band) in it, and it's an ok song, nothing more, nothing less. The Europe comparison pop ups again in "Steel Desire", that sounds like something off "Secret Society". Not particulary good. The style is changed for the last track "Be A Star", which has more of a contemporary pop-rock vibe. It's a good track, and ends the album on a positive note.
While it might seem that the songs jump from one style to another quite recklessly, the band does have a sound of their own that covers the eighties hard rock, seventies influences and the modern rock stylings quite well. Still, a few more Grade A songs could've made this a Grade A album as well, now it ends up in the "B"-section.

You can find older reviews and everything else in the Reviews Archive. If you're looking for a specific title, use the search engine on frontpage or on the Reviews Archive page!
If you came to this page from a search engine, click the logo to view the entire site!