Got news for us? Send' em to news@aor-europe.com!
[November 30th, 2002] NEW MTM SIGNINGS
FIREFLY "Automatic" (Release: 17.02.2003) FIREFLY is the new AOR signing of MTM MUSIC. The band consists of experienced musicians who are well known as studio-, session- and live musicians. The band members John Pratt, John Thomas, Bob Gilles, Ron Wikso, Michael Alemania and Roger Feits worked for many studio projects, an enormous amount of music for the TV / Film Industry and played with musicians and bands like Jennifer Batten (MICHAEL JACKSON & JEFF BECK), VIXEN, Graham Bonnet, YNGWIE MALMSTEEN, JOURNEY, NIGHT RANGER, POISON, KISS, TESLA, BOSTON, JESSE'S POWERTRIP, TNT, CHER, RICHIE SAMBORA (BON JOVI), FOREIGNER, David Lee Roth (VAN HALEN), THE STORM, Gregg Rolie (SANTANA / JOURNEY), Randy Meisner (THE EAGLES), Denny Laine (Paul McCartney & Wings / THE MOODY BLUES), Dave Amato (REO SPEEDWAGON / TED NUGENT / Jimmy Barnes), Michael Monarch (STEPPENWOLF), Dave Meniketti (Y&T), George Burns, Sammy Davis Jr., Peggy Lee and many others!
ICEHOUSE PROJECT "tba". The former ARABIA members Bobby Marks, Dennis St. Feldman, T.J. Jordan and Jack Walker are just forming the new band called ICEHOUSE PROJECT! You can expect great catchy and straight foreward hard rock / AOR. MTM is scheduling the release for spring 2003.
The January 2003 releases: MICHAEL ERLANDSSON "The Gift", release: 27.01.2003. MIKAEL ERLANDSSON is one of the most promising singer/songwriters in Sweden today. He worked as a drummer, keyboard- and guitar player and last but not least as lead singer. He had hit in Sweden in 1982 and got qualified for the Eurovision Song Contest 1990. MIKAEL ERLANDSSON toured a lot with his own bands and supported countless well known bands such as TINA TURNER, BRYAN FERRY, and many others. His second solo album was elected as "the best release during 1996" in "BURRN".
IGNITION "Ignition", release: 27.01.2003. Melodic Hard Rock debut from phenomenal Swedish Newcomer lead by guitar wiz and production magician Peter Soderstrom. Fronted by the magnificent voice of Jan Johansen, whom with IGNITION come to his own right and proving to be one of the absolute finest rock voices Sweden have on offer. The back beat provied by Johan Kullbert (ex LION SHARE) and bassplayer Andy Loos (GLORY, LION SHARE) gives the band its bombastic and big sound. IGNITION will without no doubt be one of 2003 best hardrock releases and with songs, production and performence delivered in a ultimate class of its own.
[November 30th, 2002] CRYSTAL BLUE CD
Following the reunion of Swedish AOR super group CRYSTAL BLUE, which will release a new record on MTM MUSIC in spring 2003, we are proud to announce that we are able to offer their first original record, titled "Caught In The Game". This offer is limited to one hundred copies before it's sold out completely! Orders at:
[November 30th, 2002] CHAVIS INTRODUCES: SOMETIMES X
Straight from Atlanta, GA, Sometimes X, has something to prove to themselves and the world. Sometimes X produces rebellious Rock and Roll riffs with enough energy and raw emotion to warrant "Anger Management" sessions. An 80's meets Modern Rock sound. Born from a love of Rock-n-Roll, this is a band that will be sitting on top of the heap. Check out the new release and more info at the site below.
[November 30th, 2002] METAL MAYHEM NEWS
Julliet - Brand new release of killer 80's melodic rock. Featuring guest appearances from Kevin Dubrow and Frankie Banali of Quiet Riot. Kenny McGee is at it again, but this time with his band Julliet. They are back and louder than ever! The new cd Passion will be available worldwide on December 2, 2002. The band lineup consists of Kenny McGee on vocals, Jimmi Delisi on guitars, Ty Westerhoff on bass, and none other than Frankie Banali on drums. The cd was produced by Kevin Dubrow of Quiet Riot fame and features Kevin on background vocals. Julliet has been playing live for the past month and has already began to write new material for an album that they will record for Melodic Mayhem Music in the Spring. Check out the first single Boys Will Be Boys at the site below.
Kenny McGee - First solo release from Julliet front man Kenny McGee and it kicks ass! Combining elements of Julliet, Skid Row, and Aerosmith! Rising from the local club scene level and fronting such bands as Julliet and Heartless, Kenny McGee has become a force to be reckoned with- amassing such titles as singer, songwriter, musician, producer, and national recording artist. Watch for future releases featuring Kenny, with an unreleased Julliet album, two never before heard Heartless records, and some more solo projects, coming soon from Metal Mayhem Music
Mindset7 - Melodic Mayhem Music is proud to announce the release of an exciting new modern rock band. Vocalist/Bassist Mick Rowe, Guitarist Phil Montfort, and Drummer Criss Wheeler- collectively known as Mindset 7-have been able to accomplish a lot in the very short time they have been together. Formed from the ashes of Mick's previous bands Goliath and Midnight Orchestra, Mindset 7 was created to play "good modern rock that has something for everyone" as Mick puts it. "We all grew up listening and playing different styles of music, we consider Mindset's sonic territory to include Bon Jovi, Goo Goo Dolls, Collective Soul, and Creed but with a nod to the melodic rock of the 80'stopic three. This is content for under topic three. Check out their first single Stay at:
[November 30th, 2002] AFTERSHOK
AfterShok, featuring former Shok Paris vocalist Vic Hix, is pleased to announce the launch of their newly re-designed website at www.aftershok.com. Check it out for news updates, reviews, sound samples and much more! AfterShok is currently accepting proposals for label support. Interested parties can contact the band via: sales@aftershok.com.
[November 24th 2002] ANNOUNCING SHIRE RECORDS
An exciting new label dedicated to bringing you the best in Melodic Hard Rock, AOR, and Metal. Our goal is to continually release albums that will not just sit and collect dust in your cd collection. If you are looking for that classic sound when singers were not afraid to sing, and guitar players actually knew how to play... Then look no further.
We are not about following today's latest trends. Simply put....We are about big hooks and melodies, the way Rock 'n' Roll was meant to be. We are not claiming to be the next major label, but we here at SHIRE RECORDS are fans of this music and feel that there remains deserving artists that want to deliver this great style. SHIRE RECORDS invites you to check out our label and artists. We are now online for your viewing pleasure at the site below and thank you in advance for your support.
Check out our first release by 80's-style rockers, Lord Grey. Let the soaring vocals and melodic sound stir your soul. Dive into the AOR pool with our next release from "Ferreira" titled Fallen Heroes. This is definitely first class AOR combining elements of Journey, Signal, and early Bon Jovi. You won't want to miss out on this one!
[November 24th 2002] PERRIS GUITAR GIVEAWAY
Perris Records will be giving away a autographed Fender guitar signed by Animal, Every Mother's Nightmare & Roxx Gang to promote their new titles available through Perris Records. Pictured with Guitar is Rick Ruhl-Vocalist of EMN (For more details go to the site further down, make sure to sign up on the flashing SIGN UP NOW! giveaway icon for weekly emails about the contest) Perris 24/7 Radio is now featuring many tracks off the following releases EMN "Live Songs From Somewhere', Animal '900 lb. Steam', Mad Margritt 'New Sensation' & Jetboy 'One More For Rock 'n' Roll!" at:
[November 24th, 2002] LEIF JOHANSEN SIGNS FOR SOLO DEAL WITH Z
Z Records are proud to announce the signing of the all new solo project by Leif Johansen [Phenomena , Far Corporation, 21 Guns] to an exclusive deal for all World territories [except for Norway]. Leif has been a key figure on the Phenomena projects plus of course more recently 21 Guns with Scott Gorham of Thin Lizzy.
The solo project LIFE draws on Leifs previous experiences and demonstrates his amazing song writing ability to the full, whilst his obvious involvement with 21 Guns shows through there are also hints of Led Zeppelin and other blues based influences on show.
Leif stated : " I'm very happy to be continuing my collaboration with Z Records and being able to release some of my favourite compositions"
LIFE is currently in productiion and scheduled for a late summer 2003 release.
[November 24th, 2002] DOUBLE BARREL RELEASE FROM Z RECORDS
After seasonal delays at the pressing stages Z Records are happy to confirm that the following releases will be finally out November 25th:
FINAL FRONTIER - THE FIRST WAVE
ADRIANGALE - REPROGRAM + 1 bonus track
in addition December 9th will see the release of the critically acclaimed debut by Swedish act SHIVA, the bands self titled debut has already been ranked 8th in the latest issue of Germanys Rock Hard magazine, the highest ever position achieved by a Z Records act.
[November 24th, 2002] FRONTIERS SIGNS MYSTERELL
Frontiers Records is happy to announce the worldwide signing of MYSTERELL, the new project brainchild of Torben L. formerly guitar player and singer of the danish trio PANGEA. Produced at Torben's newly opened Tune Town studio facilities by himself and his staff, the album will be entitled "Sensational" and will include several superb songs in melodic hard rock fashion with influences ranging from Giant to Def Leppard and TNT. Some song titles will be: Don't Ever Stop, When You Love, Sensational, Help Me Find A Way, There Was You and T 'n T.
Torben explains "On this project I've been determined to give myself freedom to do exactly what I want. Both as a songwriter and a producer. I try to do what I believe is best for a song and they're all very commercially oriented. What's the point of making music if nobody listens to it? I put strong emphasis on the melody and I think that those will come across beautifully on this album. But of course mine is a Hard Rock heart, so don't make the mistake of thinking this is an easy listening album, ok? Guitars will reign forever!!" The label aims to a spring / summer 03 release and the fans will be able to check the amazing track "Don't Ever Stop" off of the Frontiers Records double sampler cd "Rock The Bones" due out in December 02.
[November 22nd, 2002] ARTENSION MAKES NEW DISCOVERIES
Frontiers Records proudly announces the European release of Artension sixth studio album entitled "New Discovery" in the European territories.
The tracklisting of the album – a new masterpiece in symphonic and neoclassic power prog metal – is going to be as follows:
New Discovery; Remember My Name; Innocence Lost; The Last Survivor ; Hearts Are Broken; Symphonic Expedition; Endless Days; Call of The Wild; Story Teller; Endless Days (radio edit).
The lineup is still based on the virtuoso talents of: Vitalij Kuprij (Ring Of Fire) on keyboards, Kevin Chown (Magnitude 9, Tiles) on bass, Mike Terrana (Rage, Axel Rudi Pell) on drums, John West (Royal Hunt) on vocals and Roger Staffelbach on guitar.
Band founder and leader Vitalij Kuprij says: "I have no doubt that we will succeed with this record, as we will embark on our first major tour to support our new album. Our label is fully supporting us and the encouragement from YOU - our loyal fans - will make us even more successful. I hope that our new album "NEW DISCOVERY" will please our fans, and bring us new fans throughout the world when we go on tour".
"New Discovery" is set to appeal to all those who like bands like: Symphony X, Royal Hunt and Stratovarius and will be unleashed on January the 27th 2003.
[November 22nd, 2002] NEW PROJECT BY SENTENCED FRONTMAN VILLE LAIHIALA
Poisonblack is neither just another gothic metal bands hailing from Finland, nor your generic project-band formed in order to pass some time while the main band is taking a break.
After playing guitar for not less than 17 years Sentenced's frontman Ville Laihiala felt the need to explore his ambition as guitarist and finally formed Poisonblack two years ago together with a couple of talented, close friends from Oulu and his soulbrother Janne Kukkonen on bass. Both of them don't only share a long history in various bands, but also the same vision about music: "When we produced the album together it was like he could read my mind", recalls Ville Laihiala the recording of their debut-album Escapexstacy which is scheduled for end of February 2003.
Since he wanted to fully concentrate on his guitar-duties Ville followed his instant impulse and called J.P. Leppäluoto from Charon - the best and most fitting singer he could think of. "I knew his voice would fit perfectly and add a certain kind of dark yet melodic feeling to our music."
Asked about the lyrical concept of the album Laihiala smiles: "The main theme of the album is lust & addiction – for life, sex, fire, death... Let's say I took a trip inside my head and danced with the demons inside of it..."
All visuals (artwork and photos) of Escapexstacy were handled by Sentenced-drummer Vesa Ranta who already took care of the art for Sentenced s highly acclaimed and successful album The Cold White Light.
Tracklisting "Escapexstacy": 01. The Glow Of The Flames, 02. Love Infernal, 03. The State, 04. All Else Is Hollow, 05. In Lust, 06. The Exciter, 07. Lay Your Heart To Rest, 08. With Her I Die, 09. Illusion/Delusion, 10. The Kiss Of Death
Line-Up :
Ville Laihiala - lead & rhythm guitars, backing vocals
J.P. Leppäluoto - vocals
Janne Kukkonen - bass
Session-musicians:
Tarmo Kanerva - drums
Marco Sneck - keyboards
[November 22nd, 2002] JUDGEMENT IN SAXON CASE
The ongoing legal action between the original members of the band Saxon has finally resulted in a Judgement regarding the trademark.
Graham Oliver & Steve Dawson, now performing as Oliver/Dawson Saxon, have won the action brought against them by Biff Byford regarding the trademark to the name 'Saxon'. Byford tried to have the trademark invalidated on the grounds of Passing Off and Bad Faith, however the court found against him on both counts. Oliver & Dawson were represented in the case by the manager of Oliver/Dawson Saxon, Rupert Withers, who despite having no legal qualifications, believed in the situation and acted as a litigant in person on their behalf.
The result of this case means that the trademark 'Saxon' is still owned by Graham Oliver & Steve Dawson. It proves that contrary to certain propaganda stories in the press, Oliver/Dawson Saxon have a legitimate claim to use the name.
The timing on the judgement is good, with Oliver/Dawson Saxon having just finished a very successful UK tour with Dio, and with 2003 being the 25th anniversary of Saxon. Oliver/Dawson Saxon intend to continue working hard and will be touring and recording again next year. However this does not mean that Oliver/Dawson Saxon will be changing their name back to Saxon. As Oliver & Dawson have maintained throughout the case, Saxon is the band made up of the original 5 members, and as such they are not attempting to confuse or mislead the fans into thinking that they are the same band.
Oliver/Dawson Saxon's new live DVD 'Rock has Landed' is coincidentally released this week by Angel Air Records.
[November 19th, 2002] FRONTIERS WILL ROCK THE BONES
Frontiers Records proudly launches the new sampler cd ROCK THE BONES. The tracklisting of this specially priced double cd includes the following songs:
DISC 1
Tracklisting: HARDLINE "Paralyzed"; JOHN WEST "Stand, Sentinel"; ERIC MARTIN "I'm Goin' Sane"; WHITE SKULL "The Dark Age"; JIM PETERIK WORLD STAGE with Johnny Van Zant "The Day America Cried"; HONEYMOON SUITE "Gone"; ANDRE' ANDERSEN "Coming Home"; MOLLO / MARTIN "Amore Silenzioso"; HAREM SCAREM "Weight Of The World"; MECCA "Silence Of The Heart"; GIANT "You Will Be Mine"; TEN "Glimmer Of Evil"; VICIOUS MARY "Love Or Hate"; TWO FIRES "I Will Remember You"; REB BEACH "Ghost"; STRAMONIO "Appointment With Life".
DISC 2
Tracklisting: JEFF SCOTT SOTO "Eyes of Love"; Daniele Liverani – GENIUS "There's A Human"; ROBERT FLEISCHMAN "The Crush"; MARK BOALS "Fly"; UNRULY CHILD "King Of Tragedy"; URBAN TALE "Starship Of Giants"; ON THE RISE "Beat Of Your Heart"; DRIVE, SHE SAID "What's It Gonna Take"; TALISMAN "Outta My Way"; KHYMERA (featuring Steve Walsh) "Who's Gonna Love You Tonight" (rough mix); AMBITION "Waiting In My Dreams" (rough mix); RAMOS "The Dream Is Alive" (rough mix); GREEN "I Still Love…"; MYSTERELL "Don't Ever Stop" (rough mix); CRUSH 40 "Into The Wind"; MICHAEL SEMBELLO'S HEAVY WEATHER "Love Doesn't Live Here Anymore"; MICKEY THOMAS "Love Can Save The Day" (demo); ZION "The Sky Is Falling" (rough mix). More Info
[November 18th, 2002]JAIME ST. JAMES RETURNS
Former Black 'N Blue vocalist, Jaime St. James, has recently agreed to a management agreement with the California based Jeff Keller Management. St. James is currently in the studio recording new material with the assistance of Warrant's Billy Morris. The new material is a combination of the classic Black 'N Blue sound, mixed with the sounds of St. James, Jaime's former band that released the album "AmericanMan" late in 2001.
The upcoming album will be released in 2003 on a label that is yet to be determined. In addition, Jaime is tentatively planning on taking part in one of the upcoming summer tour packages in 2003. Jaime is currently performing under the moniker "A Night Of Black 'N Blue with Jaime St. James", with a set list comprised of Black 'N Blue favorites. Fans in Cleveland, OH were recently treated to a show, and more shows may be planned in the future. For additional information or questions regarding Jaime St. James, please contact Jeff Keller Management at jeffkellermanagement@hotmail.com.
[November 18th, 2002]NINEDENINE: SPONSORED BY JAGERMEISTER!
Alternative British rock / metallers NINEDENINE have added more UK dates to those previously announced and in the process the band have pulled off a coup by tying up sponsorship for the shows with every self respecting rockers friend - Jagermeister. The currently unsigned band will now be appearing at Bolton The Alma Inn November 23, St. Albans The Horn 27, London Camden Underworld 28, Crewe Limelight December 2, Leeds New Roscoe 4, Newcastle Under Lyme Rigger 9, Romford Freak @ Vivid & Elite January 21, Nottingham Junktion 7 23, Halifax Uki Club 24, Harrogate Harrogate Arms 25. The Jagermeister sponsorship will include the provision of branded product for use as give-aways at shows and in competitions. Commenting on the sponsorship the bands management said "we are pleased to be associated with Jagermeister and it is a great boost to see a well respected company making a bold move by supporting music at a grass roots level". NINEDENINE, who have already supported Vex Red and John Garcia's new outfit Hermano this year, will be promoting their highly rated 'Scars' EP, which has just reached Number 1 on the listener voted metal charts at ZWARP in the USA. Further details on how to obtain the EP are available at the bands website www.ninedenine.com.
[November 18th, 2002] I THINK IT'S GONNA RAIN...FROZEN RAIN
FFROZEN RAIN is the new AOR project from composer & musician Kurt Vereecke. The guitars on the upcoming album will be handled by Tommy Denander. You can find all news and information at this webaddress: http://www.frozenrain.be/
[November 15th, 2002] FRONTLINE COMPILATION ON ITS' WAY
Frontline is working now on a compilation which has a working title of "BEST, RARE & UNRELEAED" containing 3 brand new tracks plus many rare / unreleases tracks from the Heroes sessions and the JAP bonus tracks from "State Of Rock". The CD is scheduled for a release by February.
[November 15th, 2002] NEWS FROM TOKEN
MTM Music recording artists Token have released a video for the song "Human" from their debut album "Tomorrowland". The video was made by the Swedish director Gabriel Jansson and post produced by Gabriel and Jens-Peter Sjöberg (known from postproduction of Mobys latest video and of "Lord of the rings").
"Human" is available for download at Tokens official web site.
Additionally Token are for the moment preparing material for their forthcoming album.
[November 14th, 2002] JOURNEY'S RED 13 GETS CRITICAL ACCLAIM
The release of the "Red 13" Ep is gaining a lot of exposure and rave critics from everywhere in the world.
The Japanese magazine BURRN! awarded "Red 13" with an amazing 91/100 mark, while magazines like ROCK HARD in Italy have chosen it as a TOP ALBUM of the month (notwithstanding the fact that it is "only" an EP). The German magazine ROCK IT featured the band on the cover of the November issue.
[November 14th, 2002] GREER AND SLAMER REUNITE FOR ANOTHER KEY ALBUM
Billy Greer (of Kansas, ex Streets) and Mike Slamer (Streets, Steelhouse Lane) are currently busy writing and recording songs for the Seventh Key second album in Mike Slamer's studios in Los Angeles.
According to Billy Greer "the material we are writing is great and we are all very excited with the new ideas". The recording are planned to be over in February 2003 and the label aims to have the album released in the autumn of the same year.
[November 14th, 2002] MORE ON SLAMER: KHYMERA
Mike Slamer has also recently completed the mix of the first half of the STEVE WALSH's KHYMERA record. The tracks completed include "Aftertouch", "Shadows", "Living With A Memory", "Live Without Love", "Say It With Love", "Who's Gonna Love You Tonight" (to be featured on the forthcoming sampler compilation "Rock The Bones") and "Strike Like Lightning". Walsh's Kansas bandmate, Billy Greer has also added some background vocals to complete the vocal harmonies created by Joe Vana and Thom Griffin (Mecca).
The work is expected to be completed within the end of the year with a release which is tentatively scheduled for spring 2003.
[November 14th, 2002]TALISMAN GO ANIMALIC
"Cats & Dogs" shall be the title of the forthcoming TALISMAN album which is currently being mixed in Boston by Jeff Scott Soto and John Ellis. The album can be described as a return to the "Humanimal" (the album) type of songwriting with lots of melodies and instrumental extravaganza. Some of the songs completed include: Outta My Way (to be featured on the upcoming double cd sampler compilation "Rock The Bones"), Sorry, Skin On Skin, Break It Down Again, M.O.M. (My Own Misery), Hell In Paradise, Time.
The label looks set to release the album in april / may 2003.
[November 14th, 2002]DRIVE, SHE SAID GET A TASTE OF REAL LIFE
Mark Mangold, Al Fritsch and Jonathan Mover are finally over with all the recording and post production work for the new Drive, She Said, long awaited fifth studio album "Real Life".
The album will include the following thirteen songs: Real Life, Stronger, We Live For Love, What's It Gonna Take, Silver White, Overdrive, Find Your Place, All Your Heart, Hold Me, When Will It Be Love, How Can I Be Sure?, Always & Forever (Godz); Believe.
"Real Life" will be released on march 24th, 2003 on Frontiers Records in Europe and Marquee/Avalon in Japan.
The album is expected to please all D,SS and melodic rock fans and features multi-layered vocals, immense hooklines and of course some fantastic songs including epics and possible radio hits!
[November 14th, 2002] IT'S THE SECOND COMING! DON'T YOU SEE THE SIGN!
After the Drive, She Said album completion Mark Mangold started writing and recording the second THE SIGN album (working title: "The Second Coming") with Randy Jackson of Zebra and Terry Brock (ex Strangeways). The sessions are going very well according to Randy and Mark and 10 songs have been written until now, some titles are "The Flame Of The Oracle", "Motorcycle Messiah", "Black Mountain".
The guys plan to finish the sessions in late December in order to start recording at the beginning of the new year. According to Mark Mangold the style of the songs is more epic, including elements of traditional hard rock and AOR melodies as well.
[November 14th, 2002] AMBITION - THOM GRIFFIN'S COMEBACK
The great Thom Griffin, ex singer from Trillion, is currently busy recording his come back album under the guidance of Joe Vana of Mecca and Jon Smith as producers.
The album is already taking shape and songs set to be included on the album include "Love Me Anytime" (remake of a Trillion song off of "Clear Approach"), "Waiting In My Dreams" (Richard Page), "Edge of Forever" (Richard Marx), "Cover Me" (Bebo Norman), "Something's Coming", "Maybe It's Better", "Never Let You Get Away", "You Always Hurt Me Girl", "This Time Around", "I'm Falling", "Everytime It Rains"
Musician set to appear include also: Mecca's own David Hungate, Shannon Forrest and Joe Vana plus on guitars Bill Rupert and Craig McGreary. The band is set to deliver the finished album at the end of January 2003.
Fans of High-Tech AOR will be pleased to hear that the album will strongly resemble the sound of band like Mr. Mister, Toy Matinée and Toto with an heavier edge. The song "Waiting In My Dreams" will be featured on the ROCK THE BONES sampler compilation as a taster of what's to come !
[November 14th, 2002] DREAMTIDE ISN'T OVER
German Melodic Rock heroes DREAMTIDE are still alive and well! Band leader Helge Engelke (ex-FAIR WARNING) says: "We are currently extremely busy working on our new album. We hope that everything will be done by spring 2003!".
[November 14th, 2002] VICIOUS MARY GOES AROUND THE ITALY
The Italian band which such acclaim gained with their self titled debut album in May 2002 have planned their live debut with their first Italian tour planned for February 2003.
VICIOUS MARY - TOUR '03
7/2 - La Gabbia - Pove del Grappa (VI)
8/2 - Siddharta - Prato (FI)
14/2 - Jack Bickers - Vigevano (MI)
15/2 - Mephisto - Lu. Monferrato (AT)
All details available at www.viciousmary.com
[November 14th, 2002] WANNA SEE NEW HORIZONS?
The german-french Band Horizon is currently looking for a lead singer, as Patrick Hemer, singer and guitar player in personal union, would like to quit this double burden and put his main emphasis on songwriting and playing guitar. The band is looking for a voice sounding like Ronnie James Dio, Jeff Scott Soto or Russel Allen, please send your photo, bio as well as an audio or video MP-3 demo (maximal length 5 minutes) to singers@horizonsite.net.
[November 14th, 2002] MARTY FRIEDMAN SIGNS WITH MASCOT
News from the Mascot Records:
2003 is shaping up to be a fantastic year for us as more and more great albums are finding a way on our soon to be send release-schedule.
We will start 2003 with PAUL GILBERT's stunning new album "Burning Organ", an album which we expect to do very well. There will be a hot new RACER X album in February and right after that we will bring the release of "Music for Speeding", the brandnew solo album from mega guitarist MARTY FRIEDMAN.
This is one of the very best heavy guitar instrumentals we have ever heard and we expect this album to become very popular. Since Marty sold over 10 million albums during his time with MEGADETH there are plenty of people out there who are awaiting this masterpiece..
[November 14, 2002] WESTWORLD MAKES A BIG IMPACT ACROSS EUROPE
The new Westworld CD "Cyberdreams" has now been officially out for just two weeks in Europe and the album has already sold out of the first pressing !!! The album has already surpassed the expectations of Z's distribution agents in England, Germany, Norway, Italy and France !
[November 14, 2002] CONTAGIOUS START WORK ON 2ND ALBUM
Liverpool based rockers CONTAGIOUS have started writing material for their second full scale album for Z Records. The band have been one of the hardest working English acts in recent years, not only did they support their "Calling" release with their own headline tour of the UK, but they also went out with such acts as Dokken, Vaughn, Ted Poley and Talisman plus they appeared in Germany at Z Rock Germany twice!
he bands new album currently has the working title of "Mule Britannia!" and recording is expected to start during April / May 2003 with a release planned for late summer.
CONTAGIOUS fans take note that Contagious will be making a special acoustic appearance with Danny Vaughn this Christmas, this will be their last live appearance for at least 8 months !
[November 13, 2002] HANOI'S 12 SHOTS PREVIEWED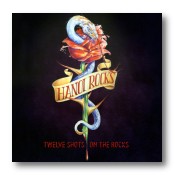 Sound clips of the forthcoming Hanoi Rocks album "Twelve Shots On The Rocks" album can be listened on their website hanoirocks.com. The clips will be embedded on the front page and there will be a new song every day. The front page will be updated around 6:00 - 7:00 am (GMT) daily. According to the distributors, the new Hanoi Rocks album will be released on November 28th in Finland and on December 2nd in the rest of the Scandinavia.
[November 11, 2002] FREDDY CURCI RETURNS WITH ZION
Frontiers Records is pleased to announce the signing of the new project band lead by ex ALIAS singer, the mighty voice of AOR, Freddy Curci for the territories of Europe and Asia !
The new band is called ZION and is based in Los Angeles, California even though it is formed by seasoned musicians of the Canadian and US rock music scene including also Paul Marangoni (Coney Hatch) on drums, Joey Scoleri and Grammy Award nominee Alex Masi on guitars.
The band is currently recording the debut album which is going to include 13 songs and is planned for a release in the late summer 2003. Some of the songs recorded already are: I'm Coming Home; Avalon, From Now On, How Much Longer Is Forever, Romeo Dawgs, Defcon 4, Glory Be (In The Lowest), The Sky Is Falling (to be included on the forthcoming Frontiers sampler compilation "Rock The Bones").
Zion is designed to be a new melodic rock force to be reckoned with and definitely a return to form for Freddy Curci, after the ALIAS days!
That's what he says about it: "This record is very raw. You can hear the air around the drums. The guitars aren't cluttered. Everything breaths. It's a different kind of production for me. Basic, no synths: just organ and piano. The music tells the same story as the lyrics. Naked. People will see my soul. I'm in a place in my life where singing 10 songs about women just doesn't mean that much to me any more. In the past the words didn't matter. I just sang in a 5 octave range and people would go WOW! and that was it. The world is a different now. I don't know if I'm wiser but I'm older. I feel it's important to have a realistic outlook on the future. I need to express what I feel. And this is what I feel!"
[November 11, 2002] ARE YOU READY FOR LORDI?
Finnish hard rock/metal sensation LORDI is ready to make his live debut in Nosturi on 7th of December. The gig was originally supposed to take place in Tavastia Club, but due to the amount of pyrotechnics featured in Lordi's show, the fire dept. officials didn't allow it to take place there.
Lordi's first album "Get Heavy" has taken the Finnish charts by storm, going straight to position number three on the first week of its' release. The single "Would You Love A Mosterman" has been a top twenty hit for 17 weeks.
Stay tuned for a review of the album, which is an unashamed time trip to the eighties, with bombastic sound (mixed by Kevin Shirley!) and Desmond Child-influenced choruses. The band's image lies somewhere between Slipknot and Kiss...
Check the official band website.
[November 11, 2002] HUMAN TEMPLE 2002 LIVE DEBUT
Hailing from Turku, Finland, melodic hard rockers Human Temple will be showcasing the new line-up in their hometown on Sunday, 1st of December. The bands' two mp3 samples here in AOR-Europe.com have been highly popular and are still available for you to download from Vigilante's MP3 Vault.
Check the official band website and join the mailing list!
[November 11, 2002] TALON ALL FIRED UP!
Now and Then recording artists TALON are currently in pre-production for the follow up to their critically acclaimed debut CD. The band is demoing songs for the label and plan to start tracking under the direction of Mikey Davis in his Los Angeles studio shortly for a Summer 2003 release on Frontiers Records !
TALON's S/T debut drew high praise from the worldwide press when it was released earlier this summer and is already making several top 10 lists for the year ! Now, the band is excited and ready to create an even better hard-rockin' release ! An appearance at the GODS 2003 and a "Rock-Fest" tour are also in the works.
Check the official band website for the latest news.
[November 11, 2002] JESSE GIVES YOU A HAND...
Here's a preview of the cover of the Jesse Damon solo album "The Hand That Rocks" which is supposed to be "packed full of high energy classic hard rock and seasoned with intense melodic ballads...a must for fans of Kiss, Skid Row, Damn Yankees, Cheap Trick, etc..."
More details can be found in older news, oct. 2002.
[November 11, 2002] Z RECORDS ONLINE STORE IS LAUNCHED!
Z Records have launched a webstore: www.zrecords.net

[November 11, 2002] MTM LAUNCHES WEBSTORE TOO!
MTM Music has launched a webstore too: www.musicbuymail.com

[November 11, 2002] IT AIN'T SANTA, IT'S DANNY VAUGHN!
Danny Vaughn has added a second Chrsitmas show in London, Dannys Christmas schedule now runs as follows....
Sat 21st Dec, Crazy Nites @ The Feathers,18-20 Broadway, Westminster. London SW1 1 Min walk from St. James's Park Tube Station.
Entry £8
Doors open 8pm. Danny on-stage 9.30. 11pm till 2am, Crazy Nites Christmas Classic rock night as usual!"
Sat 28th Dec, Café Nirvana, 4/6 Rodney St, Wigan, England.
Tickets are priced at £7.50 and will go on sale November 4th.
Credit card hotline: +44 [0]151 709 4321 or from the Royal Court Theatre box office, Liverpool. Mail-order from MJAP, 2 Farriers Way, Liverpool, L30 4XL [cheques payable to MJAP ONLY]
[November 11, 2002] STORMIN' ERIC...
Eric Storm has been nominated for the Best Pop/Rock Solo Artist on the Rock-Zine Website. Cast your vote for Eric anytime between now and the end of November, follow this link to cast your vote www1.freewebs.com/rockzine/
Eric Storm's Mp3.com Site has reached over 2800 plays to date and his 2000 cover of AC/DC's "You Shook me all Night Long" hit #1 again on the Dallas Pop & Rock Charts. From now until the end of the year, T.N.A. Records has made all of the songs on Mp3.com available for free download. Follow this link to get FREE Eric Storm music: http://artists.mp3s.com/artists/367/eric_storm.html
In December 2002, Eric will enter the studio and begin the recording process on the long awaited CD "Building a Rocket". The release date has been scheduled for the Summer of 2003. The wait is almost over.
A new monthly trivia question is now online at the Official Eric Storm website, your chance to win free Eric Storm Merchandise. www.6thfloor.com/storm
[November 4, 2002] SOUND RIOT SIGN GAIA EPICUS
Sound Riot Records have signed melodic power metal band GAIA EPICUS, featuring TNT's Morty Black on bass. The complete line up is:
Thomas C. Hansen ~ Vocals & Guitars
Joakim Kjelstad ~ Guitars
Morty Black ( TNT ) ~ Bass
Alessandro G. Elide ( MANIFEST ) ~ Drums
Eirik Myhr ~ Keyboards
The band's first album is called "Satrap" and it will be recorded at Waterfall Studios from Norway in December. The mastering will be done by Mika Jussila at Finnvox Studios from Finland In January. The release has been scheduled to January 2003. Artwork will be done by J.P. Fournier (Avantasia, Edguy, Freedom Call), and some of the songtitles include Keepers of Time, Heavy Metal Heart, Inside The Storm, Fire & Ice, Star Wars, 7th Millennium.
[November 2, 2002] Z: SHOWS - NO, STORE - YES
Z would like to thank everyone who turned up on Sunday to the Rocktoberfest show at Wigan, the show was a great fun and once again had some fine acts playing and hanging out with the fans. It's been said before, Z is like a big family at these shows, everyone seems to get on with non of the ususal rockstar ego thing going on. Z would also like to thank Cry Havoc for travelling down from sunny Scotland to open the show, they showed pure class and professionalism in their attitude and deserve to go far, good luck boys.
OK now the news you may have been waiting for, after Sundays show it has been decided that Zrock 2003 in Nottingham should be cancelled, as have all future shows staged by Z records. The shows are losing too much money for the company to be continued, we are currently looking into a smaller, more financially viable option, but at the moment all shows are off. If anyone has any ideas about a venue then don't hesitate to mail us at infozrecords@aol.com
Z ONLINE STORE NEARLY READY FOR LAUNCH !
We are currently in the process of setting up an online shopping facility, the payment will be via Paypal and should be up in the next few weeks, this will also stock all of the MJAP titles including Frontline, Cry Havoc and Keel. Keep checking back for information. The shop will have some amazing deals that you cannot afford to miss.
[November 1, 2002] ZOOM CLUB DIGIPAKS GRAND SLAM AND MSG
PHIL LYNOTT'S GRAND SLAM
The Studio Sessions
Cat No: ZCRCD90BOX
Special Collectors Edition
Features:-
Phil Lynott - Bass & Vocals
Mark Stanway - Keyboards
Lawrence Archer - Guitar
Doishe Nagle - Guitar
Brian Downey - Drums
Robbie Bennan - Drums
Deluxe two CD long box containing the unreleased studio recordings by Phil Lynott's legendary post Thin Lizzy act Grand Slam. Features previously unseen photographs and informative sleeve notes. Compiled form Grand Slam keyboard player Mark Stanway's private tape archive, this is a must for Lynott / Lizzy fans. Mark says of this historic release: "It has been a long and very pleasant experience going through all of my old cassettes (literally boxes of them!), and I am proud to be able to make a compilation of representative material for the genuine and discerning Phillip Lynott fan to enjoy."
CD1: Nineteen / Crime Rate / Sisters Of Mercy / Whiter Shade Of Pale - Like A Rolling Stone / Military Man / Harlem / Gay Boys / Breakdown / Look In These Eyes / She Cries
CD2: Radio Interview With Phil Lynott, Dublin, Ireland 1984 / Crime rate (Demo) / Nineteen (Demo) / Slam / Sisters Of Mercy (Alternative Mix)
THE MICHAEL SCHENKER GROUP
MSG - REACTIVATE - LIVE - 4 x CD Digibox
CAT. NO: ZCRCD87BOX
Collectors Special Edition 4 x CD Digibox with full colour booklet and sleeve notes from Paul Raymond
Officially licensed live recordings of the original classic line-ups featuring:-
Disk 1/2/3
Michael Schenker on guitar
Gary Barden on vocals
Paul Raymond on keyboards and guitar
Chris Glen on bass
Cozy Powell on drums
Disk 4
Michael Schenker on guitar
Gary Barden on vocals
Andy Nye on keyboards
Chris Glen on bass
Ted McKenna on drums
Disc One - 1. Armed & Ready 2. Cry For The Nations 3. Victim Of Illusion 4. Into The Arena 5. Lost Horizons 6. Doctor Doctor 7. Lights Out
Recorded in Eerie, Pennsylvania, November 20th, 1980.
Disc Two - 1. Armed & Ready 2. Cry For The Nations 3. Victim Of Illusion 4. Natural Thing 5. Feels Like A Good Thing 6. Into The Arena 7. Rock Bottom 8. Looking Out From Nowhere
Recorded at the Country Club, Los Angeles, December 22nd, 1980.
Disc Three - 1. Armed & Ready 2. Cry For The Nations 3. Victim Of Illusion 4. Feels Like A Good Thing 5. Into The Arena 6. Rock Bottom 7. Lost Horizons 8. Doctor, Doctor 9. Lights Out
Recorded in rehearsal in Sidcup, Kent UK, Autumn 1980 prior to the band's first headlining tour.
Disc Four - 1. Captain Nemo 2. Rock My Nights Away 3. Are You Ready To Rock 4. Cry For The Nations 5. On And On 6. Attack Of The Mad Axeman 7. Into The Arena 8. Courvoisier Concerto 9. Lost Horizons 10. Rock Will Never Die 11. I'm Gonna Make You Mine 12. Systems Failing 13. Still Love That Little Devil 14. Armed & Ready
Recorded at Castle Hall, Osaka, Japan, January 20th, 1984.
Both products are available from: www.zoomclub.com or all good distributors.
[November 1, 2002] IT'ts TIME to PULL the PYN!
The Kivel Publicity dept is getting excited:
"Remember when your bands had.... ATTITUDE!! Remember SKID ROW telling you, they were the YOUTH GONE WILD!? Do you miss your bands with BITE! Look no further.....Attitude is BACK.......and It's LOUD!!
Download "CRY ME A RIVER" and hear what all the fuss is about! You've pulled the PYN....HEAR the SIREN Nov 15th....Pre Order you copy NOW!!! The first 100 orders will be signed and personalized by the BAND."

Kivel Records
[1th November 2002] ANIMAL (ex.WASP) & MAD MARGRITT
Perris is proud to announce the signing of ANIMAL featuring original WASP members Randy Piper, Chris Holmes, & Tony Richards. This photo was taken at a recent show at Sneaky's Club in Cincinnati, OH. The release date on Animal's "900 Lb. Steam" will be November 26th.
Perris Records is also proud to announce the signing of Mad Margritt. Their new 9 track cd will be titled 'New Sensation' and will feature legendary vocalist Derek St. Holmes (Ted Nugent) on one track. The release date for 'New Sensation' is November 12th.
[1th November 2002] AMERICAN DOG GOES EURO
That's right, Columbus, Ohio's American Dog have signed with Germany's Ulftone Records. Their new CD "Red, White, Black & Blue" will be available throughout Europe in January 2003. Their US label is of course still Outlaw Entertainment.
[1th November 2002] FASTLANE RECORDS ADD MORE HORSEPOWER
FastLane Records are proud to announce two new bands to the FLR camp..Swedish sleazsters Babylon Bombs who play hard driving melodic sleaze/glam rock will be entering into the studio with producer Thomas Skogsberg who has been responsible for producing such acts as Backyard Babies and The Hellacopters.
Tattooed Millionaire is the other newbie to the FLR roster (formerly the Fonzarellies) this band has it all from old school to new school glam/sleaze rock influence from Dead Boys to Motley Crue. This Nebraska cast of misfits will leave you wanting more. Stay tuned because theres more to come from FLR in 2003!
Romeos Dead debut 'It's All Your Fault' has been mastered and is finishing-up the artwork for a december release. Don't miss this Davy Vain produced rocker. Midnight Angel have solidified their line-up with Bobby Tuggle as their new vocalist and will be recording in November for a early spring release..subject to change..will keep you posted on this and more FLR happenings.
[1th November 2002] BYFIST GOES COMP.
BYFIST featuring Guitarists DAVEY LEE and NACHO VARA from Seattle's REVEREND have been selected to appear on the German Magazine "Heavy Oder Was" Metal Crusader Compilation Disc. The song " Mary Celeste " was chosen from BYFIST's "Adrenalin" CD. According to Martin Brandt writer for the German Magazine these discs come out twice a year and have a circulation of over 40,000 cds. In addition the same song has been chosen for the PROGPOWER compilation CD to be given out at the PROGPOWER festival that will be held in the USA. For more information go to the below mentioned sites.
Archived News, October 2002
Archived News, September 2002
Archived News, August 2002
Archived News, July 2002
Archived News, June 2002
Archived News, May 2002
Archived News, April 2002
Archived News, March 2002
Archived News, February 2002
Archived News, January 2002
Archived News, December 2001
Archived News, November 2001
Archived News, October 2001
Archived News, September 2001
Archived News, August 2001
Archived News, July 2001
Archived News, June 2001
Archived News, up to May 18th, 2001
Got news for us? Send' em to news@aor-europe.com!